5 Ideas To Spruce Up Your Living Space For National Decorating Month In April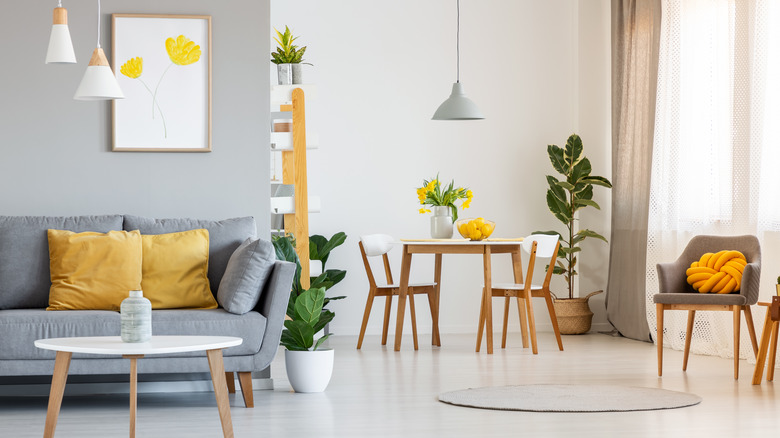 Katarzynabialasiewicz/Getty Images
April is National Decorating Month and we think that's the perfect excuse to update, modernize, and refresh your home. It's nicely timed with spring, which means the days are longer and the sun a bit warmer, and you may be feeling a bit of spring cleaning fever. Depending on where you live, just being able to open the windows to let in the fresh air could be something that's long overdue. What about your home's style, though? How many winter-themed décor items remain scattered throughout the house? Or perhaps it's been a few years (or even a decade) since you updated the paint color in the dining room. Now is the perfect time to get started with a fresh interior redesign.
Take a look around your home to pinpoint any areas you should tackle first. Look beyond the need to clean the cabinets and closets or power wash the deck. Instead, focus on a few fun ways to spruce up your living space to make it feel a bit more "you" with a rejuvenated vibe you'll love. There's no limit or rule about what you can do, but these tips will help make National Decorating Month a reason to celebrate your home.
Go with bright colors in honor of the season
xalien/Shutterstock
Find ways to add lighter colors to your home. Spring brings blooming flowers and fabulous sunshine, creating a sense of renewal. Apply that same aesthetic to your home by adding fresh cut flowers, brightly colored throw pillows, and pastel-infused art or pottery in your home. When possible, work through your home to remove some of the dark, sometimes cumbersome, décor pieces that often dominate during the fall and winter months, such as heavy baskets and piles of blankets.
It's also a good time to update your drapery. Try replacing thick, light-blocking curtains with softer, flowing, sheer drapes. Opening the window with the brisk air allows the breeze to gently blow these around, creating an air of spring freshness. If you're not ready to switch out the drapes, pull them down and launder them now at the very least. Be sure your blinds, window sills, and screens all get a bit of spring cleaning now, too. To dress up the window even more, consider adding a few window boxes full of annual plants right outside.
Display local art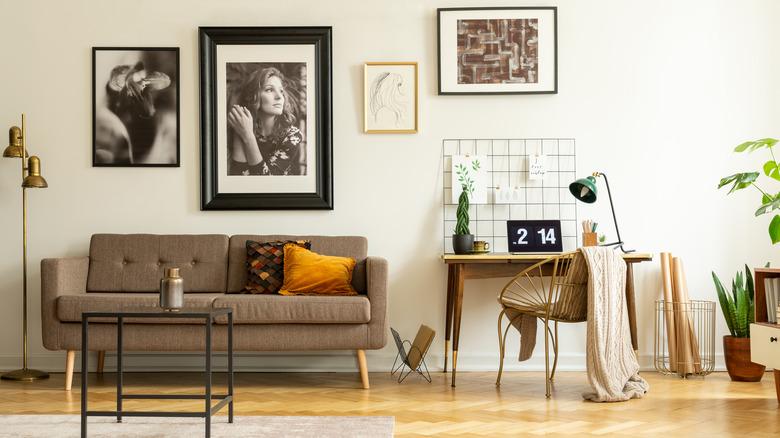 Katarzynabialasiewicz/Getty Images
A visit to a spring flea market offers the perfect opportunity to get outside and socialize. It's also a good time to pick up some new items for your home including brightly colored, interesting artwork created by local artists. You may find a neighborhood gallery with pieces that create a like-new statement in your home. Adding local art (rather than something off the shelf at your favorite interior design store) allows you to support the community while also displaying a beautiful conversation piece in your home. You may be able to find local artisans showcasing their work through your library, at a recreation center, or in local shops and cafés.
When choosing art for the home, be sure you simply love it. You can then build the room's aesthetics around the piece of art. National Decorating Month is a good reason to transform your home's artistic vibe if you're feeling ambitious. Find a few pieces you enjoy and build a nook in the living room or add a display table in the dining room to show off your new pieces.
Feng shui your home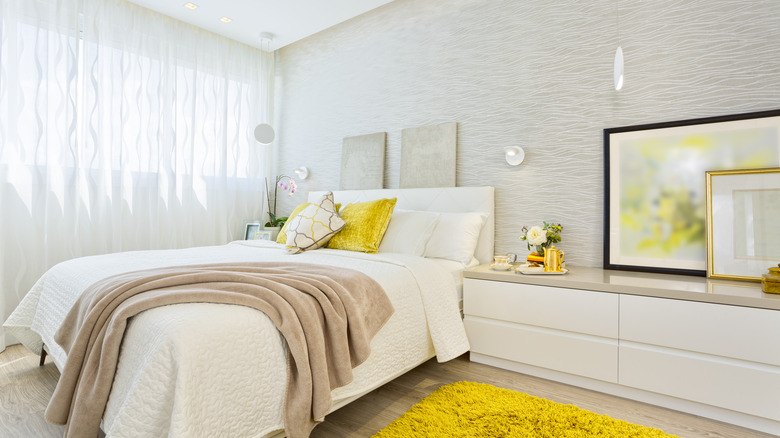 Dmitry Pistrov/Shutterstock
Which rooms of your home are the most cluttered and frustrating to be in? A living room that's piled with incomplete projects, toys, unfinished puzzles, and dog toys probably isn't creating the positive feeling you want in that space. It may be time to apply some feng shui principles to your house. You don't have to spend any money to make this significant change; a good starting point is just decluttering.
Remove anything from the room that has a home elsewhere (or find a home somewhere else for it). Then, eliminate any extra furniture, décor pieces, or other items that don't serve a purpose in the space. Now you can apply the methods of feng shui to redecorate. Start by clearing out the room, cleaning the walls and surfaces (this is a great time to paint, too), and then rearrange the room completely. Think outside of the box from any placement you used to have. Change the room's flow, allow more natural light and positive chi energy to stream in, and keep it tidy and free of clutter.
Incorporate pieces that hold deep meaning for you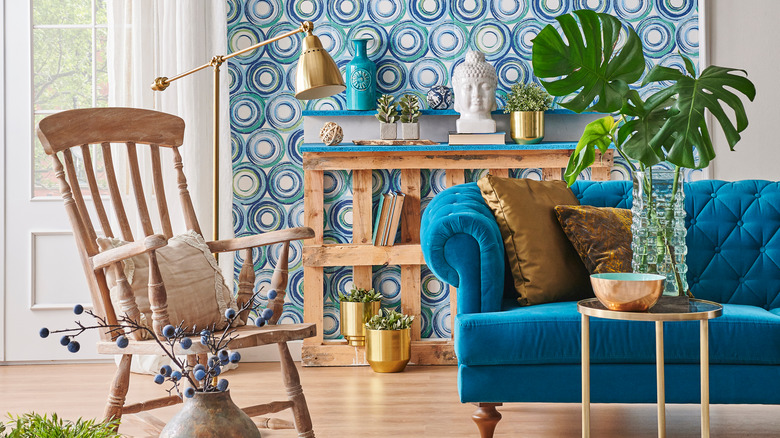 united photo studio/Shutterstock
Decorating isn't only about buying new or stripping the personality out of your home to obtain a sleek design. Rather, the most successful upgrades involve the use of deeply meaningful items — things that have a special place in your heart, even if no one else has a clue what they offer. Add some of these items into your home with the goal of creating a space where you feel completely comfortable.
This could include photos of someone that you love. It may include personal items from your childhood that remind you of spring or summer days at your grandparent's home. Think about a family heirloom that you've had tucked away for a long time. How can you make that an incorporated piece within your home's design? Do you have a meaningful letter from a lost love you want to frame? Find the soft blanket that got you through those difficult times a few years back and take it out of the closet. Decorate with your heart and happiness in mind. If you have a few small items you wish to exhibit, consider a coffee table display or a curio cabinet tucked into the corner of the room.
Extend your home's functionality outdoors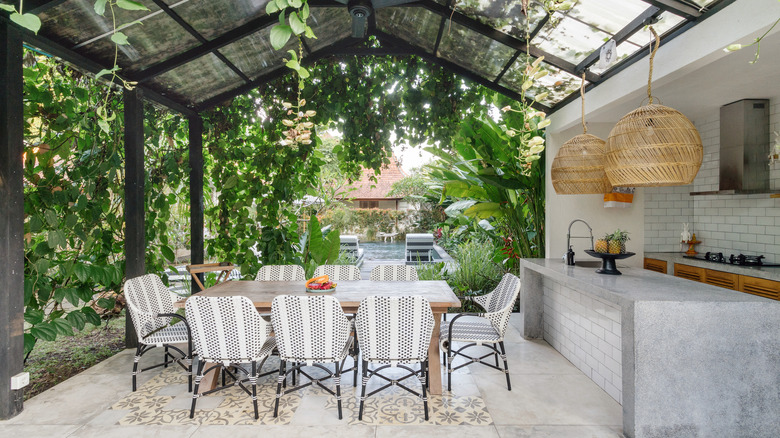 brizmaker/Shutterstock
Another way to make the most out of this month is to spread the beauty right outside of your home. Allow your backyard to serve as an extension of your living space by incorporating the same type of newly updated style. You may wish to set up a dining room table on the patio and use the same types of colors and patterns from within your home. Choose weatherproof furniture that has the same style as the items you have indoors.
Allow National Decorating Month to give you the freedom to revamp your outdoor patio and make the space far more usable this year. Do you need more entertainment space for friends? Perhaps you would really love to have a cozy area with a fire pit to read or relax in at night. On the other hand, you may want to invest in an outdoor space that's more elegant and refined for a formal dinner party or playful with lots of built-in things to do for the kids.