Here's Why Martha Stewart Loves An Under-Counter Refrigerator In The Kitchen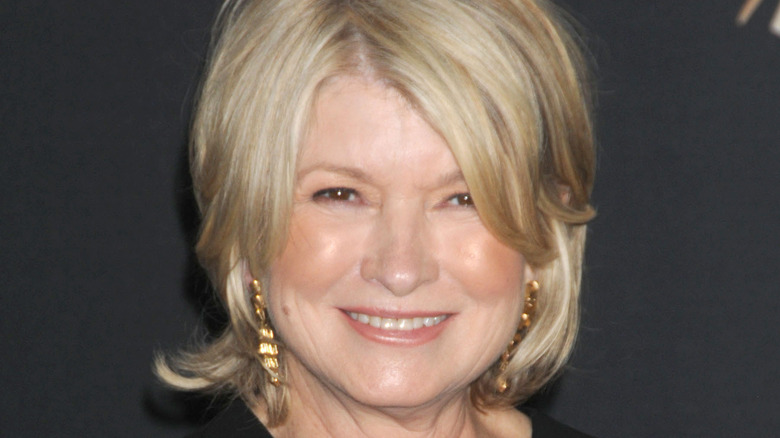 Featureflash Photo Agency/Shutterstock
Designing a small kitchen is frustrating when you're unable to set up an efficient yet stylish storage system. In this space, the typical goal for your storage is to complement the aesthetic you've chosen. But instead, we often find ourselves installing a major eyesore out of necessity. So, what tactics can you implement to create a harmonious, balanced, and functional kitchen design? As always, Martha Stewart has an answer.
"If you have limited space and you don't want to have a big refrigerator taking up all that wall space, put in an under-counter refrigerator," Stewart told CBS News as she showed off her kitchen. "These are so handy." 
Her design features a miniature fridge that blends into her cabinetry, which can easily be rolled out by pulling the silver handle. Since the front is covered with a wooden panel, the fridge is accessed through the top. However, under-counter refrigerators can also be used to enhance your kitchen's layout or declutter your primary refrigerator.
Why use an under-counter refrigerator?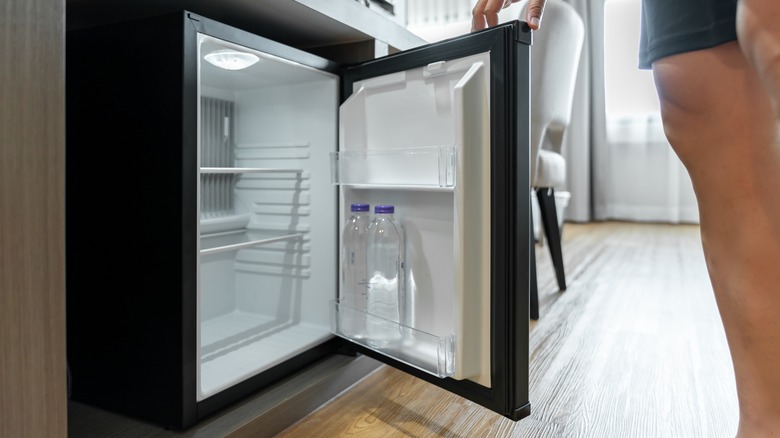 Surachet Jo/Shutterstock
Although many of us are used to storing all our food and condiments inside one large refrigerator, interior trends seem to be shifting towards using multiple food storage solutions instead. And Martha Stewart is not alone in promoting the utilization of the under-counter refrigerator. "I have more clients using smaller full-size refrigeration and adding secondary below-counter fridge/freezer drawers or beverage fridges," Brooklyn-based Interior Designer Kate Hamilton Gray told Martha Stewart. This method can be used to create more space in the main fridge and to take better stock of every food item you have to promote less waste.
Aside from enhancing your storage system, implementing under-counter refrigerators can improve your kitchen layout and reduce traffic congestion in this typically busy space. For example, the under-counter fridge can be kept away from the stove and island so that family members can come and go as they please when grabbing a drink. This frees the prepping and cooking areas for food preparation instead of creating a hangout for thirsty children.
Different types available
If you believe an under-counter refrigerator will enhance the storage in your kitchen, it's essential to be aware of the different types available before making a purchase. First, there is the under-counter beverage refrigerator, which is used to keep your drinks nice and cool. These typically offer both shelves and bottle racks, which is helpful for those with many different types of beverages to store. It also comes in various styles, such as stainless steel and panel-ready finishes.
There are also under-counter refrigerator drawers, which can be used to store a variety of items, such as drinks, snacks, and vegetables. These are designed to blend in with your cabinetry and achieve a cohesive design. But they're especially useful for those who need an area separate from the main refrigerator to organize items and effortlessly reach for them when needed. This style also features a pull drawer method, which allows homeowners to peer at their inventory from above.