Here's How Much It Costs To Add A Bathroom To Your Home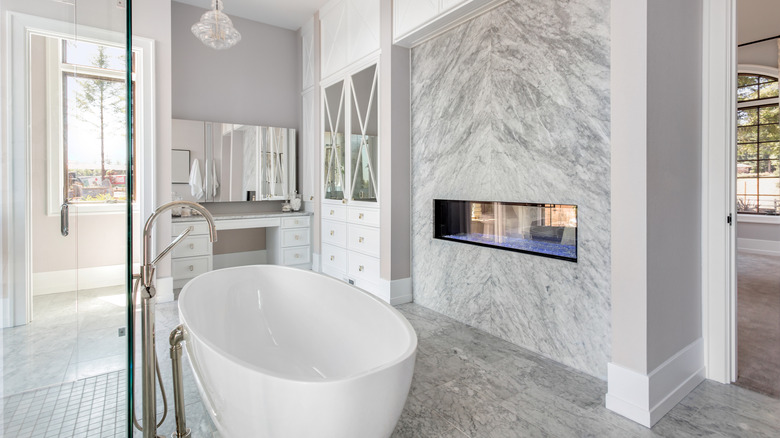 Hikesterson/Getty Images
If you share your home with someone else, you may know how difficult it is to share a bathroom. Whether you're waiting for the shower or feel rushed when you're trying to relax, there are plenty of benefits to having multiple bathrooms, or even a half bath, in a house. While the number of bathrooms will differ in each house, it's typical to have two bathrooms for every three bedrooms. Depending on the layout of the home, this can mean a bathroom suite attached to the primary bedroom and a hall bathroom, two en suites, or two hall bathrooms. You may also want to have a separate bathroom for guests to use, particularly if you entertain often.
Whether you've outgrown your current number of bathrooms, need a bathroom that's more accessible, or simply need more space to get ready, adding another bathroom is a good option. But this is not a renovation to take lightly. Bathrooms are notoriously expensive to renovate since they require plumbing and electrical systems on top of cosmetic changes. So adding a bathroom to your home can be an expensive undertaking, costing anywhere between $5,000 and $100,000 (via Remodeling Calculator). The range is so extreme because of factors like whether you're adding a bathroom to an existing space or creating an addition, the size of the bathroom, whether it's a half or full bath, and, of course, cosmetic finishes.
Existing space versus addition
Andrew Angelov/Shutterstock
When deciding to add another bathroom to your home, location will make all the difference. In general, converting an existing space like a closet, spare room, or even a portion of a room is going to be less expensive than building an addition to the house. The room you choose to convert will also make a difference in price. A laundry room conversion is on the more affordable side, averaging between $5,000 and $13,000 (via Remodeling Calculator). The affordability comes from the fact that a laundry room already has plumbing lines. This saves a significant cost compared to rooms where plumbing lines need to be installed, which can run as much as $35,000.
On its own, building an addition can range between $21,000 and $74,000 (via Bankrate), depending on size, materials, and labor. On the low end, the price per square foot, on average, is $50, and the luxury end averages $650. Building an addition also comes with the cost of permits, which vary from state to state as well as in specific localities. Depending on where you live and what you need, permits can cost about $250 to $600. Add onto that the running of plumbing lines, cosmetic finishes, and fixtures, and the final product can be much more than you bargained for.
Bathroom specifications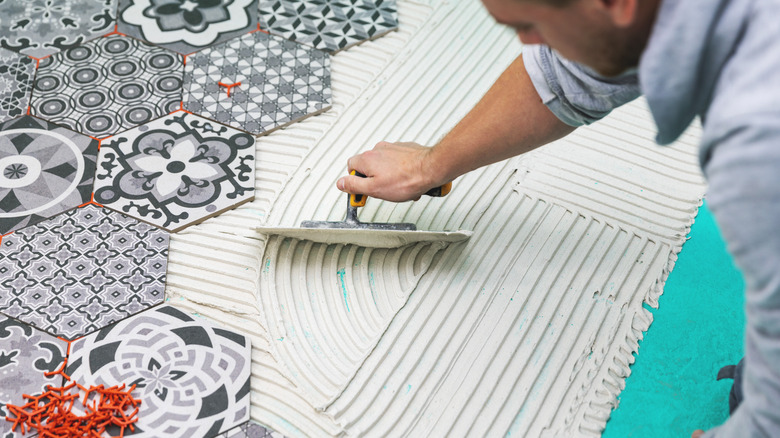 Ronstik/Getty Images
There are other location-specific factors that affect the final cost of a bathroom installation, for example, whether your bathroom is upstairs or downstairs. Upstairs bathrooms are often further away and require more plumbing materials or electric lines, ultimately increasing the cost. Downstairs bathrooms tend to be more cost-effective, especially when placed near kitchens or laundry rooms that already have existing plumbing.
Of course, the kind of bathroom will also be a factor in the final cost. Half baths are going to cost less than a full bath, regardless of the location in the house. Half bathrooms or powder rooms have a smaller footprint with only a toilet and a sink. They're great options if you're looking to add a bathroom on a budget or don't need an additional shower or bathtub. However, if you do, a 3-piece bathroom with a toilet, sink, and shower stall can be compact enough to save you money.
Finally, the cost of your cosmetic choices can really sneak up on you. Plus, you have to factor in the cost of labor for the installation of all of these materials. Tile is often priced per square foot and can add up when used on walls and floors. Other fixtures like the vanity, shower head, and faucet, along with materials, such as a stone slab for the vanity top, add to the overall cost.