The Chic Paving Stone Home Buyers Flock To When Purchasing A Home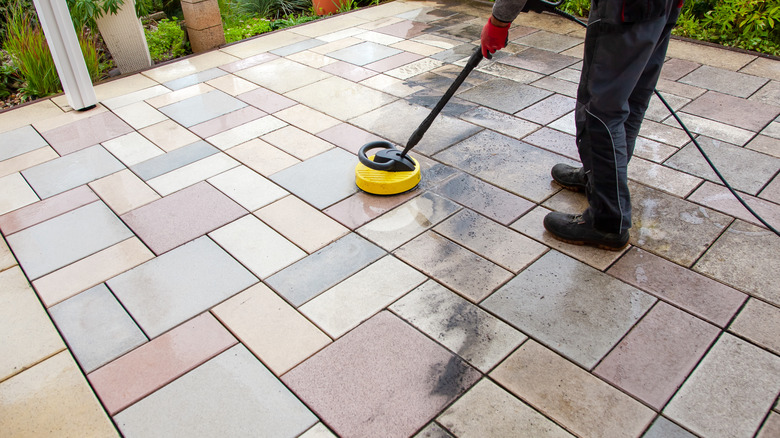 Mabeline72/Shutterstock
Looking to upgrade your property's outdoor spaces? In addition to beautifying your home, certain backyard renovations attract potential home buyers and increase your home's resale value when the time comes to put it on the market. Paving certain areas to create a terrace or walkway can do a lot of heavy lifting to turn a rundown yard into a picturesque patio that will potentially boost your home's curb appeal and sale price.
When it comes to choosing what paving method to use, however, the choices can be daunting. Cement, gravel, wood, or stone are all popular options. However, a report from Brit + Co analyzing data gathered from potential home buyers found that one option stood above the rest — flagstone paving. In opting for this style of stone, the article claims that you can crank up your property's value by up to $6,000. But, why do people love flagstones so much?
What is flagstone?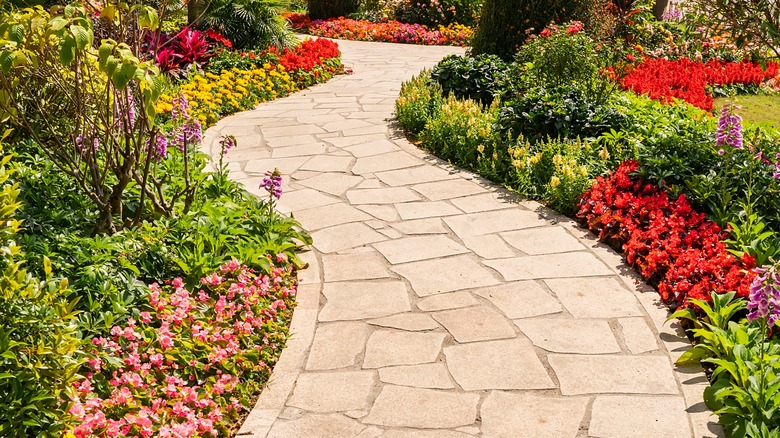 asharkyu/Shutterstock
The term flagstone doesn't actually apply to any one type of rock but rather serves as a broad classification that refers to large stones that are chiseled into large flat layers, which are then broken up into smaller flag-like pieces. Most often, sedimentary rocks are used for this process, given their softer texture that makes them easier to cut into flagstones. This includes sandstone, limestone, and travertine. Harder stones that are classified as igneous or metamorphic rocks can also be used, though they may come with a higher price tag, such as quartzite, basalt, or slate.
Granted the variety of stones used to make flagstone paving, you have the freedom to pick stones in the color or texture that best suit your tastes, making it a highly adaptable paving option. No matter what, the result will look more in tune with the natural surroundings than cement or even wood decking.
The projects can you do with flagstone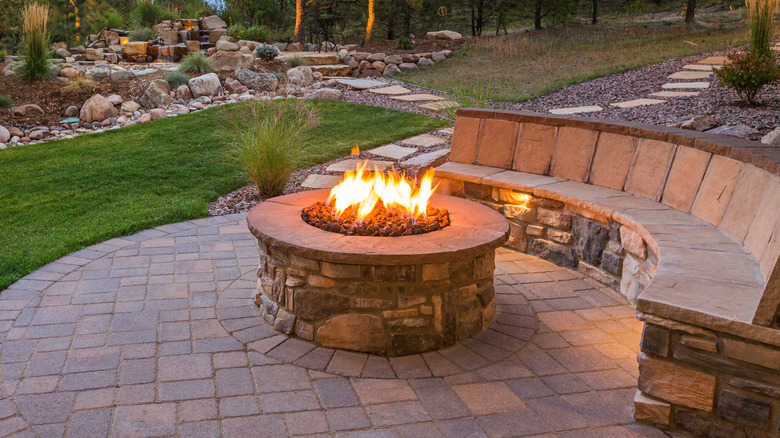 Neil Podoll/Shutterstock
Since flagstone is so versatile and comes in so many different varieties, the world is your oyster when putting it to work in your backyard. Stepping stones are a popular use for classic jagged-edged flagstones and seamlessly fit into the natural beauty of a garden. For a more modern look, you can use flat-edged flagstone cut into squares or rectangles to pave a patio. If you're after a romantic, storybook-style landscape, opt for a winding walkway made of irregular-edged flagstone, which can be pieced together a bit like a puzzle. In addition, you can use grass, moss, clover, or other ground cover plants to fill the gaps between the stones for the most natural-looking final look.
When it comes to using this versatile material, you aren't confined to patios and pathways. You can also use flagstones to create low retaining walls, borders, or even a fire pit. Thinking of adding a pool to your property? Flagstones can also make the perfect pool decking as it has a natural anti-slip texture, making them perfect for areas near water. No matter what project you go with, flagstone is a reliable — and profitable — material for backyard renovations.