The Most Overpriced Housing Market In America Isn't LA Or New York
Martin Barraud/Getty Images
Although homebuyers have been feeling the burn for several years now, experts aren't predicting that the housing market will crash — or even vastly improve — anytime soon. Depending on where you look, residents of some places are struggling much more than others. Cities like Los Angeles, New York, and Austin are frequently described as overpriced, overcrowded, and overrated, with citizens willing to move into practically anything that won't break the bank, even if it's a house full of damage, pests, and cosmetic issues. But surprisingly, homes in these popular cities aren't overvalued as much as you'd think. 
According to data collected by Florida Atlantic University, Atlanta, Georgia, is the city with the most overpriced housing market in the United States, while New York and Los Angeles are actually only slightly inflated above their overall value. Once ignored as a small Southern city, Atlanta has exploded into a metropolitan paradise full of diverse culture, technological innovation, and career opportunities. Here's why average homes in Atlanta homes are soaring way over their projected monetary value and how many homebuyers may still their real estate investments here. 
Atlanta tops the charts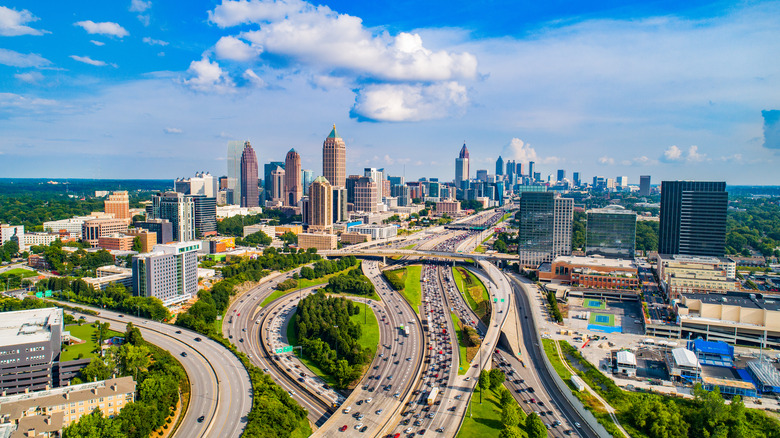 Kruck20/Getty Images
Homes in Atlanta are selling for about 49.55% more than what they're worth. While an average house in Atlanta may only be worth around $238,500, buyers can expect to pay almost $357,000. Nationwide inflation is an obvious factor contributing to the extreme home prices in Atlanta, but so are the city's booming economy and low unemployment rates. Unemployment in Atlanta hovers comfortably around 3.7%, well below the national average of 7.08% (via YCharts). As Labor Commissioner Bruce Thompson told The Atlanta Journal-Constitution, "Despite a nationwide pandemic and challenging economic times, continued investments in Georgia's labor force and a thriving business community have kept our economy strong." According to WSB-TV, more than 65,000 people moved to the metro area in the 12 months between July 2021 and 2022, accelerating the workforce and driving up demand for housing in an already tight market. 
To be clear, all 99 cities listed by Florida Atlantic University were considered overpriced, with the one exception being Washington, D.C., where home prices are estimated about 0.35% lower than what the houses are worth (what a steal!). Following Atlanta, the next most overvalued homes are located in Cape Coral, Florida; Charlotte, North Carolina; Memphis, Tennessee; and Detroit, Michigan. Florida is the state with the most top-ranking cities, with Lakeland, Palm Bay, Deltona, and Tampa falling in the top 10 most overpriced cities in the country. Austin, Los Angeles, and New York rank at number 28, 92, and 93, respectively.
The true value of a home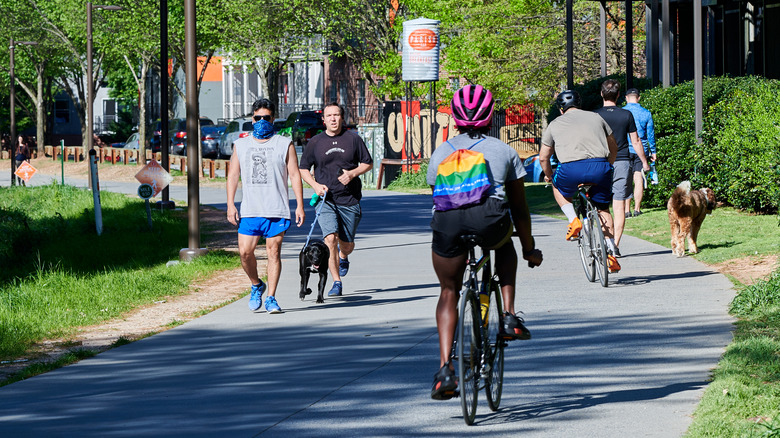 Christopher V Jones/Shutterstock
With the current state of the housing market, buying a home anywhere is bound to be expensive. Still, it's especially painful to pay nearly a 50% premium for a home in your desired area. But are Atlanta homes really overvalued? In reality, the value of a home lies in much more than just its brick and mortar; location, schools, transportation, crime, and other facets of public life play a big role too, and Atlanta's thriving community is a major benefit of the area that isn't likely to disappear anytime soon. Even if the inflation bubble bursts, people who invested in metropolitan areas of Atlanta will likely still enjoy the strong quality of life in this bustling city. 
Out of 150 popular metropolitan areas, U.S. News ranks Atlanta as the 95th best city to live in the United States. The average cost of living in Atlanta is relatively affordable, and locals enjoy temperate winters, ample outdoor recreation, and reliable job opportunities. With plenty of bars, restaurants, and clubs and a high population of millennials, this is a great city to live in if you're single and ready to mingle. Atlanta is also a remarkably diverse city, and with that diversity comes a wide range of music, art, cuisine, and thriving culture. Of course, it's up to the individual to decide whether or not the perks of moving to Atlanta are worth the financial risks involved.