Martha Stewart's Hack For Turning Dishtowels Into The Cutest Curtains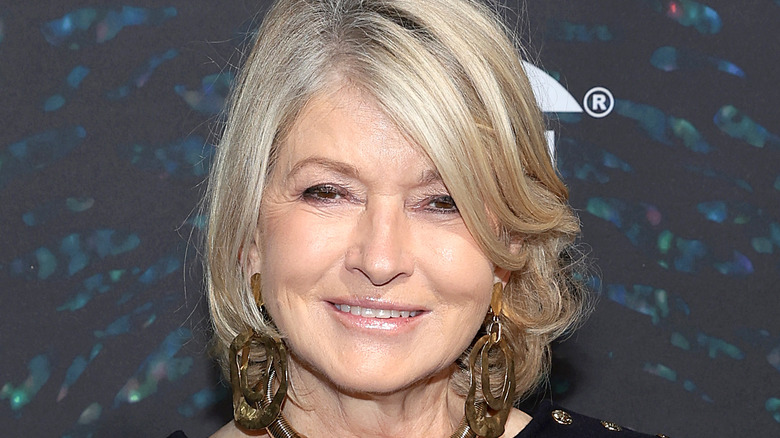 Dimitrios Kambouris/Getty Images
From gardening to baking, Martha Stewart teaches us the finest skills to live by. If you're looking for a window treatment within a small or awkward space, the domestic diva has a savvy sewing trick to create the most charming curtains. As a resourceful and budget-friendly solution, Stewart suggests stitching several dishtowels together to make your own customized curtains, "that's how we created this chic and simple cafe curtain," she says in an Instagram post. Whether your window is in the kitchen, bathroom, or other space, dishtowel curtains can fit a variety of design needs.
How can you create this custom look in your own home? Stewart explains, "Cut an assortment of same-size dishcloths up the middle and hem the raw edges; then mix and match the panels, alternating prints and colors" (via Instagram). You can go with different colors and patterns that complement each other, or choose identical towels for a more balanced appearance — there are endless kinds of patterns and styles to explore, allowing you to transform a window with a fresh, personalized vibe.
Transform lightweight tea towels into cafe curtains
Depending on your style and needs, there are many dishtowel materials that could be made into this look. Stewart advises, "When you find a combo that works, stitch the sections together and attach the finished curtain to a simple rod for a custom creation that's easy — and breezy" (per Instagram). While the typical size of a dishtowel may suit the frame of a kitchen or bathroom window, you could also create a longer patchwork style for larger windows.
Additionally, the type of material you choose may also depend on the amount of light you want to enter a space. For a light, rustic aura, vintage tea towels are lightweight yet durable enough to maintain every day — for the ones shown above, Stuwart used semi-sheer linen. On the other hand, cotton, or a thicker material like microfiber, will allow you to block out the sun's rays from a room better. Whatever design and material you choose, your plain dishtowels will clean up nicely upon your windows and may just be the window solution you are looking for.