The New High-Tech Item HGTV's Jonathan Scott Thinks Will Become A Laundry Room 'Staple'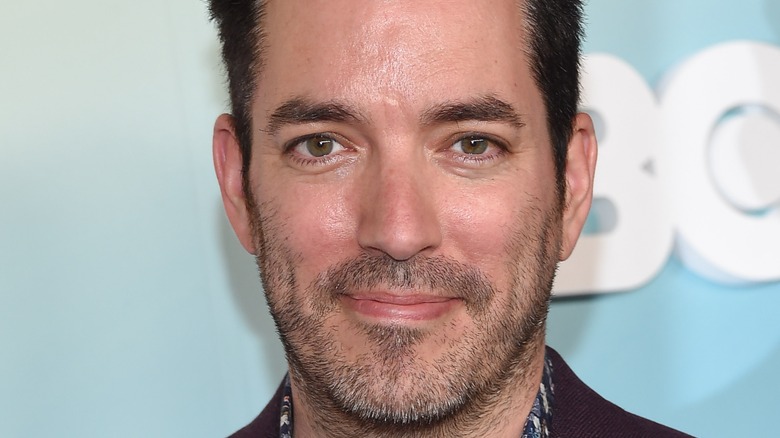 DFree/Shutterstock
If you take frequent trips to the dry cleaners, investing in this high-tech item could save you both time and money. It's called the LG Styler Steam Closet, and it works to sanitize clothes with just the power of steam. This appliance, which looks like a skinny refrigerator with an LED touchscreen door, can also remove wrinkles, crease pants, and dry clothes without damaging them. Because it only needs to be plugged into an outlet and doesn't require any plumbing, it's extremely easy to set up. 
HGTV star Jonathan Scott made a video about the LG Styler on his Instagram, saying, "This is something that I think will become a staple in everybody's laundry room if you have the room." We would add that you also need to have quite a large budget since this appliance costs around $1,000 to $2,000. Thankfully, it does come with a 10-year warranty on the motor, which may give you peace of mind about spending such a large amount. 
Why Scott recommends the LG Styler
On top of being able to deodorize and de-wrinkle clothes, this product can also clean items that you wouldn't normally put in the washing machine or dryer. "You can also put the kids' stuffed toys [inside it to] sanitize those, or even like sports equipment that really stinks, you can put in here [and] boom, totally sanitized, takes the smell away," Jonathan Scott says in the Instagram post. Other items you could clean include bags, blankets, coats, pillows, and bedding. Because it only uses steam and no chemicals, it's an easy and natural way to freshen all your possessions. 
As stated, Scott recommends placing this device in the laundry room; in the Instagram post, he showcases the one in his own home, which is built into his cabinetry and has a sleek appearance. However, if you don't have the space for this appliance in the laundry room, you could place it in another area of the home. For instance, installing it in the bedroom closet would make steaming clothes a breeze, or adding it to the entryway would help you freshen things like backpacks and outerwear. 
What consumers think about the LG Styler
In the comments of Jonathan Scott's Instagram post, most people like the idea of the LG Styler. One person writes, "Love this, especially the no chemicals!" Another adds, "Wow! This is so cool Jonathan! I would love to have one of these." The only main complaint about the product is the price; for example, one commenter comically writes, "Jonathan I'm poor, please stop showing me things that I'm going to fall in love with but I'll never have because I wouldn't even have money selling both kidneys and liver."
On LG's website, a mid-priced model has an average rating of 4.4 stars with over 100 reviews. One of the top comments says, "The refresh closet is wonderful! It refreshes clothing awesomely, but our favorite feature is the pants press... Very practical and it saves on the cost and hassle of some of our dry cleaning." However, there were some complaints about the appliance, as one reviewer says, "The design is very limited in what clothing it will actually remove any wrinkles [from,] if at all." Others say that the device can leak, doesn't dry clothes, or takes too long to use — however, most seem to be on board with the high-tech gadget.