The Best Way To Make The Most Out Of A Small Laundry Room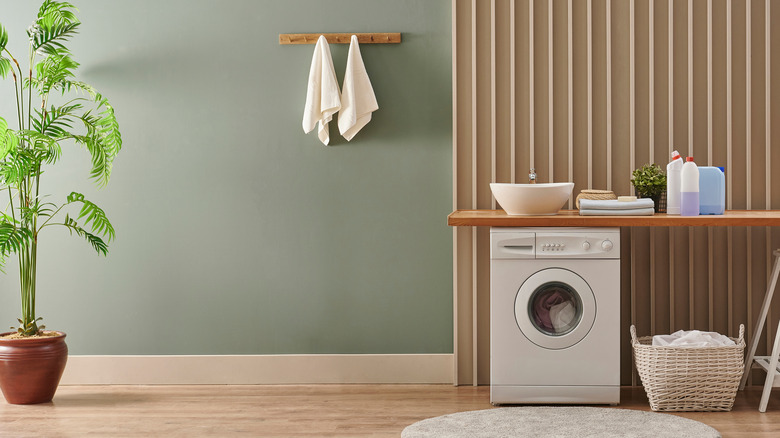 united photo studio/Shutterstock
Do you often find yourself complaining that there isn't adequate space in your laundry room? Well, you're certainly not alone. We would all love a laundry room that is bigger and better. However, this doesn't mean there's nothing you can do to make your laundry experience a little better, even with a small laundry room.
Besides, having a separate laundry room is in itself a rare amenity that most homeowners would love to have. So, if you have one, it's one thing you can be grateful for. According to Affordable Closet Concepts, a laundry room adds value to your home while making it much more convenient for you to do your laundry. A designated laundry space also means that space elsewhere in your home that you would have otherwise used for your washing machine or dryer is now free. Having said all that, you can still do one important thing to get the maximum use out of your laundry space, especially if it's on the smaller side.
Stack your machines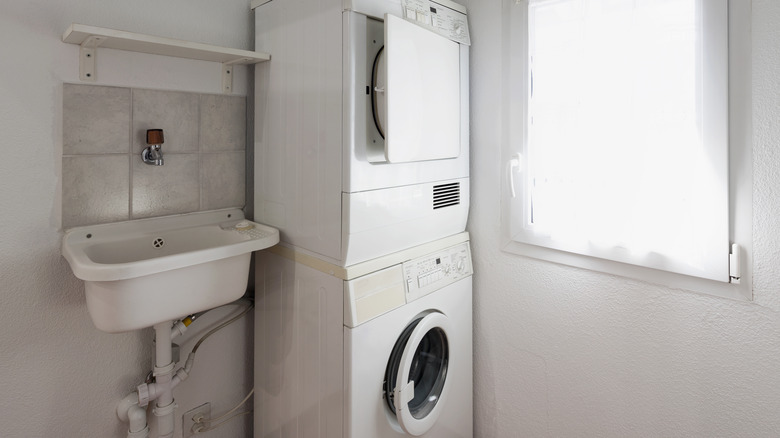 alexandre zveiger/Shutterstock
The most important thing in making sure you're getting the most of your limited laundry space is, of course, saving as much space as possible. Every inch counts! So, how can you go about doing this? According to Upgraded Home, you should consider investing in a stackable washer and dryer unit. Not only do they save space by taking only half as much space, but they're also more energy efficient, meaning you'll be saving tons on your energy bill at the end of the month. They're also much more gentle, so your clothes will last longer. However, they can be slightly more expensive compared to top load washing machines and may require a little more maintenance. At the end of the day, we still think the pros outweigh the cons.
Also, HVAC-Buzz says it's important to note that not all washing machines are designed to be stackable. So, make sure to refer to your manufacturer's notes on whether yours is safe for stacking. If it isn't, you can purchase a separate stacking kit that will allow yours to be stacked.
Use every surface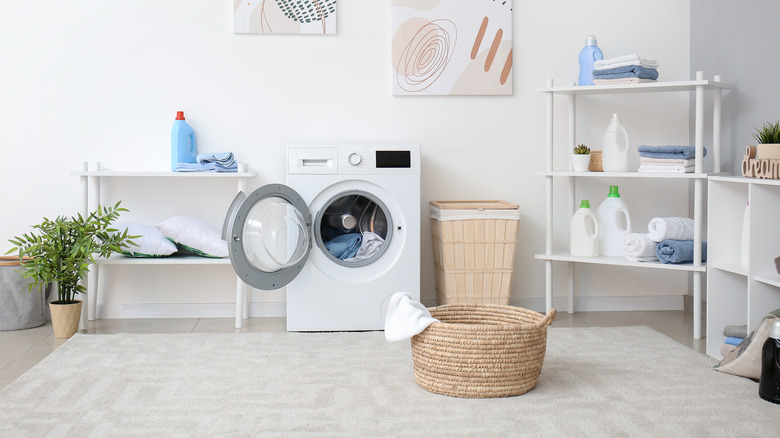 Pixel-Shot/Shutterstock
Now that you've saved a bunch of space by stacking your washer and dryer, you might think that's all. But, there's more you can do. According to Good Housekeeping, you could benefit greatly from attaching a bin or rack to the sides of your stacked machines to store laundry day must-haves. This means you're making use of every available surface, not letting an inch go to waste. They also recommend adding shelving in the space above your washing machines to store items such as baskets or towels.
As Livingetc mentions, there are also other smaller changes you can make to help you save as much space as possible, which is the bottom line to remember when making the best use of your small laundry room. For example, they recommend using small nooks to accommodate a hanging rail to dry smaller pieces of clothing. There are also wall-hung drying racks you can invest in that can be folded away neatly. Modular shelving, additional hooks, and corner shelving are also a few other ideas you can think about.