Peel-And-Stick Wallpaper Can Give Your Kitchen Cabinets A Low Maintenance Pop Of Color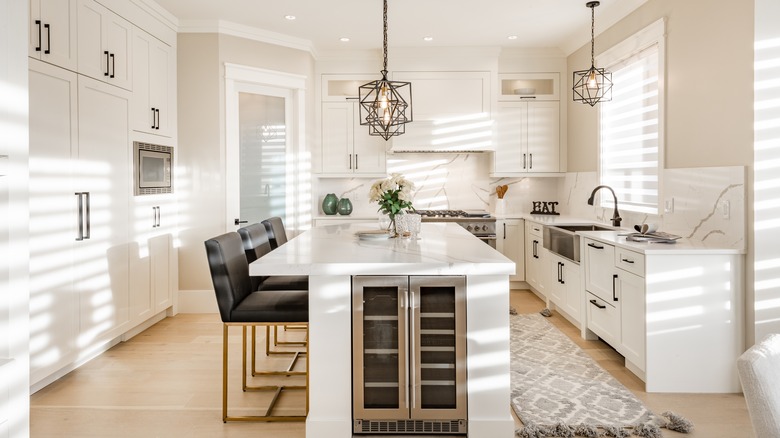 Sheila Say/Shutterstock
While a few years ago, wallpaper may have been considered antiquated and even stuffy, wallpaper today is experiencing a home décor resurgence and reinvention — proving once more to be a simple (and quick) way to add color and pattern to a space.
Meanwhile, colored kitchen cabinets are another popular trend today and are a way to add instant personality to a home. But if you're not open to an intense painting project or can't paint your kitchen cabinets because you're renting the space, you don't have to be left out of the latest trends: Enter peel-and-stick wallpaper.
Peel-and-stick wallpaper is a temporary decorative detail that allows you to reap all of the design benefits of traditional wallpaper, minus the permanence and commitment. For your kitchen cabinets, adding some peel-and-stick wallpaper to the outside faces can instantly provide that pop of color or pattern you're after without having to spend a few days painting.
An easy kitchen makeover DIY
To get started with this easy DIY project for your kitchen cabinets, look for adhesive contact paper or vinyl wallpaper, both of which are ideal for the kitchen because they're waterproof and able to be wiped down if anything spills or splashes. 
Some peel-and-stick wallpapers may already come with application tools, but if not, you'll want a hard squeegee or another straight edge to help smooth the wallpaper and remove any bubbles under the surface. While a large squeegee will help you apply the wallpaper across the entire surface, a smaller one can help better get into the tiny crevices of your cabinets. Lastly, you'll want a sharp precision blade like an Exacto knife handy to cut the excess wallpaper.
Though removing the doors of your kitchen cabinets will allow for simpler installation, it's not a requirement. When you're ready, cut the peel-and-stick wallpaper a little bit larger than the size of your cabinet door. Next, remove only a few inches of the paper backing at a time — not the entire sheet. Place it on the cabinet where you'd like to begin and use the squeegee tool to smooth the paper out as you go. Work your way up by removing a little bit of the paper backing at a time and smoothing it to the surface until the door is completely covered. Use your knife to trim any excess wallpaper to size.
Use wallpaper for paneling only
To recreate the look of painted kitchen cabinets, opt for solid-colored peel-and-stick wallpaper and cover all cabinet surfaces. If you're looking for something a little different, however, you could choose to cover only select parts of the cabinets. For example, if you like the wood tone of your kitchen cabinets but still want a pop of color, simply add the wallpaper to the center paneling of your cabinet doors.
You could also go with a wallpaper pattern. While large-format prints will create a mural-like look, smaller repeats will look busy and bold. The installation process for wallpapering center panels is the same as full cabinet faces, but a precision knife will definitely come in handy to cut out the shape of the insets.
Yet another option, if you don't want to lose the wood texture of your kitchen cabinets, is to look for wood-grain peel-and-stick wallpapers. These will allow you to change the wood finish without having to sand and restain your cabinets.