10 Exterior Stone Accents Walls That May Increase Your Property Value
Justin_Krug/Shutterstock
If you plan to move out of your current home in the next couple of years, then brainstorming ways to increase its value before you decide to sell has likely been on your mind. Although there are various ways to do this, we believe creating an exterior stone accent wall is both a stylish and effective approach. In fact, this type of home project has one of the highest ROI rates, which is sometimes over 80%.
However, this type of renovation can definitely impact your bank account, as it may cost anywhere between $57,000 to $72,000. As such, it's imperative to choose a design option that you and potential buyers will love. Don't know where to start? We've found 10 different exterior stone accent wall designs that will elevate the style of your home while providing a value boost that will give you a competitive advantage in today's market.
1. Go all out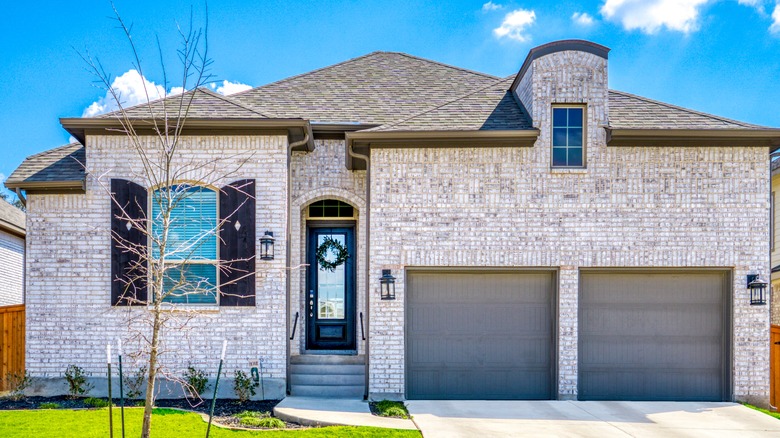 Allison J. Hahn/Shutterstock
If you have a large, beautiful home, going all out and installing stone material across the entire front exterior wall is sure to create an impactful and luxurious effect.
2. Bottom half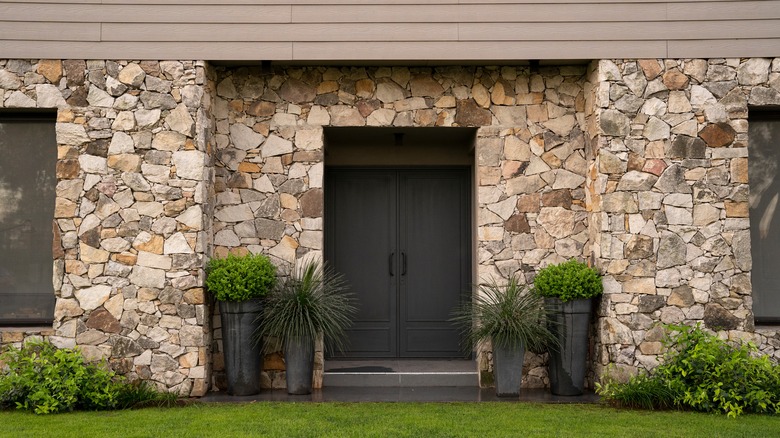 Gonzalo de Miceu/Shutterstock
Homeowners can also cut their coverage area by only covering the bottom half of their home with stone, which can act as a contrasting component with the material above.
3. Cover the entire front entrance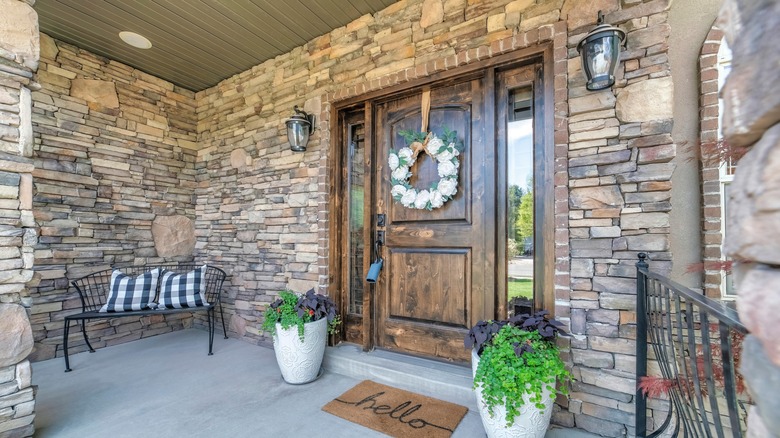 Jason Finn/Shutterstock
If you don't have the budget to cover an entire portion of your home, we suggest covering a small area, such as the front entry. Here, ledger stone is installed across all the entryway walls, creating a rustic design.
4. A small touch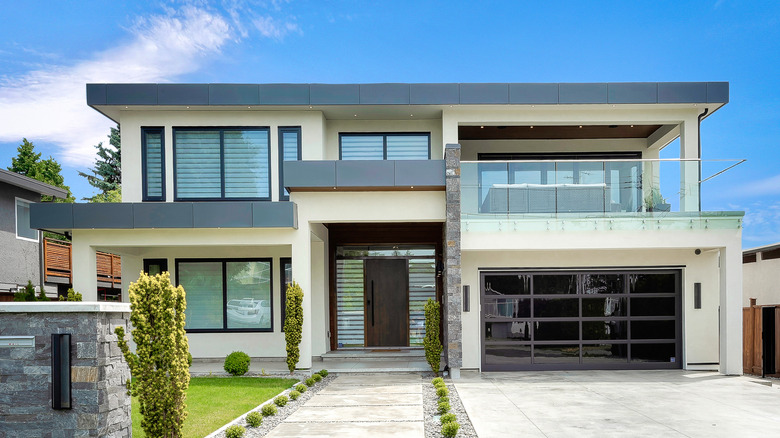 Sheila Say/Shutterstock
Those with a modern home may not be able to accommodate too much stone because its variation in texture may clash with your house's minimalist charm. If so, we suggest sticking to one location, such as a single wall by the entryway. 
5. Wainscoting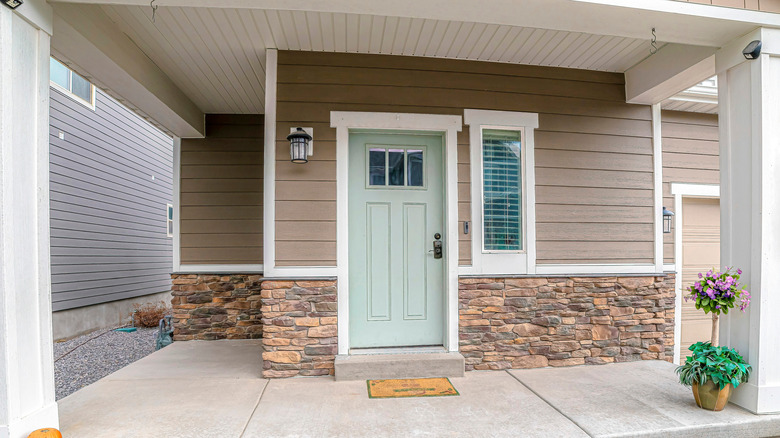 Jason Finn/Shutterstock
Another way to introduce a small section of stone to the exterior of your home in an interesting way is by wainscoting the stone, which will invoke a strong base for the rest of the exterior features.
6. Patio accent wall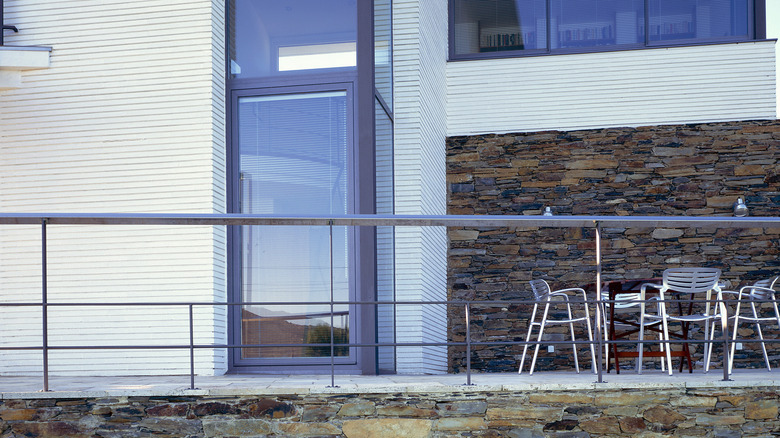 Construction Photography/avalon/Getty Images
Those hoping to update their patio area can create a stone accent wall as a backdrop for their seating arrangement. Here, a cohesive design was maintained using the same stone on the interior and exterior portions of the outdoor area.
7. Stone pillars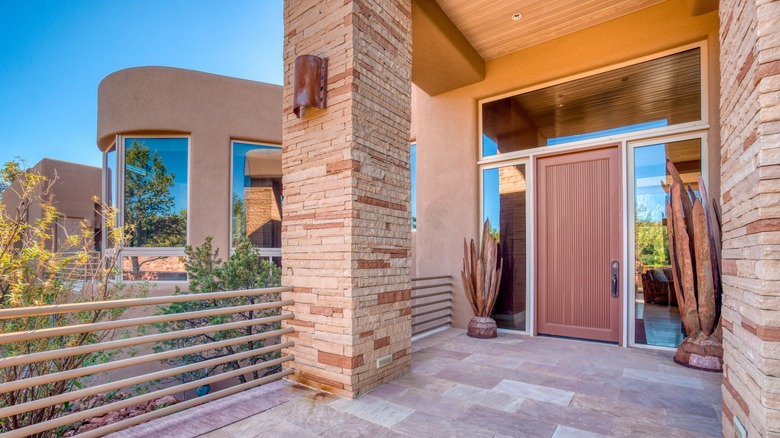 Allison J. Hahn/Shutterstock
Stone pillars can be just as effective as stone walls if designed correctly. For this home, the pillars beautifully complement the slate flooring and warm tones of the clay walls. Stone pillars can also complement other accents, such as wainscotting using the same material. 
8. Chimney extension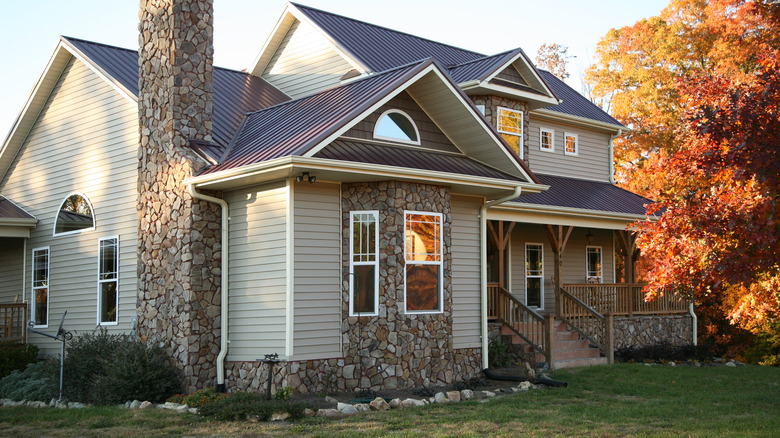 Photosbysuzi/Getty Images
If you feel as though your stone accent wall isn't eye-catching, extend its height by installing the same stone along the chimney. 
9. Just the garage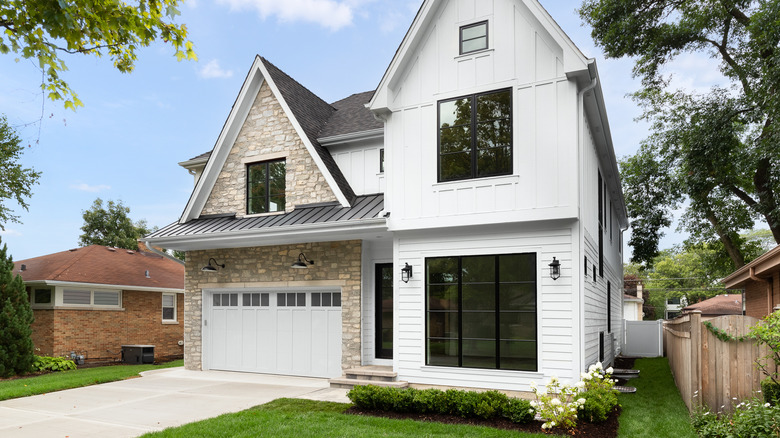 Hendrickson Photography/Shutterstock
Here, the process of installing exterior stone was done perfectly. The stone covering the garage does not clash with the black and white accents but instead complements them because they both exhibit cool-toned shades.
10. Create balance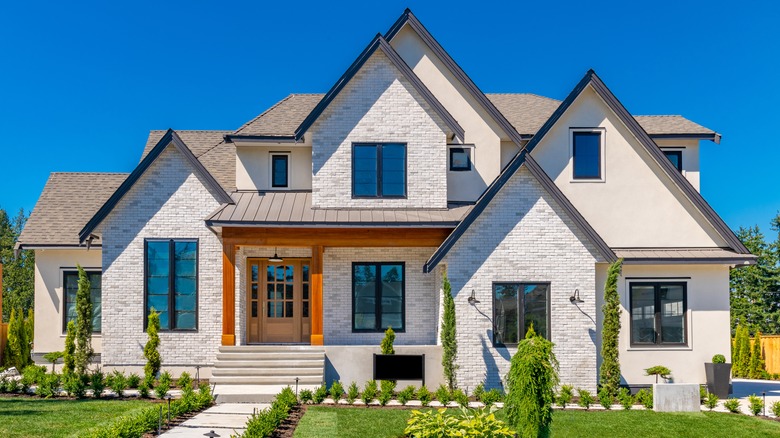 Sheila Say/Shutterstock
Balance is key to any renovation project. In this design, a sense of harmony was created by adding the perfect amount of contrast between the stone accent walls and the other materials. A sense of warmth was also added by installing a wooden beam.