HGTV's Jasmine Roth's Gorgeous Cabin Can Officially Be Yours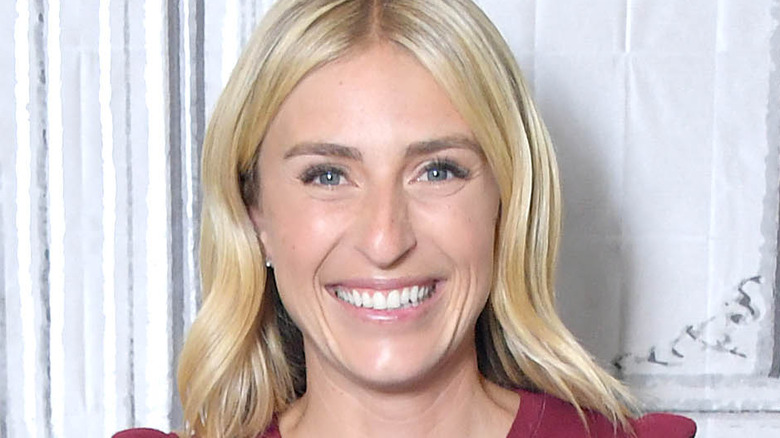 Michael Loccisano/Getty Images
Jasmine Roth has hosted both "Hidden Potential" and "Help! I Wrecked My House!" on HGTV. With every home she renovates, she always infuses some personality that reflects the homeowners. Her clever designs and helpful renovation tips have garnered a loyal fanbase, and outside of TV, Roth has also developed a thriving building and designing business, through which she's renovated condos, apartments, and her own homes.
If you've followed along on her social media, you know that in 2022 Roth and her husband purchased Hazel's Cozy Cabin as a family home in the San Bernardino Mountains. It took five weeks to create a snug getaway, and the home was featured on the cover of HGTV Magazine in October of 2022. The adorable cabin served as a sort of summer camp where the family could spend time together and go on vacation. Recently, Roth and her husband have decided to move to Park City, Utah, citing the lack of snow in Southern California. This means exciting news for fans of the cabin as the home is currently on the market.
Cozy in the mountains
Hazel's Cozy Cabin expertly mixes rustic charm and modern details, unsurprising for a designer and builder as accomplished as Jasmine Roth. Surrounded by trees and tucked away in the mountains, it's the ideal escape from busy city life. The A-frame house, originally built in 1981, has two bedrooms and two bathrooms, and a total of 1,085 square feet of living space. The exterior is black with mid-toned wood accents and large floor-to-ceiling windows that let in tons of light. With an open living space and sprawling ceilings, the space feels incredibly open and airy.
Inside, the interior walls are a tan stone, adding warmth and a bit of texture. The living area features a corner fireplace with a stone facing that runs up to the ceiling. In the back is a kitchen with blonde wood cabinets and white stone counters. A small dining area sits in front of the kitchen, while behind it is one of the bathrooms. Upstairs there is a bedroom with built-in bunk beds that can also double as a play area, and the second bathroom, which features a stunning gray statement stone on the shower walls. The first floor features the primary bedroom, a small office space, and a laundry room that leads out to a fenced-in back patio. The home is currently listed for $645,000 by Compass.
The perfect mountain retreat
Hazel's Cozy Cabin sits between Lake Arrowhead and Big Bear in the San Bernardino Mountains. Driving, it's about an hour and a half from the coast. Due to its prime location, this cabin can be used year-round. During the winter, there will likely be some snowfall along with the cooler temperatures, so you can enjoy throwing wood on the fire and snuggling up as snowflakes fall outside. During the summer, temperatures are warm — perfect for a dip and a swim in the nearby lake, relaxing on the deck, or playing outside.
The cabin can comfortably sleep quite a few people between the first floor primary bedroom and the queen-sized bunk beds located upstairs. The office connected to the primary bedroom can also be converted into a nursery. There's a space in the entry way to place bags, hang coats, set shoes, and store extra firewood. It looks to us like this home is ideal for families with children as well as a great place for a group of adult friends to spend the weekend.