Mercury Stardust, TikTok's 'Trans Handy-Ma'am,' Is Releasing A Book On Home Repair
We may receive a commission on purchases made from links.
Home maintenance and repairs can be intimidating. Whether you're dealing with the issue yourself or searching for a trustworthy tradesperson, it can soon feel overwhelming to delve into a world you may not know. That's why it's comforting and assuring to have a trained professional on your side. For years now, Mercury Stardust — aka the Trans Handy Ma'am — has been posting helpful and instructional home maintenance tips and videos to her various social media platforms. The professional home maintenance technician, burlesque performer, and LGBTQIA+ activist has gained millions of followers thanks to her quirky style, funny personality, and of course, her sage wisdom on how to take care of your home.
Through her engaging TikTok videos she has let renters know of the specific rights they have, how to fix their wooden drawers, and how to fix their garbage disposal themselves. Now she's bringing her helpful advice to the printed pages of her brand-new book called "Safe and Sound: A Renter-Friendly Guide to Home Repair," which is available for pre-order now and scheduled to be released on August 29, 2023. Let's take a look at what her new book has to offer.
What to expect from Mercury Stardust's new home repair book
In her soon-to-be-released book, Mercury Stardust has set her sights on empowering all of the renters out there while understanding that it can be uncomfortable to rely on the help of strangers and especially scary to invite those you don't know into your home. Instead, Stardust has compiled 50 home maintenance situations you can take care of yourself, according to the book description from Penguin Random House. The contents are geared toward renters as it will offer advice on fixes you can make without accruing any permanent changes to your residence. However, in true inclusivity fashion, it's perfect for all homeowners because issues around the home are often not specific to whether you own or rent.
From fixing clogs in your sinks to patching up drywall holes and everything in between, this could be an ideal starter book for those who have just gotten their first apartment and have the DIY spirit within them. Within just a few days of its presale, "Safe and Sound" has already topped a few best-selling book categories including the Number 1 Best Seller in Home Repair on Amazon, which sparked the joyous and thankful TikTok appreciation video seen above.
How Mercury Stardust uses TikTok to help with home repair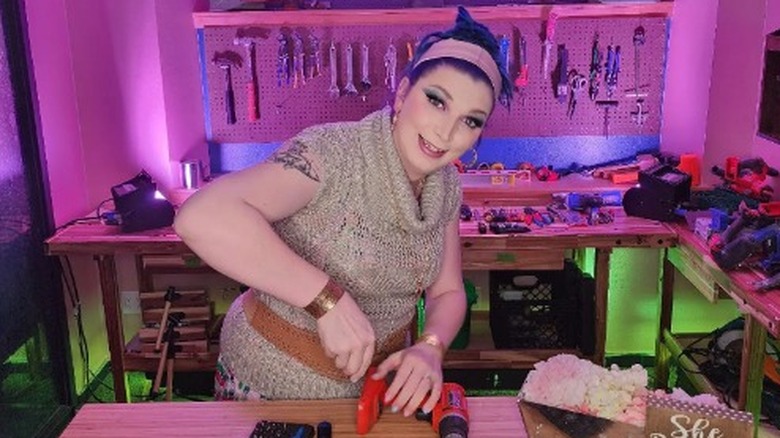 Instagram
On April 5, the TikToker celebrated her two year anniversary on the app, and in that span she has posted countless videos to help folks take charge of home repairs and feel comfortable doing the work themselves. She has created many videos with helpful hacks like how to create your own contour gauge and why you shouldn't feel bad about not knowing the names of certain tools. In her Ask Mercury series, her approachable and easy-to-follow videos offer quick fix-it solutions, like learning how to repair broken kitchen sink sprayers that have been mishandled by brutish residents or a loose faucet that needs to be set straight.
Stardust's videos are always supportive and take a calm approach to subjects that could easily stress out or discourage the average person. Her talent has also earned her some big name partnerships with the likes of Lowe's, iFixit, Snug Plug, Vocal Media, and Point of Pride to help spread her encouraging message of empowering do-it-yourselfers. From the basics on how to choose the right tool and how to use those tools properly, to more complex issues around the home, Mercury Stardust is the approachable handy ma'am we could all use in our lives.