The Viral TikTok Tips For Choosing The Best Peonies Will Give You The Best Bouquets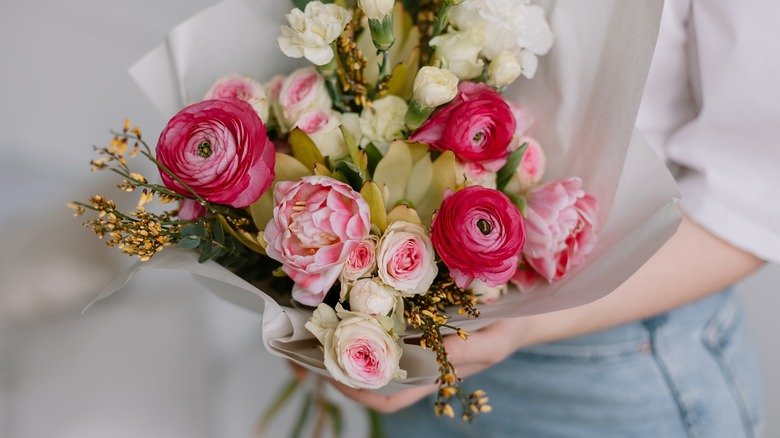 Anna Auramenka/Shutterstock
Superbloom fever has taken over, and it might have you craving colorful petals in your home. If you love peonies, grabbing a bouquet to adorn your surfaces is a sure way to brighten up any room and your mood! Finding the best bunch doesn't have to come down to luck. There are a few ways to ensure you get the freshest, most aesthetically pleasing flowers that will bloom to the fullest and last as long as possible.
TikTok has become the go-to for all the hacks you could want, and the platform can even help you get the best bouquets around. Peonies are vibrant and stunning species that can open three times bigger than their pre-bud size. Their primary season is from the end of April through early summer (June), which gives peony fans a few good months to grab these awesome blossoms. When you're in the store or picking them out from a local market, you want to feel the buds to determine the hardness or softness of the bottom, which will, in turn, show how much they will open. You also want to pay attention to the colors because these can display the age of the flower.
Test the bud's base
Much like gauging your favorite fruits and vegetables, flowers can let you know their blooming potential by their firmness. According to TikToker @annatheflorist, if you're deciding on buds that are still shut, you can test the base to see if it will open fully. If the part that meets at the stem feels stiff, the flower likely won't bloom properly, and you won't get the full experience. But you can expect stunning blossoms to fill your space with color and sweet scents if softer.
When flowers are plucked too early, they don't always open up to their maximum potential. UMass Amherst explains that flowers harvested at the correct time during their premium stage can pull their carbohydrates, which will help smaller parts grow, allowing the whole thing to bloom and last longer in the vase. Peonies are a species that don't benefit from being harvested too early, so always check the firmness of the bud and avoid the super hard ones.
Check the color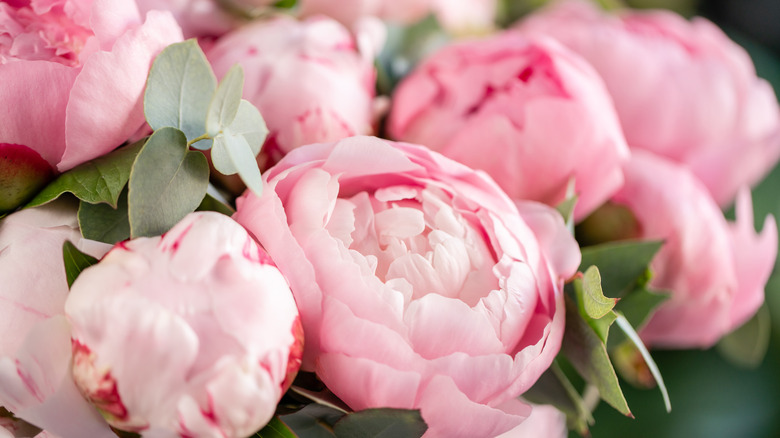 Fusionstudio/Shutterstock
Another trick to ensure you get the best blooms is to mind the colors of your peonies. If you're looking at a bunch that is predominately the same color but some look lighter, these could be a lot older. Anna's video explains that peonies will fade their colors the longer they are kept, so you won't get as much time out of them if you pick these. It can still look nice to have varying colors, but the older blooms will need to be removed from the bunch once they wilt to keep your bouquet fresh and full.
To keep your bushels looking better and longer, try cutting the stems so they are angled, which will let the flower pull in as much water as possible. When you get home, chop off at least an inch so the freshest part of the stem can absorb the water. Adding flower food to your base will also give the peonies the nutrients they need to thrive, so grab a bag or add any that comes with your bouquet. Once you've tried all these tricks, the only thing left to do is enjoy your striking blooms!