HGTV's Emily Henderson Shows You How To Make The Most Of Your Tiny Vertical Kitchen Space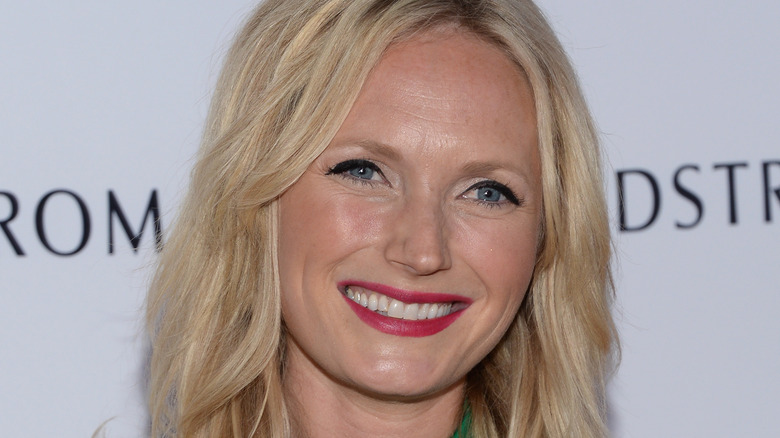 Jason Kempin/Getty Images
We may receive a commission on purchases made from links.
Those with tiny kitchens should always try to maximize the amount of wall space they have available. One of the most effective ways to do this is by installing shelves or cabinets. However, there are some other practical ways to utilize all your vertical space, which interior designer and TV host Emily Henderson outlined in a recent Instagram post. 
She suggests hanging your pots and pans along the wall, which could be done with the help of a wall-mounted rack bar and hooks — if you don't have enough wall space for this, you could suspend them from a ceiling rack instead. Additionally, install a magnetic strip along your backsplash for storing your knives and cooking utensils. If you wear an apron while cooking, you can add a hook to an empty wall for a convenient place to hang it, or if you have a large collection of cutting boards you could arrange them into a gallery wall. These tips are not only functional but they can make a decorative statement and help to elevate the look of your small kitchen space.
Tips on open shelving
If you choose to go with cabinets, you'll be able to hide all your items away behind closed doors, so how you arrange everything is completely up to you. To maximize your storage space, carry your cabinets up to the ceiling and store lesser-used items on the top, hard-to-reach shelves.
Alternatively, if you opt to add open shelving, you'll need to display your items so as to keep them from looking too disordered or cluttered. According to Emily Henderson, "start by making sure your everyday essentials get the shelf space they need," per her blog, Style by Emily Henderson. Everyday items include drinking glasses and sets of plates and bowls, which can be neatly stacked on the lower shelves. "Add your interest/pattern and more eclectic pieces on the top shelf, as you aren't going to grab for those as often and they aren't in your face," continues Henderson. Cookbooks, large pitchers, and decorative plants can also be stored in this area — when choosing the right pieces to display, focus on a cohesive color palette and include different sizes for more dimension. 
Choosing what belongs on the counters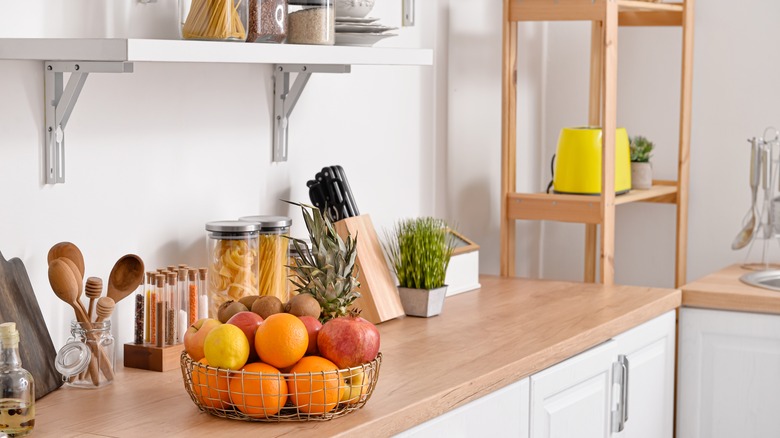 Pixel-Shot/Shutterstock
You probably have a limited amount of counter space in your small kitchen, so you should be choosy with the items you place on your countertops. This will ensure that you have enough space for food preparation and other tasks. For instance, instead of choosing a spice rack that has to be kept out on the counter, store your spices on the inside of a cabinet door with the help of a space-saving organizer, like this one from Amazon. Small appliances like the toaster and blender could be kept either inside cabinets or on shelves. Additionally, always try to hang things on the walls whenever possible. Wine bottles, for example, could be stored in a vertical holder, which would also add an interesting design feature. 
However, this doesn't mean your countertops should be completely empty, as this could make your kitchen feel lifeless and bland. Instead, mix form and function when choosing the elements that you want to display. Things like your fruit basket and utensil holder can be both beautiful decorative items and useful at the same time.