The Renter-Friendly Amazon Find That Lets You Install Curtains Without Drilling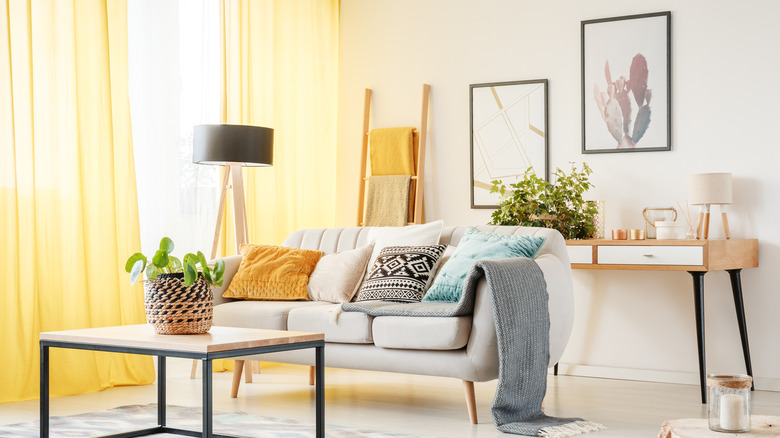 Katarzynabialasiewicz/Getty Images
We may receive a commission on purchases made from links.
Too many of us are familiar with the drab and often ugly vertical blinds that are found in many, otherwise perfect, rental apartments and houses. They generally look cheap and clash with your hand-picked decor. On top of that, they don't do a great job of blocking out the light that they're made to protect you against. Renters with strict rental agreements stating that they cannot drill any holes in their walls feel hopeless against these bland window treatments. However, thanks to a recent TikTok post, people renting spaces everywhere have been introduced to a drill-less option that can save your deposit and allow you to hang curtains with ease.
Even those with the necessary DIY skills to repair small drill holes can benefit from these mounted curtain rod adapters — they are surprisingly easy to install and they're quite sturdy. Even better, you can take them down and put them up again in your next apartment, making them well worth the investment.
What is this viral product?
There are several different types of mounted curtain rod adapters on Amazon that can be mounted without a drill to a variety of surfaces above your windows. Self-adhesive curtain rod brackets seem to be among the most popular options, however, reviews indicate that they can easily fall off the wall if the curtain is yanked on or is too heavy. Instead, the type you'll want to buy mounts directly onto your blinds' headrail to make use of its strength.
TikTok user, Shefoundthat shows how to use this type of mount on vertical blinds in front of a sliding glass door and provides some tips for people who are considering them. One of her suggestions is to make sure that your valence or headrail is properly secured to your wall — a loose valence is likely to fall and cause damage. The NoNo brackets are available on Amazon for approximately $15.
How to install the no-drill curtain rod mounts
TikTok really started exploding over this genius hack when Priscilla Zhou posted a short video showing off the brackets. They totally change the look of her room and she describes them as "the best 15 bucks I've spent on Amazon". Zhou starts her installation process by removing each of the vertical blinds from their headrail. This step is optional as you can always hide the blinds behind your curtains if you don't want to deal with putting the blinds back up when you move. Then she simply tightens the brackets onto the valence with a screwdriver, sets her curtain rod into the mount, and hangs her window treatments.
Some commenters on the video offer some criticism, with one saying "I would love these but curtains look so much better when they are installed higher than the door or window". Still, many of the responses are overwhelmingly positive. It appears that these mounted curtain rod adapters are an easy fix for many trying to make their rental feel like their own.