HGTV's Mike Holmes Names The One Thing That Can Ruin Any New Flooring Installation
HGTV's "Holmes Makes It Right" is a home improvement show that focuses on inspecting, repairing, and building things the right way for homeowners who invested in shoddy renovations. Correcting mistakes and using the proper renovation methods is crucial to ensure that homes last longer and perform better, and one key area that's often overlooked, especially in poorly flipped homes, is the flooring. According to show's host Mike Holmes, forgetting to level the surface before laying down flooring is one of the worst mistakes people make when it comes to floors. Holmes says, "In over 30 years of experience, I gotta tell you, I've seen a lot of bad tiling jobs, and it's usually because nobody tends to level the floor first" (via Instagram). 
Whether you're installing ceramic tile, vinyl, wood, or even carpet, a level floor improves the quality, durability, and appearance of your finished product. With the trend for large-format tiles gaining momentum, spreading the word about uneven floors is more important now than ever. Here's why Holmes says you should never overlook an uneven floor, and what you can use to make it right before laying your tile.
Why uneven floors spell disaster
In a video shared on his Instagram page and Youtube, Mike Holmes explains, "The dips in the floor, that's unacceptable. Any time you're going to tile you want it to be 100% level." Holmes' daughter Sherry is an expert at tile work, and she agrees. "Starting with a level floor is very important. It helps prevent cracking, dips, and even squeaks," she says. To ensure that you're starting with a perfectly smooth and flat surface, Holmes recommends applying a self-leveling underlayment directly onto the concrete foundation or subfloor. 
If you unsure about whether your floor is level, it's better to be safe than sorry. Neglecting to level the floor can cause numerous problems down the line, and it's easier to be preemptive than it is to try and level out the flooring later. Small gaps and dips under the tile can compromise the integrity of the flooring. Once that happens, all it takes is one dropped weight or a piece of bulky furniture to crack your precious tile. Besides the structural issues, an uneven floor just looks, feels, and even sounds cheap.
How to use self-leveling underlayment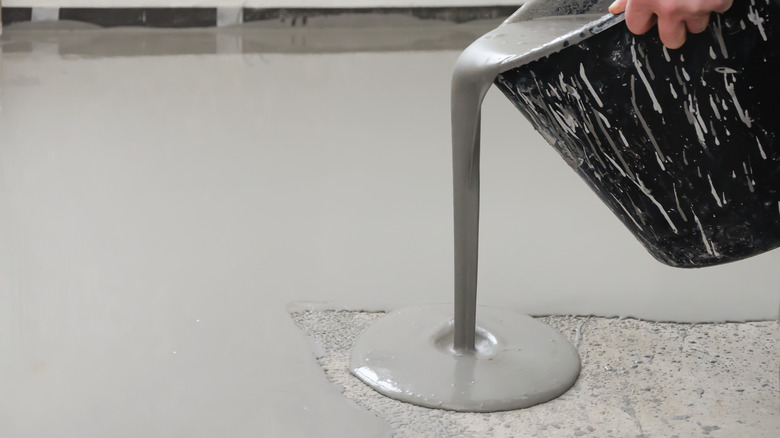 T.SALAMATIK/Shutterstock
It can be hard to put off the big reveal, but before hurriedly pouring anything onto your floor, make sure you follow the proper underlayment installation steps. "The first thing we're going to do is prep the floor, and that [means] putting down a primer," says Mike Holmes (via Youtube). Underlayment primer is a liquid that rolls onto the floor and dries relatively quickly, usually within two hours. Once your primer is completely dry and no longer tacky to the touch, it's time to mix and pour your self-leveling underlayment. 
If there's one product that Holmes depends on, it's Sika Level-125 which bonds to almost all surfaces. Ordinarily, evening out floors can be a long and labor-intensive process, but Holmes explains that he appreciates Sika Level-125 because "there's no need to level by hand the traditional way. Its high fluidity and self-leveling properties allow it to be applied either manually or by pump." Like most self-leveling floor underlayments, the Sika brand product will dry enough to walk over in approximately four hours. Even so, Sherry Holmes says she waits at least 24 hours for the leveler to dry before installing the flooring.