HGTV's Jasmine Roth Explains The Surprise Winners On Rock The Block's Season Finale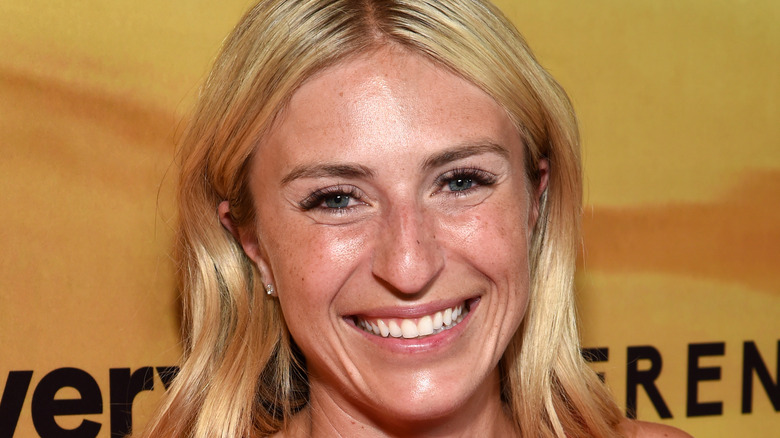 Michael Kovac/Getty Images
During season 4 of HGTV's "Rock the Block," each of the contestants was given a 5,000-square-foot home valued at $1.9 million to renovate for $250,000. Creating a masculine and luxurious space fit for a bachelor, Michel Smith Boyd and Anthony Elle from "Luxe for Less" were the winners this year, beating Jonathan Knight and Kristina Crestin from "Farmhouse Fixer," Page Turner and Mitch Glew from "Fix My Flip," and Bryan and Sarah Baeumler from "Renovation Island."
Jasmine Roth, one of the judges on the show this year, explains why Smith Boyd and Elle's renovation beat the rest, even though they have the least amount of experience. "The best team won based on three independent appraisals that were conducted by local companies. We all had our favorites, but when it comes to adding value, the numbers don't lie," Roth wrote in a caption on her Instagram. While every one of the contestant's homes was valued at over $2.7 million, Smith Boyd and Elle's was valued at $2.85 million, crowning them the winners.
What gave the winning home extra value?
Along with Jasmine Roth, Egypt Sherrod and Mike Jackson, winners of season 1 of "Rock the Block" and stars of "Married to Real Estate," also judged each of the homes. When it came to Michel Smith Boyd and Anthony Elle's space, a few elements added tons of value. The first was an extra bathroom connected to the office. "This was a power move. This may be a game changer," Sherrod says when she sees the extra restroom (via Realtor.com). Another feature that increased the value of the home was a double-sided fireplace. As Sherrod says, "Anytime you can add a fireplace, that's a win." They also include a speakeasy, which could be the perfect place to entertain guests. 
Further, the final challenge of the show was to transform a bonus garage into a usable space. Smith Boyd and Elle decide to add a worktable, storage shelves and cabinets, an easel, and a sewing machine, to create a "maker space." "Typically, maker spaces are like afterthoughts. This is a maker creating a space for the homeowner, what's better than that?" Smith Boyd says. Sherrod agrees and adds that "A lot of people have home businesses now, so it's nice to have this additional space."
What fans had to say about the finale
As Jasmine Roth points out, the main reason Michel Smith Boyd and Anthony Elle won was that their home was appraised at a higher value than the others. However, this came as a surprise to most fans of "Rock the Block." While design always comes down to personal preference, many viewers were unhappy with the winning home because the style doesn't appeal to many homebuyers and felt like a bachelor pad. 
One person commented on Roth's Instagram post, saying, "Don't agree with the winner, that style is definitely to a very small group of people." Another person added, "Very disappointed in the outcome. How did that house come out above the others? It was very geared towards a specific buyer." Many couldn't wrap their head around how a speakeasy actually added value or what made their home better than the others. When the property is put on the market, it will be interesting to see how fast (or slow) it sells.