The Genius Painter's Tape Hack That Makes Hanging Photos Foolproof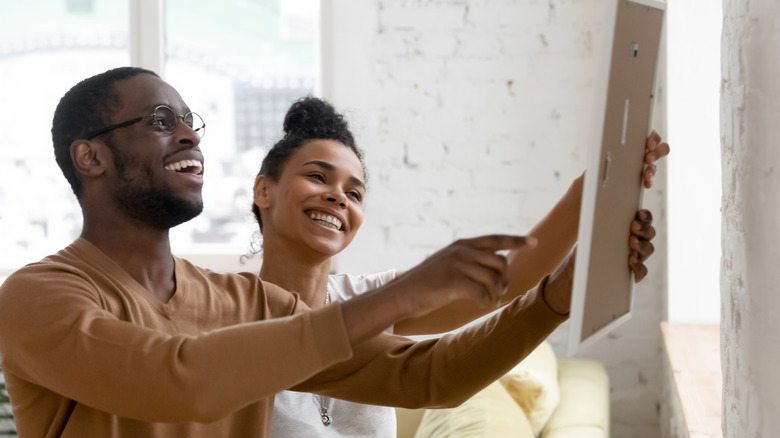 fizkes/Shutterstock
Wall art and framed photos are an excellent way for homeowners and renters to express their personality, but hanging frames is often more complicated than it looks. Even if you have another person to help you, this seemingly simple task can become a communication catastrophe. When all is said and done, you may end up with extra "ventilation" holes in your drywall and a picture that still looks crooked. Photo frames with wire backs are a little more forgiving, but how should you hang something with two nailhead holes or brackets? A hack shared by creator Claire Guentz on Tiktok reveals that you can use painter's tape to measure the frame, then transfer it to the wall and nail the perfect distance every time. 
This hack is so easy it'll have you wondering why you never thought of it sooner, and it's the perfect solution for building a gallery wall or hanging tricky grouped photographs. Follow these steps to beautify your walls.
Step-by-step instructions
In her TikTok post, Guentz starts by laying the frame face-down on a bed. She then unrolls the blue painter's tape and tears off a section long enough to span the back of the frame. After carefully lining up the top edge of the tape with the nailhead holes on the back of the frame, the content creator marks the tape with a pencil. By doing this, she essentially creates a stencil for the frame and nail holes. 
Next, she shifts the tape and the camera over to the wall, where she uses a leveler to make sure the tape is straight. Following the pencil marks on the tape, Guentz hammers in nails with picture hanger hooks. When she peels back the tape and places the framed art on the wall, she reveals a perfectly even and beautiful result. Guentz captioned the post, "Was always questioning my intelligence whenever I had to hang something." Many of us can surely relate to the experience! Some viewers took to the comments, writing, "Thank you, queen," "Bloody brilliant," and "Genius ... Thank you!"
Adapting the hack to work for you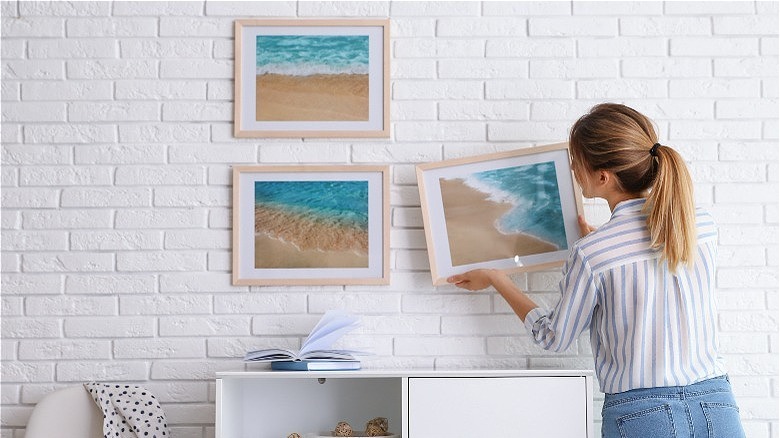 New Africa/Shutterstock
Guentz's hack can easily be adapted to suit your needs, and other items like yarn or measuring tape can stand in if you don't have painter's tape. If you have a long leveler with measurement marks, this could save you some time trying to level the tape against the wall. Still, Guentz's hack is convenient for anyone without special tools or who can't remember exact measurements. To hang more than one framed photo or a whole gallery wall, make sure the tape pieces are even and level with each other before making any holes in your wall. You can even practice hanging and play around with your photo layout by making newspaper or butcher paper cutouts in the same size as your frames. 
When hanging anything on your walls, make sure you carefully account for weight. The only thing worse than accidental nail holes in your drywall is a nail ripped through your drywall. For very light frames, an adhesive hook may be sufficient and will help you avoid wall damage. Guentz uses picture hanger hooks and nails, which can typically hold up to 25 pounds each on regular drywall. However, you'll want to nail heavy-duty hangers into a wall stud for anything heavier.