An Electric Toothbrush Is An Essential Item When Cleaning Your Bathroom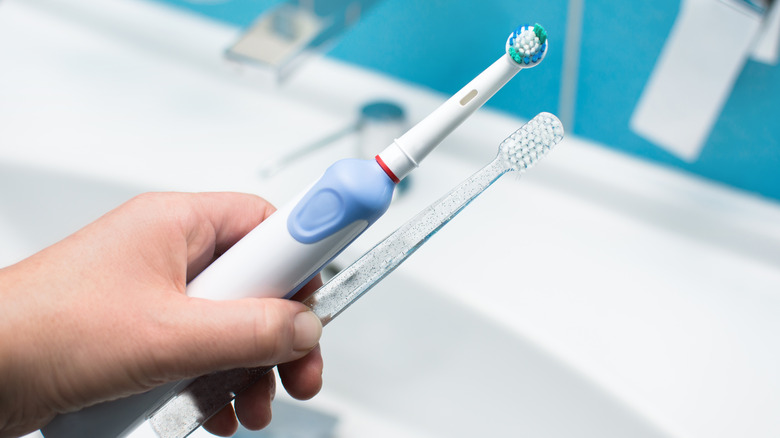 MJfotografie.cz/Shutterstock
We may receive a commission on purchases made from links.
When cleaning the bathroom, it can be difficult to remove grime from small areas such as the grout between shower tiles. If you find yourself struggling with this issue, why not try using an electric toothbrush in the area? Electric toothbrushes are a better option than regular ones because they spin and vibrate, which will allow them to remove debris more effectively. 
They also often have a slightly smaller head of bristles, which can make it easier to fit them into tight spaces. The long handle allows them to reach into tiny corners that a sponge or brush cannot fit. Further, because their bristles are soft, they'll gently buff away grime without scratching metal or delicate surfaces. 
Another benefit of using this tool is that there are cheap options available — even ones as inexpensive as $8 at Walmart. These toothbrushes can either be battery-operated or charged from an outlet. After cleaning with this tool, simply rinse with water, dry, and store with your other cleaning supplies.
Where to use an electric toothbrush in the bathroom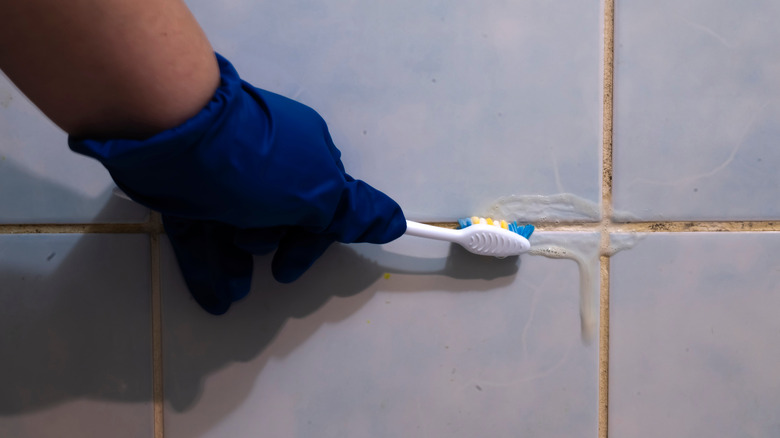 Frezi Gate/Shutterstock
Typically, cleaning grout is difficult, as the spaces between tiles are often small. Further, if your grout is white or another light color, it will most likely get stained over time, and restoring it to its original color could be a challenge. This is where an electric toothbrush could really help — use it to clean the grout between tiles on the floors, on the shower walls, and wherever else your bathroom has tiles.
Further, an electric toothbrush could also be used to clean around your faucets, drains, and shower heads. You may find traces of mold, mildew, mineral buildup, or hard water stains in these areas, so scrubbing them often is important. If you have a sliding glass door on your shower, the track that holds the door could be another difficult-to-reach area where mold or mildew tends to grow. 
Cleaning products to use with your electric toothbrush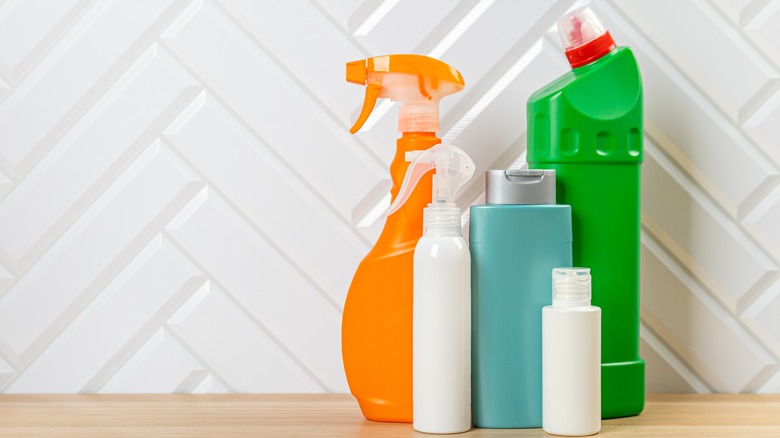 Nana_studio/Shutterstock
Because an electric toothbrush is a small tool that's used for detail work, it will most likely be one of your final steps when cleaning the bathroom. For the best results, use a multi-purpose bathroom cleaner that tackles limescale, such as Scrubbing Bubbles Disinfectant from Amazon, along with larger tools like a sponge or a brush. Afterward, you can then go in with your electric toothbrush and other cleaning products to tackle specific problems in specific areas. 
When cleaning your grout, you might need a stronger cleaning product that will remove stains, such as the Zep Grout Cleaner from Walmart. If you're cleaning around your faucets or inside the tracks of your shower door and you notice mold or mildew growth, it's important to use a specialized cleaner like Lysol Mold & Mildew Remover, available at Target. Those with hard water may notice a buildup of calcium or other minerals on their shower head or faucets, which could be removed with Lime-A-Way, sold on Amazon.