You Can Actually Rent Boxes When You're Moving - Here's How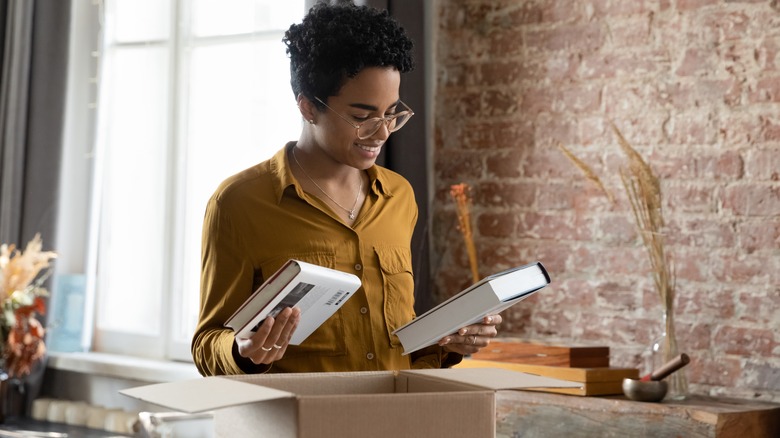 fizkes/Shutterstock
Moves of any size can be a stressful endeavor, entailing the packing and transport of a whole lot of stuff. Moving boxes, which help immensely, can sadly be in short supply exactly when you need them, leading to a lot of scrambling, begging, and borrowing just to get containers. While office and homewares retailers sell sturdy moving boxes of all sizes, they can get costly, particularly for larger homes, adding to an already expensive move. In addition, you run into the problem of disposal or storage of the boxes when the move is finished.
Renting boxes is a great solution to all those problems and more, providing a less expensive alternative to purchasing boxes and an easier option than trying to track down sturdy boxes elsewhere. With a number of reputable companies nationwide offering reusable plastic boxes and crates that can be used over a designated time and returned at the end, rentals can make your move far easier and stress-free.
Benefits of renting moving boxes
Even the sturdiest cardboard boxes can sometimes fail. While they may work perfectly for lighter things, the heavier the box, the more prone it is to tearing, crushing, and coming open. In addition, they can often be unwieldy and without handles, making them hard to carry and even harder to get up or down stairs or inclines. A rainy day and leaky disintegrating boxes can ruin even the most organized move.
Rented boxes are typically made from recycled plastic and are good for hundreds of uses. They are sturdy and easier to stack and carry than traditional cardboard boxes. The simpler they are to place atop each other, whatever their weight, the more space-conserving they accomplish in vans or moving trucks, allowing you to fit more in. In addition, they are a far more sustainable alternative to single-use cardboard boxes since the recycled plastic often gets broken down when the box is retired and remade into a new one.
How to rent moving boxes and bins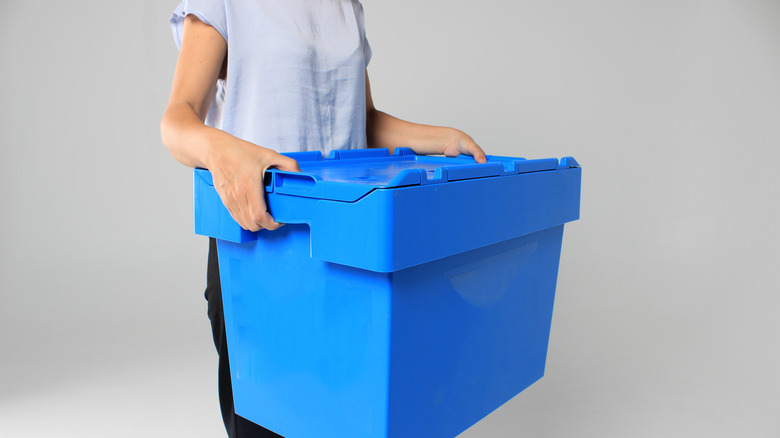 Nata_sun20/Shutterstock
Depending on your location and needs, a number of great rental moving box options exist, including Bungo Box, Rentacrate, U-Hauls Ready-to-Go Box, Redi-Box, and Box Beater. Pricing varies by company and location, but most offer a weekly rate that can be amended based on your specific boxing requirements and timeframe of packing/moving. Since purchasing boxes for even the smallest apartment move can be over $100, most box rentals will come in far below that, even for a week. Some, like Chicago-based Redi-Box, offer delivery right to your home or easy pickup and returns.
If you are having a hard time figuring out how many and what size boxes you need, most providers have pre-set standard packages based on home size and square footage that can be customized depending on how much and what kind of stuff you are moving. According to Taylor Cezanne on TikTok, since the boxes have a defined return date, they may also help you avoid move-in procrastination and a house full of still-packed boxes that linger for months.