HGTV's Nate Berkus And Jeremiah Brent Explain Why A Formal Dining Room Just Doesn't Work In 2023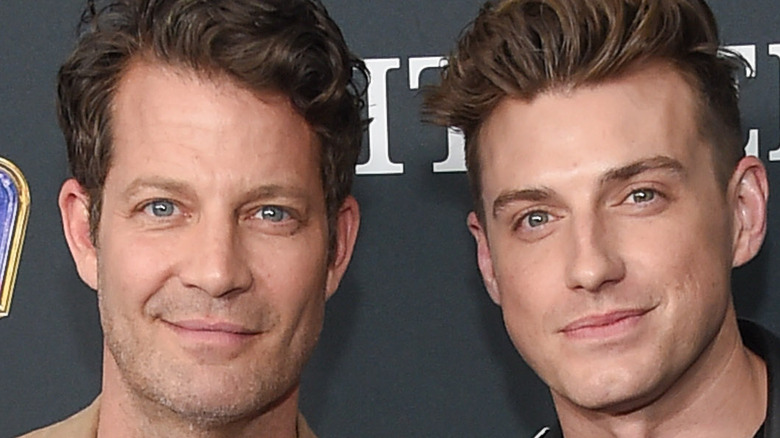 DFree/Shutterstock
Floor plans change just as much as home trends do. Older and traditional homes tend to have closed-off rooms and dedicated functions for each space. But more modern homes have given up walls in the main living spaces for an open and airy floor plan. But the lack of walls came into question in recent years as people realized that some separation might be a good thing in the home.
Despite the ongoing discussion on the right amount of walls, one thing from vintage and antique homes hasn't carried over into modern homes: Formal spaces. Many homeowners are giving up traditional formality since it doesn't meet their lifestyle. Formal sitting and dining rooms are no longer as common since they no longer reflect how people use their homes.
On a recent episode of "The Nate and Jeremiah Home Project," Nate Berkus and Jeremiah Brent remodel the home of a couple who moved to a 1920s Tudor. While the home is in good condition and absolutely beautiful, the antique space proves how people's live have changed over the decades.
Dining is less formal
Ryan Mcvay/Getty Images
Tudor homes rose to popularity while Henry Tudor VIII reigned over England. The style was observed by architects and brought over to America, where it saw its peak popularity in the 1920s and 30s. Nicknamed Stockbroker's Tudors because they were often the choice for successful homeowners, their historic origins can point to why antique homes function the way they did. In decades past, having those dedicated and separate areas worked for their lifestyles. But modern homeowners often find these spaces closed off. 
In the episode, Berkus notes, "This vintage home is in what I would call good original condition. But right away, I feel like it has a formality to it that seems outdated for a modern lifestyle" (via Realtor.com). For most homeowners, sitting down in a formal dining room is less common. Formal spaces in a modern home tend to be used for holidays or entertaining rather than nightly meals. And even if a family does sit down at the table each night, having a closed-off space isn't conducive to modern lifestyles. Client Jordan tells Berkus and Brent, "The formal dining room just doesn't really work for how we live our lives." To remedy the space, the designers open the room up to the kitchen and living room with large doorways and wood molding that still reflects the home's antique character. Opening the dining room allows it to feel connected to other spaces. Logistically, the home flows easier, as well.
Alternatives to a formal dining room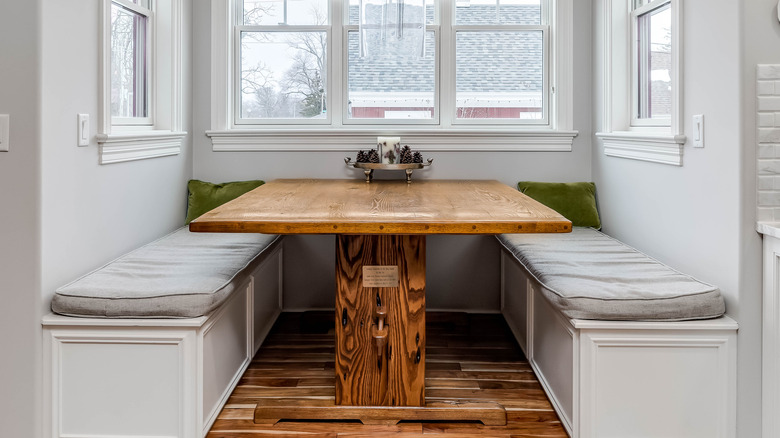 Hendrickson Photography/Shutterstock
While you may not sit down for a meal in a dining room, that doesn't mean you aren't eating together. You can have a comfortable, informal dining space that still allows you to spend time together. Combing the kitchen with an informal dining space logistically makes the most sense. Adding a nook or banquet where you can have a space to dine allows for the best of both worlds: A dedicated area to eat that's open and less formal than a traditional dining room.
But what if you have a dining room you don't use and don't know what to do with? Then you have an extra space that you can use to make your home better fit your needs. A home office might be ideal if you work from home or want a dedicated space to manage the household. Or use the former dining room to house a niche interest like a library, music room, or exercise area. If you're one to entertain guests, a game room or your own cocktail bar might be a better option. Or house overnight guests in a guest room.