The Biggest Warning Sign Your Peel-And-Stick Wallpaper Isn't High Quality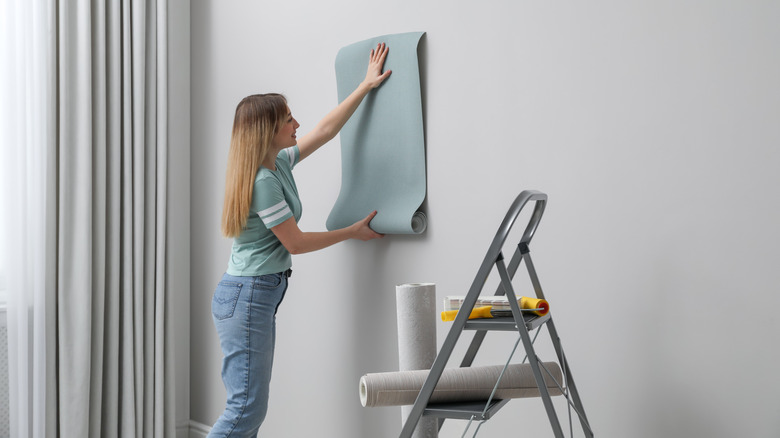 New Africa/Shutterstock
We may receive a commission on purchases made from links.
One of the reasons why peel-and-stick wallpaper has become more popular than traditional types in recent years is because it's so easy to work with. However, this is only the case if you purchase a high-quality option. The biggest sign that your material is low quality is that it's extremely difficult to either put on the wall or take off.
When applying, the panels shouldn't stretch and should stick to the wall with ease. If you notice any tearing or the material starts to peel down from the corners, you're dealing with a low-quality type. At the same time, once stuck to the wall, it shouldn't adhere so perfectly that it's impossible to remove. While installing, you may need to readjust some of the panels to line up correctly; quality material will allow you to do this. Further, once you're ready to remove the wallpaper, it should come off without damaging the wall, leaving behind any residue, or tearing off into small pieces. 
High-quality peel-and-stick wallpaper options
Because you can't truly know the quality of your wallpaper before you install it, you may desire some recommendations on the best brands. If you're on a budget, you could try RoomMates, available on Amazon. Their selection includes florals, geometric shapes, and characters from television shows and movies, among many other options. Another cheaper choice on Amazon is Wall Pops!, which sells peel-and-stick floor tiles, backsplashes, and wallpapers.
If you're willing to spend a bit more and love repeating floral patterns, check out Rifle Paper Co. They also sell murals that cover an entire wall in one panel. Finally, another more expensive option is Chasing Paper, which sells samples for $6, so you can see exactly how a pattern will appear on your wall. If you're looking for something unique, this could be the place to shop, as they have abstract patterns and novelty designs you can't find anywhere else. Another huge benefit of shopping from Chasing Paper is that they have a footage calculator, which will tell you how many rolls you need after you put in the width and height of the wall.
Tips on applying peel-and-stick wallpaper correctly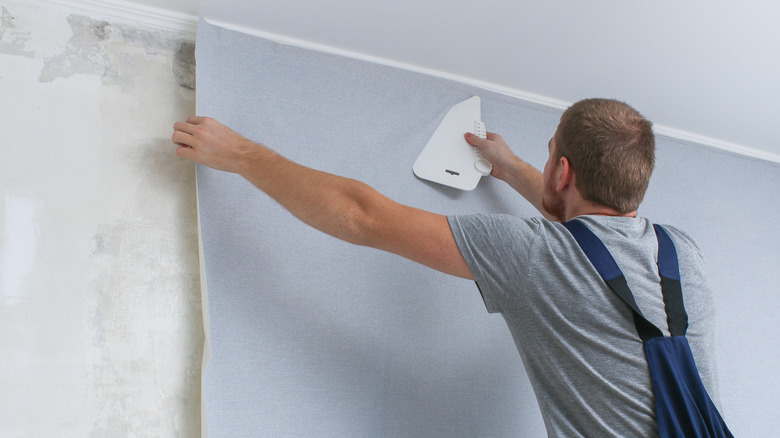 Olya Detry/Shutterstock
Once you've purchased and received your peel-and-stick wallpaper, you'll then need to prepare the wall. To do so, it needs to be perfectly clean, and the flatter the surface, the better. If you prime or paint the wall before installing, make sure it's fully dry before putting up the wallpaper. 
The first panel must be installed perfectly straight; to do this, measure out horizontally from the left side of the wall the width of your panel, then use a level to draw a straight, vertical line. To install, begin at the top and move your way down, ensuring the panel is aligned with the edge of the wall and the drawn line. When you reach the bottom, cut off any excess with a utility knife, which you could purchase at Walmart. Save these scraps just in case you make any mistakes and need to fill small spaces. As you continue installing, smooth out any bubbles using your hand or a squeegee, also available at Walmart.