The Modern Paint Color That Adds Sophistication To Your Home's Exterior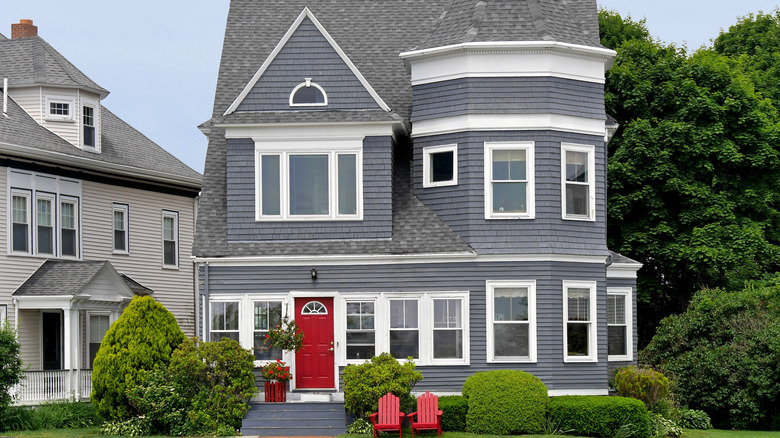 Spiroview Inc/Shutterstock
While gray seems to be getting less and less popular in interior design, it may still be the best choice for your home's exterior. Because it's typically associated with luxurious and sophisticated spaces, those with a modern style may benefit from using it on their home. Additionally, it can work with a number of materials such as wood, tile, and stone and a variety of colors like blue, green, and red. While many dismiss gray because they think it's too cool-toned, there are actually plenty of warmer options as well, sometimes referred to as 'greige.'  
Just like white, gray will create the perfect neutral backdrop upon which other elements of the home can be emphasized. For instance, a brightly painted door will draw attention to this unique feature. Gray also has an additional benefit that white does not, as it hides dirt and imperfections since it's a darker color. It's also more unexpected, which could set your house apart from others and may even increase the value of your property. 
Deciding which shade of gray to use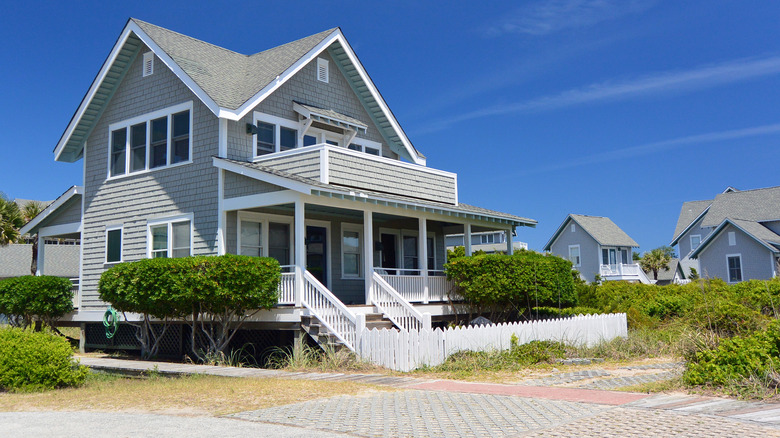 Sara Kendall/Shutterstock
As stated, there are both cool-toned and warm-toned gray paint shades available. To choose which one will look the best on your home, first think about the colors you've used on the interior. If they're warmer, choose a shade that matches, and vice versa. 
You should also consider where your home is located and the colors in your surroundings. If most of the other buildings or houses on your street have an old-school or traditional look, a warmer shade may look best. On the other hand, those living in a neighborhood filled with white homes and perhaps even some black-painted exteriors should choose a cooler tone, as it will complement the other homes while still making a statement. Further, a cool tone may look the best if you live near the beach or in a modern city, as it will pair well with colors like blue and black. However, those who live in a forest may prefer greige, as it will match colors like beige and brown.
Gray paint color options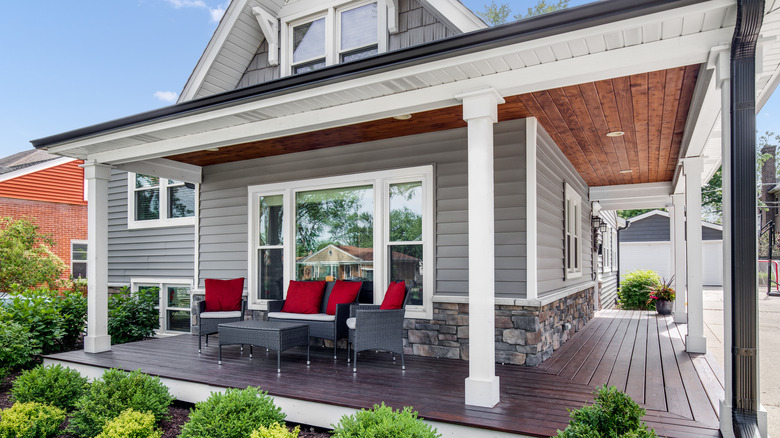 Hendrickson Photography/Shutterstock
Those looking for a cool-toned shade could check out Farrow & Ball's option called Plummett. Described as striking and dramatic, this color has slight blue undertones. Flannel Gray from Behr is another cool-toned option that's slightly lighter but still provides a sophisticated appearance. If you want a warmer option, look to Valspar's Villa Gray, a light, beige-gray tone available at Lowe's. Another choice you could try is Valspar's Soulful Gray, which is a bit darker and can also be purchased from Lowe's. Those who aren't sure whether to get a cooler or warmer tone may want to use Storm by Benjamin Moore. While it looks cool in ambient lighting, this paint shade has a beige tinge in sunlight and at night. 
When it comes to the trim color, add more drama with black or charcoal, such as Rust-Oleum's option from Walmart. Or, you could go with a simple, pure white, which would tone down your exterior shade and create a cleaner look.