The Genius Home Town Bookshelf Tip To Keep Your Living Room Light And Bright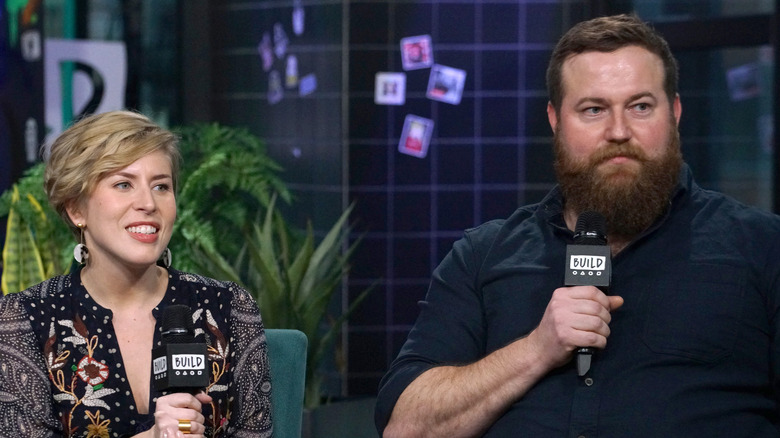 Manny Carabel/Getty Images
If you've ever watched HGTV's "Home Town," you know that Erin and Ben Napier are huge fans of built-in bookshelves. This is because shelves increase storage space, often become the focal point in the room, and allow the homeowners to stay true to their home's past, as this is typically a traditional feature. If the home they're renovating already has bookcases, the Napiers often preserve them with a fresh coat of paint and decorate them with plenty of knick-knacks, books, and other sentimental pieces.
However, while bookcases can be great design features, they can also sometimes make a space feel closed in or dark. If you feel this way, Erin has the perfect solution: remove the backs from the shelves so that they open up the area between two rooms. In one season 1 "Home Town" episode, the Napiers do just that — they knock down the walls behind two bookshelves that flank the walkway between the dining room and the living space, which increases the amount of natural light in the home. 
Benefits to using open-back bookcases between rooms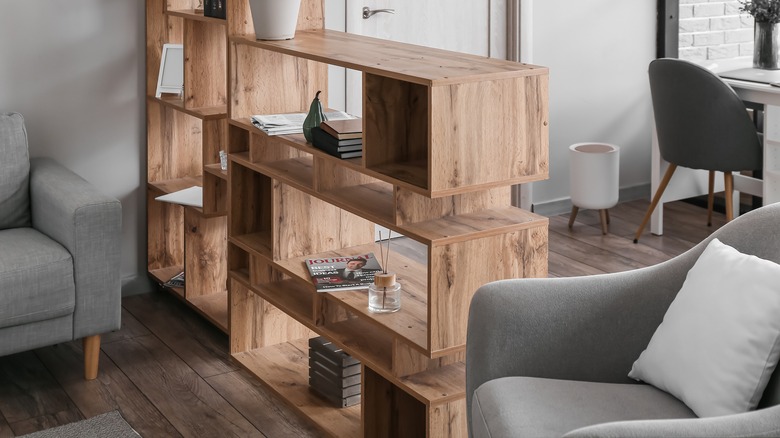 Pixel-Shot/Shutterstock
Dividing two rooms with open-back bookcases will make a home appear brighter because the two spaces will have access to more natural light. For instance, the windows in the dining room can shine into the living space and vice versa since there aren't any full walls that separate the rooms. Further, because bookshelves are both practical and aesthetically pleasing, they provide the owners with more functional storage space or a place to add decorations that personalize their design.
Additionally, those who are torn between an open and a closed floor plan may benefit from testing out this hack. While knocking down walls between rooms to open up the floor plan can make a home feel larger, it can also take away the cozy vibes. At the same time, preserving or creating walls between rooms can make a home feel more comfortable, but it can also decrease light and space. Using open-back bookcases to divide two rooms will emphasize the benefits of both these options and minimize the disadvantages.
How to copy the Home Town look
If you want to create a similar look to the bookcases featured on "Home Town," you'll first need to install the open-back bookcases. You can either remove the back from existing bookshelves or purchase ones to add to your space. If you want a built-in appearance, have them custom-made so that they fit perfectly with the dimensions of your home. To get the exact same look as the one on "Home Town," paint them with Sherwin Williams Pure White. An alternative to built-ins is buying a geometric open-back bookcase from Wayfair and placing it between two rooms in an open floor plan; while this piece won't reach the ceiling, it would still provide a similar appearance.
Once you've got the bookcases installed and painted, it's time to decorate and organize. Because you still want the light to shine through, don't cover every shelf with books or large items. Instead, sprinkle in small stacks of books and other pieces like knick-knacks, sculptures, and picture frames. To corral items that you don't want on display but still need to store, use decorative boxes or baskets.