Earth Day Deals That Will Keep Your Home Eco-Friendly All Year Long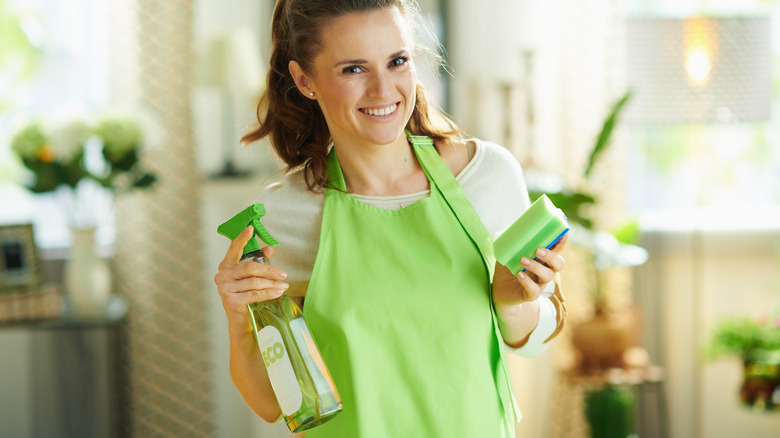 Alliance Images/Shutterstock
We may receive a commission on purchases made from links.
On average, a single person produces almost 5 pounds of trash per day, according to the Environmental Protection Agency's data from 2018, and that number has likely only climbed since then. Even though about 85% of people worldwide care about shopping sustainably (via Bankrate), we still generate a lot of waste around our homes without realizing it. Think about all of the plastic bottles, synthetic sponges, paper towels, and disposable bags we handle in a single lifetime — not to mention all the chemicals sprayed into the air, and products washed down the drain. Creating a more sustainable home doesn't happen overnight, but with all the amazing Earth Day sales in 2023, now is an excellent time to keep more green in your wallet, give back to the planet, and get a head start on a cleaner lifestyle. 
Some of the most popular household brands, including Seventh Generation, Target, Marley's Monsters, and Amazon, are hosting deals for Earth Day this year, and we want to highlight companies that are doing more than just a brief sale. Check out where you should shop this Earth Day to get in on the eco-friendly festivities and how these companies are changing their environmental impact for the better. 
For a cleaner home and greener planet
A clean home is a happy home, but sometimes we fail to realize how harmful harsh chemical cleaners are to our bodies and the environment. When transitioning to make your home more eco-friendly, cleaning supplies are a great place to start. Luckily, Seventh Generation is a brand you can depend on for affordable, hardworking products that keep you and the planet healthy. Seventh Generation's products are formulated with biodegradable, plant-based ingredients, and the company is constantly working towards using fewer plastics and more recycled packaging materials. This Earth Day, look for deals up to 15% off on their laundry detergent, foaming dish spray, multipurpose cleaners, and more at Amazon, Target, Walmart, and the Seventh Generation website. 
Cleaners are one thing, but don't forget about your cleaning tools! Another leader in the sustainable cleaning game, Marley's Monsters, based in Eugene, Oregon, offers zero-waste products like washable dusters, cloth napkins, spray bottles, and sponges. Pick up a 12-pack of their famous "UNpaper Towels," adorable, absorbent, and machine-washable wipes that roll up neatly just like standard paper towels. In honor of Earth Day, shoppers can enjoy 20% off of everything online at Marley's Monsters during the week of April 19-25.  
For all your Earth Day essentials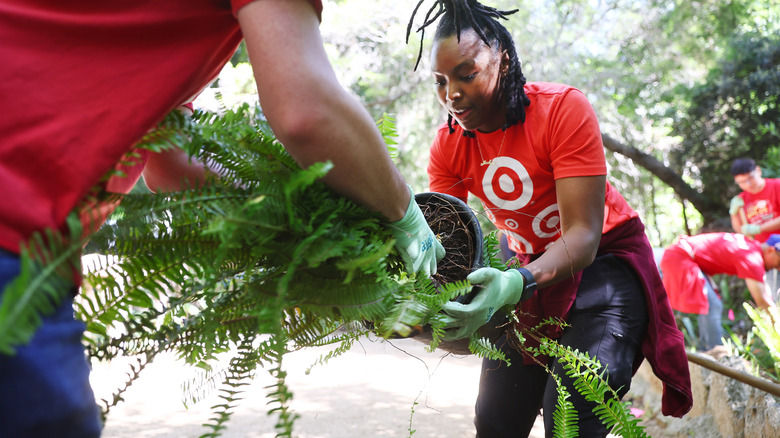 Mario Tama/Getty Images
In addition to brands dedicated to green cleaning, there are plenty of honorable mentions where you can find deals on kitchen and dining supplies, eco-friendly technology, essential garden tools, furniture, and more. If you were looking for a good excuse to make a Target run, now you've got one. Through their Target Circle program, Target is hosting a good variety of Earth Week sales, including up to 25% off select laundry detergents, food storage containers, multipurpose cleaners, recycled paper products, and more. Outside of its Earth Day deals, the company is also dedicated to achieving sustainability goals through Target Zero and TRUE Zero Waste initiatives (via Target). 
If you don't feel like braving the crowds at your local Target, head online to Amazon. This online retail giant always has good sales, but for Earth Week, you can find deals on recyclable Ziploc bags, wool dryer balls, reusable Swedish dishcloths, eco-friendly cleaning supplies, and more. Amazon is working towards more sustainable business practices by highlighting its "Climate Pledge Friendly" products, which you can find all across the website (via Amazon). Just be sure to select the "Amazon Day" shipping option at checkout to reduce packaging and carbon emissions!