Should You Really Be Finishing The Basement Before Selling Your Home?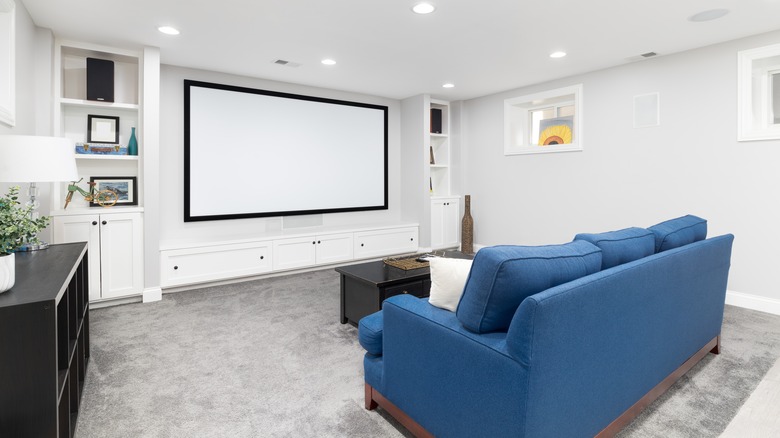 Hendrickson Photography/Shutterstock
A finished basement would increase the usable space in your home, which may be especially beneficial for large families. Additionally, it could be transformed into whatever you desire, from a guest suite to a home theater. However, should you install drywall, flooring, and lighting in your basement right before selling your home? The answer is typically no, as this renovation most likely won't give you an over 100% return on your investment, meaning you'll end up losing money.
Typically, a finished basement will return you up to 75% of what you spent on the project, though this percentage could be higher or lower depending upon where you're located. Therefore, if the renovation costs $20,000, you'll probably get around $15,000 back when you sell. While this is a pretty good ROI, you won't get all your money back, so you shouldn't finish your basement just because you want to increase the value of your home on the market. However, those who want to use the space themselves before selling may find that the investment is worth it.
Deciding whether or not to finish your basement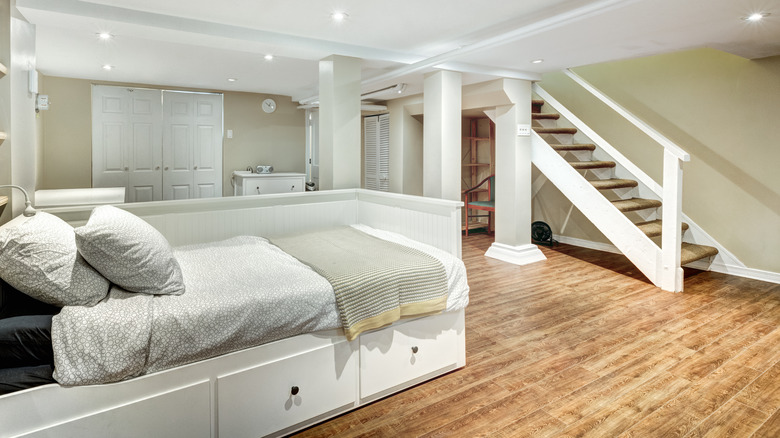 Anatoli Igolkin/Shutterstock
Before deciding on whether finishing the basement is the right choice for you, there are a few things you should consider. The first is if your area often floods; if it does, you may not want to renovate, as you'd lose all the money you put into the project if it flooded. Even if you don't think your basement will flood, it may still be extra humid, which could lead to mold and mildew growth. To avoid this, you'll need to add a dehumidifier to the space.
Something else to think about is how high the ceilings are in your basement. If they're too low, you'll be extremely limited on what renovations you can complete. Finally, ponder how much you're willing to spend on the project; if it's under $18,000, you may not be able to complete a basement renovation, as this is the national average. However, the price can vary widely depending on how much needs to be done and how large the space is.
Other renovations with a higher return on investment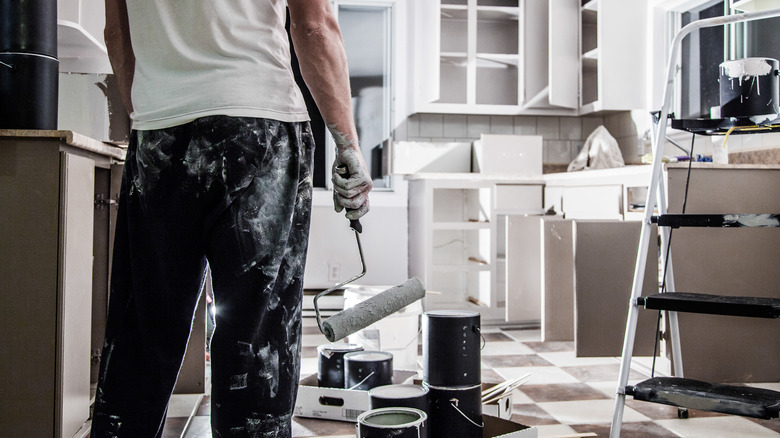 Aetb/Getty Images
If your only goal is to get a higher ROI when selling your home, most Realtors will tell you that renovations aren't the best way to go about this. This is because most full transformation projects won't provide you with an over 100% ROI, meaning you'll either break even or lose money. Instead of renovating, you could simply clean your home, give the walls a fresh coat of paint, and stage properly, which are all low-cost ways to increase value.
However, if you're set on renovating, the kitchen and bathrooms are the best places to do so (not the basement). Because these are high-traffic areas that most potential homebuyers will pay close attention to, improving them aesthetically or functionally could give you an over 100% ROI. Something else you may want to focus on is the exterior of your home, as this is what potential homebuyers will see first. Landscaping, painting, and replacing garage doors, some fairly small curb-appeal changes, could increase your home's value as well.