The Stylish Airbnb Paper Towel Hack That Adds Instant Charm To Your Kitchen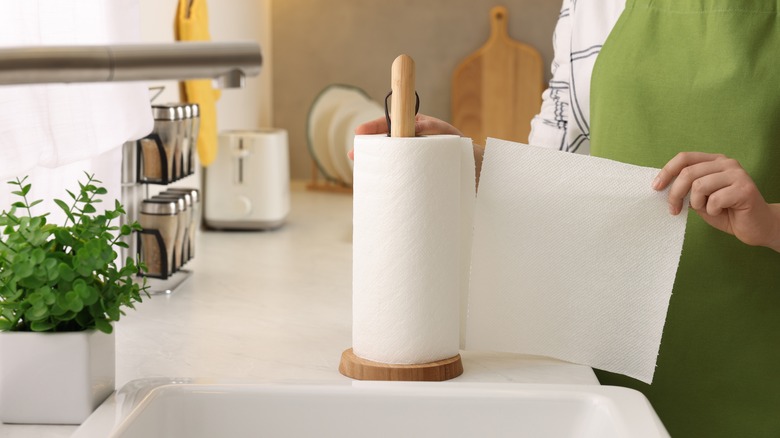 New Africa/Shutterstock
We may receive a commission on purchases made from links.
A tidy kitchen is a happy kitchen and a happy homeowner. However, if you look around your kitchen space and feel it lacks a bit of oomph to it, you don't have to do anything too drastic to introduce a little charm. For a more stylish kitchen in mere minutes, simply spruce up your paper towel roll. TikTok user @deetakesovercleaning taught us this easy paper towel hack, which she regularly uses to create kitchen charm for her Airbnbs.
With this hack, instead of buying extra colorful décor to display in your kitchen, you can turn your paper towel roll into décor itself with a simple fold of a few sheets. You can place your newly styled roll of paper towels on your counter or kitchen table to prevent either from looking mundane, or you can incorporate this hack into your very own home listing on Airbnb — giving every new guest something unexpected to admire and replicate in their home when their vacation is over. The hack is quick and easy; here's what you need to do.
Turn your paper towel roll into décor
In her tutorial, TikToker @deetakesovercleaning shows us how she transforms a bland paper towel roll into a stylish one. The hack takes only a few minutes to complete, along with a bit of origami.
Start by ripping off one sheet from the roll and setting it aside. Then, lay your paper towel roll on the counter and spread out two full sheets. Fold the top right corner diagonally to the opposite side, creating a triangle. You'll want the tip of the triangle to be in the inner corner of the roll where the rest of the towels continue. Once you've made your triangle, fold it over to join the rest of the rolls and tuck in the bottom corner under the sheet it lays on top of. You'll have to carefully lift the sheet and gently tuck it into the corner, resulting in a pocket.
Next, take the sheet of paper towel you set aside and fold it accordion style. You're going to continue folding back and forth until you run out of space and end up with a thin packed rectangle. Hold the bottom part with one hand and fan out the top folds to create a fan. Finally, tuck in the bottom part you're holding into the pocket of the paper towel roll, letting the upper half fan out on the side.
Use a stylish paper towel holder
If you're not the biggest fan of crafting, then this paper towel hack might not be for you. However, you can still add instant charm to your kitchen working with the same unassuming roll of paper towel. Just, rather than fold any sheets, consider instead opting for a stylish paper towel holder.
Collections Etc., for example, carries a metal paper towel holder featuring large sunflowers and an antique finish, which would complement a country-style kitchen or stand out in an all-white interior. The holder measures 7 inches in diameter and is 13 1/4 inches high.
On the other hand, if you enjoy more simple décor, Amazon has a wooden paper towel holder by Cambiar that features a cutout flower at the top. The seller also carries two other designs by the same maker: a cat and a panda. Also, don't forget the paper towels themselves. Another way to quickly add charm to your kitchen is to simply switch our your plain paper towels for ones with a print.