HGTV's Denese And Mike Butler Talk Reanimating Floor Plans On 'Fix My Frankenhouse' - Exclusive Interview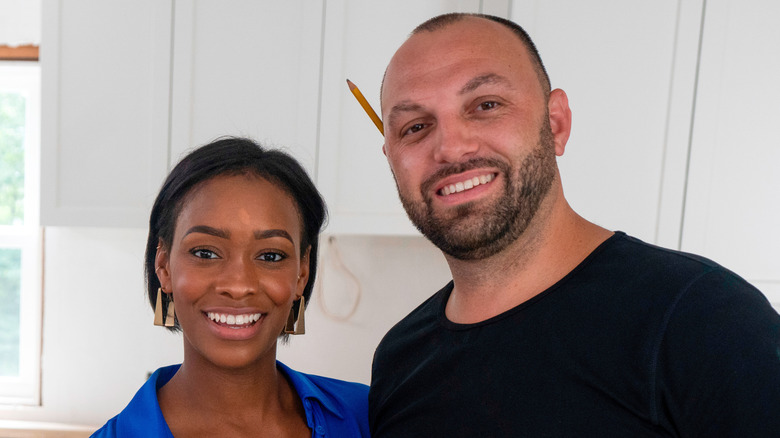 HGTV
All things change over time: Young children grow up into adults. Small towns become large urban hubs. And old homes undergo various renovations to maximize their livability while exuding timeless charm — although this isn't always the case.
Countless historic properties across the country are a shell of their former selves due to ill-advised renovations that failed to grasp the big picture. Thankfully, HGTV's Denese and Mike Butler aren't coming to town with pitchforks and torches to burn these "frankenhouses" to the ground. Instead, they're giving the hodge-podge properties the modern makeovers they so desperately deserve, to the delight of beleaguered homeowners.
In an exclusive interview with House Digest, the seasoned renovation and design experts behind "Fix My Frankenhouse" shared their experience filming their new show and provided priceless tips for ensuring your renovation plans don't unwittingly create a monster. From wasted square footage to sewn-together floorplans, the husband-and-wife team has a solution for the nightmares that haunt America's quirkiest properties.
Filming 'Fix My Frankenhouse' has 'been an experience'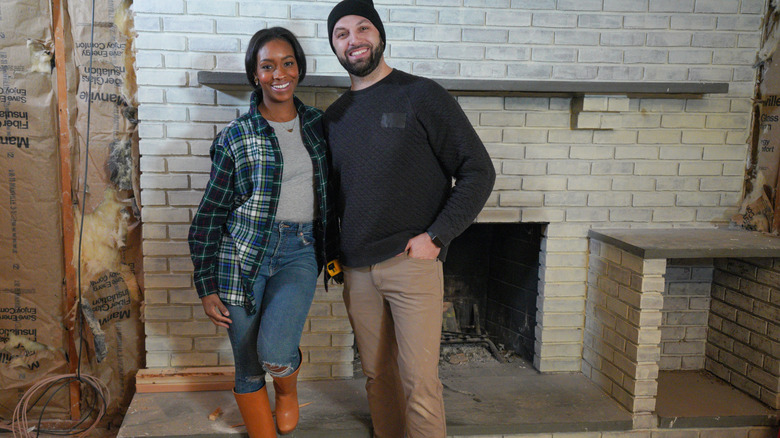 HGTV
Most viewers don't live in a house that's quite as quirky and dysfunctional as the homes featured in your new show. What lessons or takeaways will viewers walk away with after watching "Fix My Frankenhouse"?
Mike Butler: The biggest takeaway that we emphasize is that solving a lot of the requests or needs of the clients sometimes doesn't need to be a massive addition. It's just reworking what you have within your four main walls.
Denese Butler: The other thing is that it's okay to not be super trendy. Every house on this show has a completely different aesthetic, and that aesthetic represents the homeowner. That is my hope — something that will encourage the viewers, whether they're renting or owning their own house. But it's super important to tap into who they are and draw out certain cool aspects of them and incorporate it into the home, whether that may be through art, music, color, travel, etc.
As your foray into the world of TV, filming "Fix My Frankenhouse" must have been quite the experience. What was it like stepping outside your comfort zone and being involved with this project?
Mike: My wife was meant to be on TV. I'll state that off the bat. Me, on the other hand ... It's been an experience. It's definitely stretched me personally. I'm a behind-the-scenes, get-it-done type of personality, and I'm an extreme introvert, so it has brought me out of my comfort zone and challenged me. Overall, I've grown from it.
Denese: For me, like Mike, it also stretched me as a mom, as a wife, and also as a business owner. We're juggling so many balls. There are so many things up in the air, and it has allowed us to be so much ... We have always been very intentional with every decision that we make, but it has definitely fast-tracked the way we communicate effectively and are being super intentional with every decision. When I say intentional, for example, [it's] making sure that [during] dinnertime, we're not only always talking about work. That's one of the biggest things — the communication — and stretching us to become better people and business owners in general.
Seeing the bigger picture
HGTV
A major component of "Fix My Frankenhouse" involves updating peculiar floor plans to meet the demands of modern families. What are some key ways you're able to accomplish this?
Denese: When we initially meet with our clients, we listen to what their needs are and their wishlists. Based off of those things, Mike is able to rework a floor plan, and I'm able to get to work on the aesthetic.
Mike: Some of my background is [in] understanding the traditional layouts of what some of these architectural style homes should have been, and then understanding what was added, or what was done to alter them. Part of that is ... getting them back to their roots and modernizing them, and "How do you make it better for modern-day living?" We like to pay homage to the past and also make it work and flow with modern-day living.
Mike, as old homes undergo numerous renovations over the years, wasted square footage is often an unintended consequence. How does this happen, and how can homeowners avoid this when renovating their space?
Mike: In my opinion, it's stepping back and looking at the bigger picture, looking at the floor plan as a whole. Say you're doing a kitchen renovation; does the flow make sense on that kitchen renovation for the whole floor plan and the furniture layout?
A lot of people — believe it or not — when they do design work, they do not do furniture layouts. Furniture layout is critical to flow. That will basically indicate if I should put an opening in, or if the couch hits where that opening is. Understanding little things like that and looking at the bigger picture allows you to properly design a space. And you're absolutely right — if you're not going to do a big addition, getting, say, two square feet back from a pipe chase that's not needed for a much-needed closet ... That's vital square footage that old homes are notorious for hiding in walls and spaces for chases and so on.
Impactful design choices
HGTV
Denese, your design work is known to mix practicality and coziness. What are some practical, cozy touches that budget-conscious homeowners can implement in their homes?
Denese: The first thing that comes to mind is paint. Paint colors are so vital when it comes to a space, and when I approach each home, my thinking is, "How do I want to feel if I were them? How would I want to feel when I come into my space?" Picking colors that are a little warmer in tone instead of bright white definitely gives a different feel.
Not every room needs to necessarily feel bright. Let's take an office, for instance. I tend to go a little warmer and moodier in color. Where do we spend most of our day when we're working? If you're working from home, [that's] in your office. So I particularly like to make offices a little bit cozier with warmer tones and whatnot, and that is a very cost-effective and budget-friendly way to incorporate coziness. Also, accent rugs are a great way to cozy up a space.
Denese, in a past interview, you indicated that no room is complete without drapery. In what way can homeowners transform a room with the perfect set of window coverings?
Denese: That's a great question. Drapery is like putting on mascara, and for men, it's like adding that tie to your button-up. When it comes to drapery, you could do the loose fabrics, which you typically see, or bamboo blinds to add and incorporate some natural elements into the home. Sometimes, depending on where you live, you need privacy. Not only is it aesthetically pleasing and can make a space feel comfy, but incorporating such adds privacy as well.
Family ties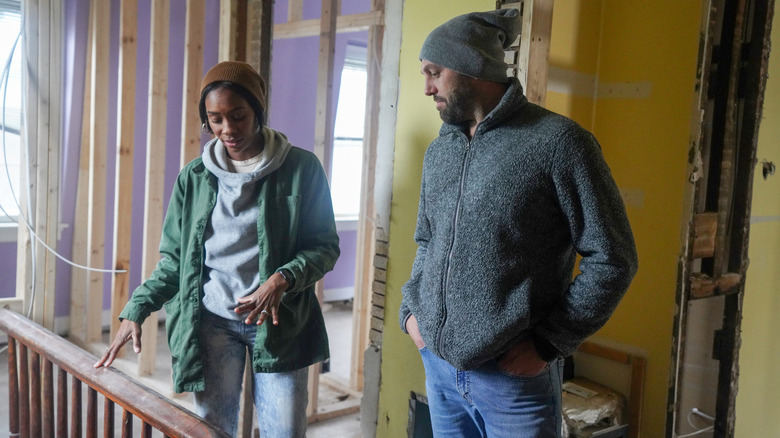 HGTV
Your new show will see you renovating homes with not only your spouse but both of your fathers. Does the dynamic of a renovation change when working with family? If so, how?
Denese: You would think, right? Did you want to tap into that, Mike?
Mike: They bring a different perspective. Both our dads are basically in their retirement years now, so they have a different outlook on the way we look at things. They question, "Are you sure you want to do that?" — or we'll push them out of their comfort zone. It's fun. They're a wealth of knowledge because they've both been in the industry for over 30, 40 years. We lean on them for expertise, we lean on them for advice, and they also actually do physical work for us sometimes.
Denese: We get along off-camera too. We love each other very well. Our families get along very well.
Mike: There's a joke that our parents are PB and J — peanut butter and jelly. They get along so well, our dads especially.
Mike, as someone who grew up in a family with several generations of builders, what is the most important lesson you've learned about planning a home's design?
Mike: It's that bigger picture, whether you're going to phase the renovations over time, but understanding a master plan. We've had clients where we basically have done a master design, but then we've phased the work into two or three projects. By giving them that overall master plan, they can now break that up into [doing a project] every five years. [They]'re not hit with such a big cost upfront, but they're achieving something overall in the house that they want and need as their family grows. Some people are like, "All right, let's focus on this room and do this kitchen." But literally, that kitchen can affect how it flows to the dining room or to the family room, or, "Hey, we want an open concept."
Being in the construction industry helps me understand overall costs. A lot of people don't understand the overall cost of a project, so it's being transparent with our clients. For your wishlist and your budget, if they're not aligned, it's having those tough conversations with them and saying, "Well, we can do X, but we can't do Y and Z."
"Fix My Frankenhouse" will premiere Sunday, April 23, at 9:00 p.m. ET on HGTV and will be available to stream the same day on discovery+.
This interview has been edited for clarity.