Dave And Jenny Marrs Talk Joining Season 2 Of HGTV's Home Town Takeover - Exclusive Interview
HGTV
As the stars of HGTV's hit series "Fixer to Fabulous," designer Jenny Marrs and her skilled craftsman husband, Dave, have already established themselves as trusted experts and fan favorites of the network. Now, the power couple is back, and this time, they're hitting the road.
Known for transforming classic American homes in and around their own small town of Bentonville, Arkansas, on "Fixer to Fabulous," Dave and Jenny are taking their skills across the country and are teaming up with Erin and Ben Napier for Season 2 of HGTV's "Home Town Takeover." Working to revitalize small towns like theirs all over the U.S. by giving old homes and businesses a second life through renovation and restoration, Dave, Jenny, Ben, and Erin lend their skills and expertise while helping to remind community members of the beauty of the place they call home.
In an exclusive interview with House Digest, Dave and Jenny Marrs talk joining the upcoming season of "Home Town Takeover" and offer renovation tips for homeowners who love old houses as much as they do.
Dave and Jenny team up with Ben and Erin for Season 2 of Home Town Takeover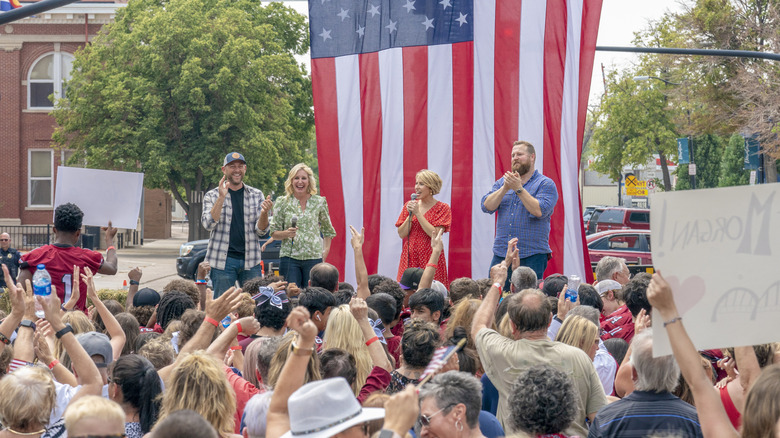 HGTV
Congratulations on your new HGTV endeavor and joining Season 2 of "Home Town Takeover." Are there any special moments in particular that you're excited for viewers to see?
Jenny Marrs: Gosh, there's so many good ones. Let's see. The ice cream shop ladies.
Dave Marrs: Sweet Gloria and Blanca.
Jenny: Gloria and Blanca were two of my favorite people. We don't know how the show was edited, but when we worked with the town's high school football coach and his family, I adored that family and getting to know them. We did the town kickoff, which was when we told the town that they were chosen for the show. The Davies family was right up front, and I remember seeing their kids, and they were so excited, these two little cute kids in the front row — so excited. Afterwards, we went up and gave them a hug, and they were so excited. 
Then we surprised them at their house, and that whole family was such a joy. They care so much for their town and so much for the people of their town. At the reveal, when we gave them their house back, some of the football players showed up, and literally everyone was crying. The thing about this show is it's so many happy tears. I can't even pick out one moment.
Dave: You're going to see probably a lot of ugly crying on my part. It was a feel-good show with a town that showed up. Anytime Jenny and I needed volunteers, needed help, needed you-name-it, the town was 100% behind this from the start. It was great to be a part of.
Without giving too much away, what can fans of Season 1 expect from this season? In what ways do they differ?
Dave: This season, you're going to see more of everything. We went from 12 projects to 18. Jenny and I did the businesses and then the residential, and then Ben and Erin did all of the community projects. 
But this season, there's a lot of similarities in the fact that it really takes a village. There's so much talent from across the whole network that came out to help us. The story of Fort Morgan is very similar to the story of Wetumpka, which is very similar to the story of Bentonville, where we live, or [the story of] Laurel, where Ben and Erin live, across America. There's so many similarities that people can see in their own small hometown, and the hope is that this is something that towns look at and say, "We can do this. We can totally do this. We can kickstart our own town and get this same momentum." I hope that it spreads to other towns.
Dave and Jenny on designing for small towns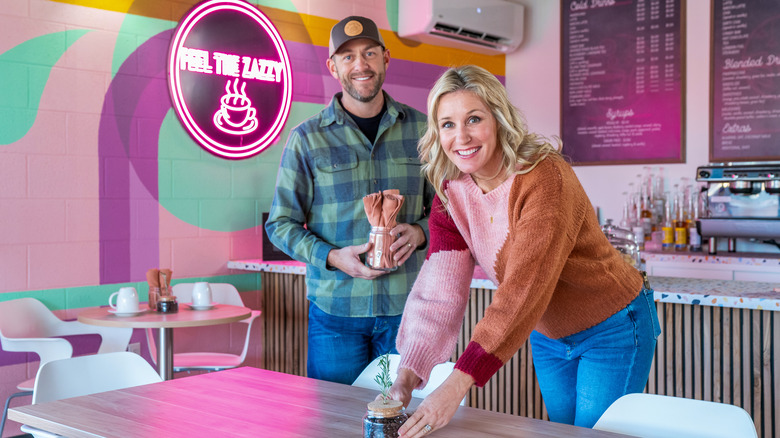 HGTV
"Home Town Takeover" is about revitalizing small towns with a lot of potential. How does your renovation and design approach change, if at all, when doing work in a small town? Do small towns inspire you in a different way?
Jenny: We live in a small town, and our town is very community driven, so I don't think [we took] a different approach than [we did in] our town, but what was different about it is that it was out of town. All of our normal resources ... We didn't have any access to anything that we normally have access to — our normal subcontractors, even Dave's shop. He has his workshop in our barn on our property, and in most of our projects, he builds a ton of stuff by hand. We had to find that out there, and we had to find people to help. We had to find furniture, where[as] I have my resources at home. 
There were a lot of challenges because we were in unfamiliar territory. We didn't know where to find the things that we needed. And it was even a smaller town, [so] the resources ... If we needed to run into Denver to go to the store, Denver is like an hour away. It wasn't like you could run to go grab something at the store quickly, because there wasn't that availability.
Dave: But I don't think it affected your design or our plans. We were taking what these homeowners were using, giving them what they needed, and trying to make their house the best it possibly could be for the work they were doing in their community. 
[On] our show back home, someone calls us [and says], "I need my house renovated." This was more of [us] giving back with the residential aspect of it. It was more about giving back to those people that give so much to their community. These are the people that were doing the work long before we came, and they're going to have to continue it after all the cameras leave. It's going to have to continue into the future. So it was a different feeling. It was a giving-back feeling. You wanted to do as much as you possibly could because you're giving to these people that have already done so much for their community.
Why Dave and Jenny are drawn to historical homes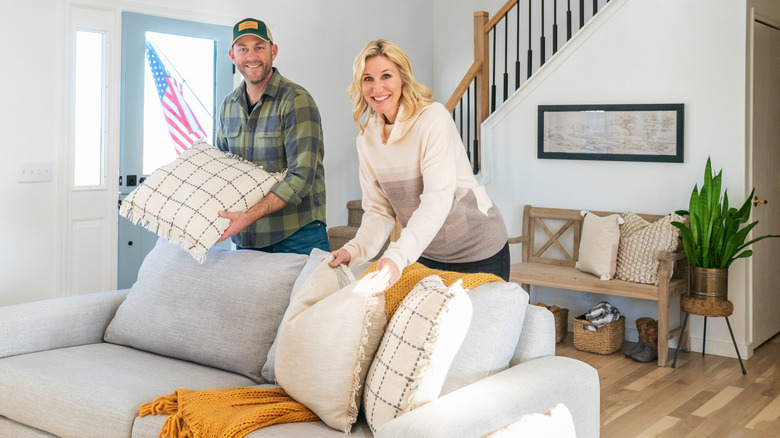 HGTV
You specialize in historical homes. What is it about the older homes that inspire[s] you? And in what ways does your renovation approach when working on older homes [differ from your approach to] one that was built more recently?
Jenny: We both love historic homes. There's so much character, so many stories infused into these old homes. The history there is so fascinating. To think of who lived here before, and to think about how a house has changed over the years ... You uncover an old doorway that was covered in, [and] you're like, "Wait, now, where did this door go?" The idea of what it was before is fascinating to us. 
As far as the style of houses, so much careful thought went into the homes and the craftsmanship, and the time that was put into the details 100 years ago is different than now. At least where we live, there's a lot of these cookie-cutter neighborhoods that are thrown up really quickly, and they all look the same. But 100 years ago, that wasn't the case. They had to go make bricks. Locally where we live, we have a lot of bricks and bring them in. Or when they cut down the logs on the property, they used that to build the home with. It wasn't like they [were] importing stuff from anywhere else. The way things were built [was] different, and it [was] really well done and beautiful, and we love preserving that.
Dave: Even when we're working on new homes in our area or in Fort Morgan, you can infuse those older pieces, like old doors or old trim work or old mantels, into a home to give it a little charm. We try to do that as much as we can. Like Jenny said, I'm very fortunate that I've got a barn full of old stuff and a lot of our own lumber, so we're able to do that maybe more than others. [Preserving history is] an important part of our show.
The duo recommends salvaging all that you can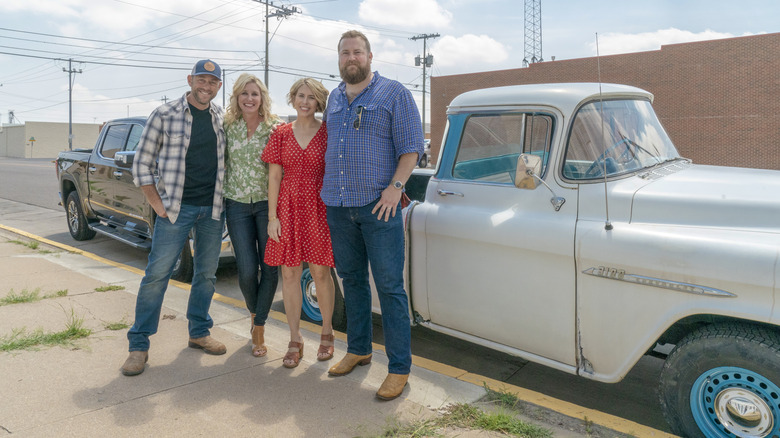 HGTV
In your opinion, what design features in a historical home or building are the most important to save at all costs if possible?
Jenny: Gosh, anything! Anything old. I love — we both do — love old doors and old hardware. They're beautiful. A lot of times, doors were painted over the years, so if you strip off the paint and bring them back to their natural wood state, they're so beautiful. There's nothing like an old door. There's something about old doors.
Dave: We're in a time in design where we're celebrating the older stuff. We just finished this mercantile, this old bank building in Arkansas, and all we did was strip everything off that had been added over the years down to the original brick, where you could see the original floor joists and see the oak beams. I'm celebrating how these things were built over 100 years ago and highlighting that. 
Jenny and I love traveling to Europe, especially Italy, because we love seeing the old architecture. America's young, but we're now getting into these century-old homes, at least in our area, where you can celebrate that this is something that was done back in a time when there [were] apprentices and craftsmen and everything was locally made, installed from the forest, built from the forest right there. To be able to celebrate that and bring these old homes back to life is amazing.
Jenny: Our day-to-day lives look different than they did 100 years ago, so the homes have to function differently. But you can still have a historic home [and] update it but keep the integrity of the home and make it work for your modern family and your modern life. 
We live in an old home. Our house was built in 1903. There's some downsides. It's adorable and it's quaint, but the closets are tiny. The spaces are small because that's how it was, and we have five kids, but we love it. We don't want a bunch of cavernous spaces. We like being cozy and all together. It's interesting to see the way homes were built based on the way that they functioned back then.
Advice for homeowners tackling the renovation of a historical property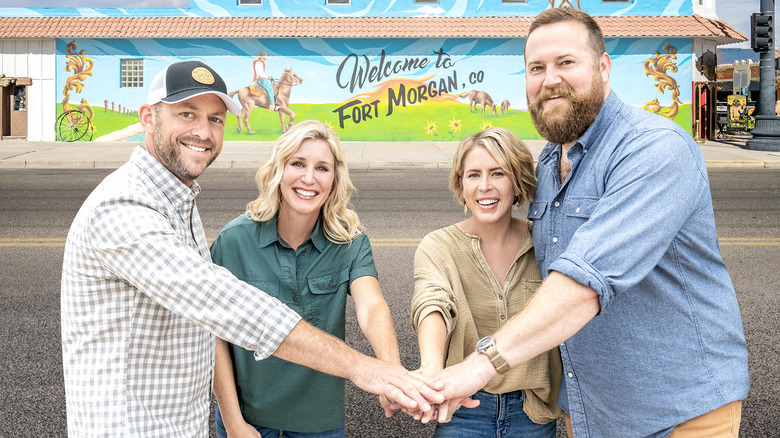 HGTV
Do you have any advice for somebody who is looking to renovate a historical property but doesn't know where to start?
Dave: Location first. Find the location that you want to be in, and then get a home inspection. They're so important. As a builder, you would think I would hate that, but no. It's a set of eyes that will look and find stuff you didn't know about before you buy the house. These old homes have a lot of surprises, good and bad. Do that, and then let it be a historical home. Don't buy a historical home and then try to make the outside of it modern. Let it be what it is and celebrate that. You can do the inside however you want, but it's really hard to change the character of an old home, and I hate to see it.
Jenny: Be flexible, go in with a plan of what you want to happen, but know that there's going to be something that's unexpected that comes up, and you're going to have to pivot. Know that, and always approach historic renovations with a little bit of open-mindedness with your plans because they change a lot.
Dave: They'll change. [For] literally every home that we do, we go in with the best of plans, and they all change.
Jenny: Definitely. You have to know that going into it so that you don't go insane during the process. And know that sometimes plan B is better than plan A ever could have been. It does always, for the most part, work out. Knowing that in advance helps you be mentally prepared.
This interview has been edited for clarity.
Season 2 of "Home Town Takeover" premieres on April 23 at 8 p.m. ET/PT on HGTV and streams the same day on discovery+.