Erin And Ben Napier Explain How Season 2 Of Home Town Takeover Became 'Oasis On The Plains'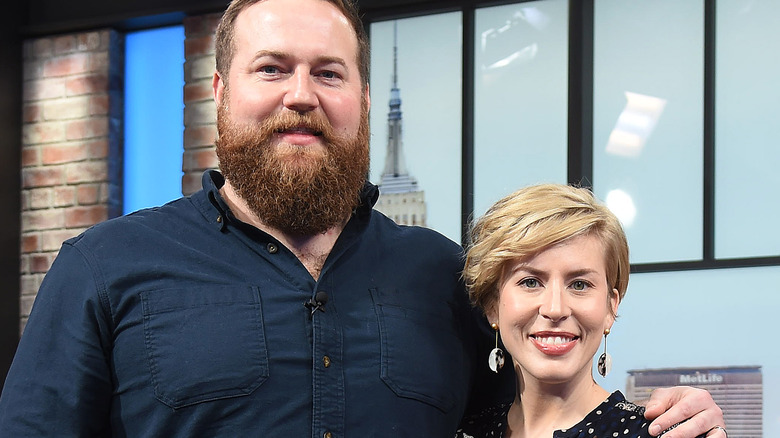 Gary Gershoff/Getty Images
For those that love the positive vibes and beautiful work featured by Ben and Erin Napier — stars of "Home Town Takeover" on HGTV — it's good news that season 2 is about to hit the airwaves on April 23. The 1st season was a lot of fun watching the couple transform the town of Wetumpka, Alabama. In the 2nd season, the two are setting out to do the same in Fort Morgan, Colorado, which has been dubbed the "Oasis on the Plains."
One of the most important components of these large-scale projects is to help communities create more of a profound identity for themselves. Of course, to do that, Ben and Erin have to get to know the town and the people within it. That's what the design team did in Fort Morgan. And, the central naming for this community centers around just that — what the location represents to many who live there, according to Ben.
A town that's sprung up
Choosing the name for the season — "Oasis of the Plains" — was something the town itself came up with. It's quite fitting considering that, those approaching Fort Morgan typically will drive through a desert-like landscape until they suddenly come upon the beautiful city, which sits on a river. The town looks like an oasis with its stunning beauty and natural features. A noted prairie town, the community is home to about 11,000 people. It is only 80 miles from Denver but it still feels quite remote.
The show's goal was, in part, to help the town to help create its own identity. It is a bit of branding work for the town, but it is also about focusing on what helps to define the area and what brings pride to the people that live within the community. There's much to expect from this season, too.
A total of 18 renovations
This 2nd season will focus on 18 separate projects that are located throughout Fort Morgan. This includes public spaces along with homes and a few businesses. That's a lot to undertake, which could be why this season will also be featuring Dave and Jenny Marrs, from HGTV's "Fixer to Fabulous."  
One of the main projects the teams will take on is improving the main street area of the community. This is one way they hope to give the town its own identity while adding some charm to the community itself. The planned renovations will take place over a period of about four months, and along with the updates to locations like a bowling alley, the season will also help to tell the story of the people who call Fort Morgan home. In true Erin and Ben fashion, the season is sure to be filled with warm thoughts, feel-good moments, and even a few tips on designing your own home.