The Clever Way Home Town's Erin And Ben Napier Hide Music Speakers In The Kitchen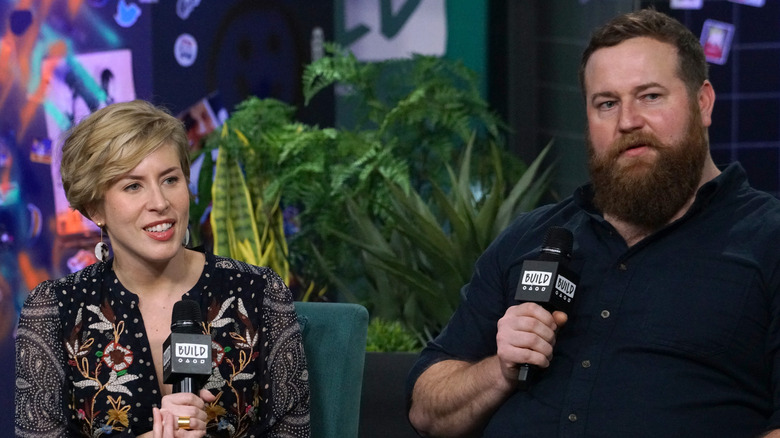 Manny Carabel/Getty Images
We may receive a commission on purchases made from links.
When restoring a historic kitchen, modern appliances like microwaves and blenders may ruin the aesthetic. To fix this issue, place these appliances behind cabinet doors; this will still make them easily accessible but not in plain sight. Similarly, a music speaker may also ruin the look of a kitchen. However, this can be a bit more tricky to hide, as closed doors could muffle the sound or mess with the speaker's connection. Luckily, Erin and Ben Napier of HGTV's "Home Town" have the perfect solution: keep your music speaker behind a cane cabinet door. Because cane has holes and is lightweight, you'll still be able to hear the music, and the connection won't be interfered with.
Perhaps you're wondering why the Napiers like to have a speaker in the kitchen. For them, the main reason is to listen to music while cooking. According to Erin (via Laurel Mercantile), "Cooking while listening to Edith Piaf and Django Reinhardt makes the food taste better!" Other reasons include playing music when entertaining or filling the silence with peaceful background noise. 
How to create a cane cabinet door
If you want to hide a speaker in the kitchen, place it behind a cane door on a high cabinet, as Erin and Ben Napier did in their home. This will leave the lower cabinets, which are more easily accessible, open for items that you use on an everyday basis. Further, if you want to disguise the cane material in the space, add this feature to wooden cabinets that are similar in color, as the cane would make more of a statement if placed in another color, like white, gray, or blue.
To DIY this project, you'll only need the frame pieces of a shaker cabinet door, as the middle will be covered with cane. Prepare your roll of cane, which you could purchase on Amazon, by soaking it in warm water for 30 minutes, which will expand the material. After removing it and letting it slightly dry, attach it to the inside of the cabinet with a staple gun and quarter-inch staples. Use a razor knife to cut off any excess material, then allow it to dry overnight, during which it should become taught.
Where else this hack could be used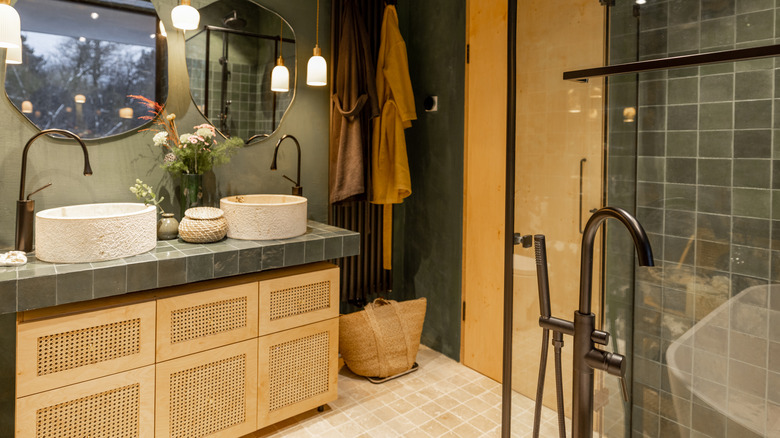 Rosshelen/Getty Images
While Erin and Ben Napier use this hack in the kitchen, they also utilize it in their airstream camper. "I love the nook above Helen's bed: its a shelf with a cane door, and inside we hide a Bluetooth [sic.] speaker and Helen's baby monitor. It's the clever use of space that impresses me so much," Erin says (via Southern Living). This showcases how versatile this hack is, as it could be used in any room or even in a camper. Further, if added to the bathroom, an additional benefit is that the cane would keep excess moisture off of your speaker. 
If you're going to add this hack to a room in your home when renovating, you should plan ahead. "... the two cabinets on the window wall with cane panels in the upper doors to disguise the wifi speakers in the kitchen took some pre-planning and I'm so glad I took my time thinking about those things before we began to build," Erin writes on Laurel Mercantile. It will be much easier to add this feature during the beginning stages of renovation instead of at the end.