Forestcore: The Cottage-Chic Décor Trend That Brings The Outdoors Indoors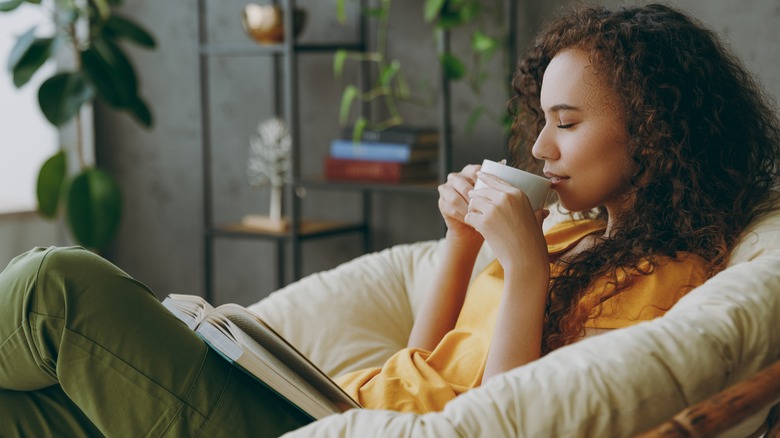 ViDI Studio/Shutterstock
The cottage-chic décor trend, in general, is characterized by a blend of vintage, rustic, and feminine elements. And while you're surely familiar with cottagecore (as seen on social media) — an aesthetic that romanticizes rural and country living and is often rooted in a longing for a simpler way of life, with a focus on traditional activities like gardening, crafting, and baking — there's a new, related aesthetic you may want to check out, too: forestcore.
Like cottagecore, forestcore is a similar trendy aesthetic that's centered around bringing the outdoors indoors. It feels rougher, darker, and a bit more gloomy when compared to the lightness and pastels that are characteristic of cottagecore style. While designs in cottagecore touch on the soft parts of nature, forestcore involves all parts of it and welcomes nature in all of its colors and forms. Here's what's unique about it and how to nail the look in your home.
Forestcore is more natural than cottagecore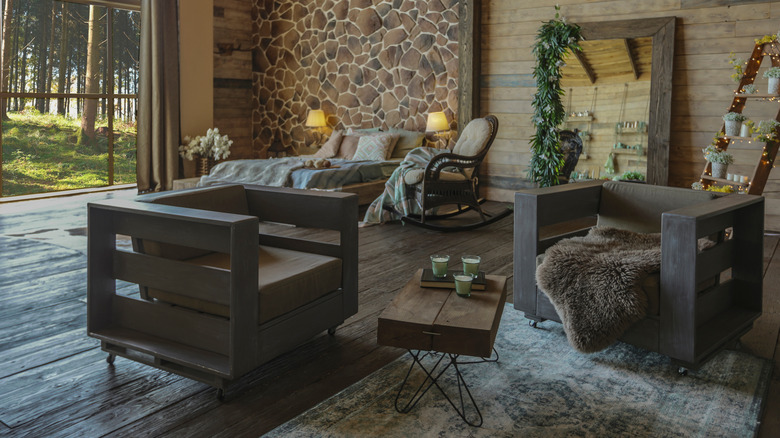 Pinkystock/Shutterstock
Forestcore is all about blending the outdoors with the indoors and creating a moody vibe. It features dark colors, wood, and other materials that are more representative of the forest and being outside. It incorporates a wide range of earthy colors but doesn't shy away from deep blues and blacks either as those colors are present in nature as well.
Forestcore creates an environment that feels as if you're in the middle of a forest and enjoying peace and relaxation there. It shows that darkness can create warmth and that a cozy atmosphere isn't only achieved by light colors.
Cottagecore often features muted pastels, light wood finishes, textiles like linen, and fabric styles like ruffles. It's a more casual design style than forestcore, one intended to make the home feel comfortable and lived-in, so furniture and accessories in this style are typically painted or distressed to look well-used and antique — even if they aren't actually like that. Overall, cottagecore has a romantic and nostalgic feel while forestcore feels more realistic.
How to achieve forestcore in your home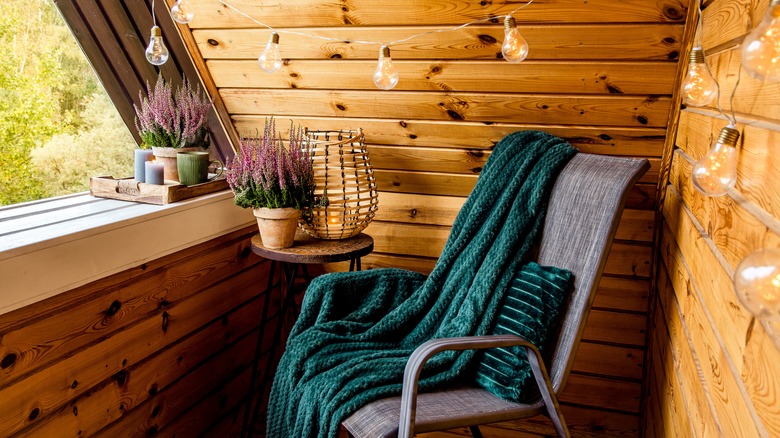 FotoHelin/Shutterstock
Picture your home deep in the woods in a thick forest on a rainy day. It's wet everywhere, the air is foggy, and there are a lot of trees and underbrush and various elements of nature. While it's far away from everything, it also feels peaceful and serene. A forestcore home mimics this scene by being a comfortable escape that blends into the background instead of standing out. Some of the things you'll need to nail this décor are forest green plants, burnt wood furniture and finishes, and dark leather accessories.
Choose deep, earthy colors with soft textures for items like couches, throw pillow covers, blankets, and bedding. A dark blue or green accent wall or wallpaper with art pieces of pastoral landscapes can also set the mood. Forests are often dark due to their tall trees and full branches, so light is another big way to achieve forestcore in your home. By lighting your home more sparingly and reducing the amount of natural light, you can create an atmosphere that feels more nature-like. You might be surprised at how calming and welcoming it feels with those dim lights!