The 25-Year-Old Piece Of Furniture Erin Napier Still Has In Her Living Room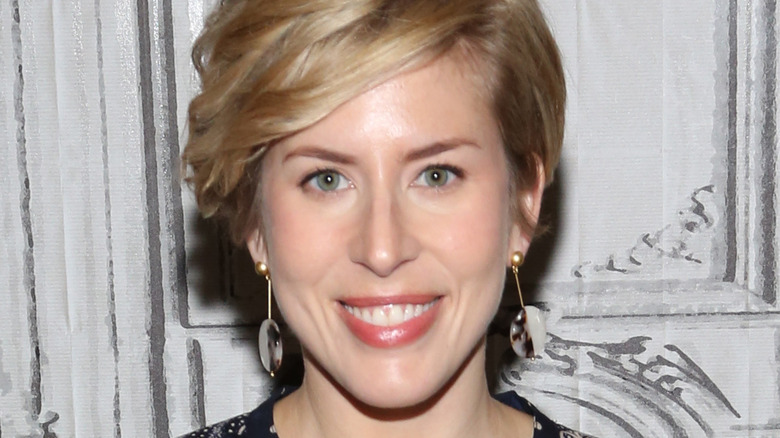 Manny Carabel/Getty Images
Fans are drawn to HGTV's "Home Town" thanks to the eclectic style of Erin Napier. The designer isn't afraid to infuse unique pieces that accent the homes she and her husband Ben renovate. Their design philosophy is to make updates without stripping a home of its original charm. Instead, they work with the often antiquated features by adding vintage and antique décor along with touches of modernity.
It should come as no surprise that Erin Napier's own home embraces unique and eclectic furniture. She creates a comfortable and cozy space with vintage pieces that have a story. Of those, the sofa in her living room is one of her favorites. After their wedding, the 25-year-old piece of furniture was given to the couple by Erin's mother. Having something her mother loved in their house, where she and her family can continue to use it, adds something special and homey to the living room and allows them to make even more memories.
A family heirloom piece
In an Instagram post where Erin Napier shows off her living room, she explains that "the oatmeal colored sofa is 25 years old, the greatest sofa my mama ever owned that was passed down to us when we got married." Of course, at a quarter of a century, any sofa would need some repairs. Napier had a friend reupholster the sofa to give it new life and make it look fresh and clean. The reupholstered sofa is now covered in a performance fabric that is made from a linen blend, making it easy to clean. This is an important feature when you have small children in a house or for an often-used piece of furniture.
Napier, who authored the upcoming book "Heirloom Rooms," believes that homes should be a reflection of those who live there. Rather than striving for perfectly designed rooms, they should be lived-in, comfortable spaces that are meant to make memories. This philosophy is beginning to gain popularity as more people are looking for older pieces, whether they're passed down through a family or found in a second-hand vintage store, to incorporate more unique details throughout their spaces. Pieces that have a story and memories associated with them tend to make a home feel more personalized.