The Eggplant-Colored Marble Nate Berkus And Jeremiah Brent Can't Get Enough Of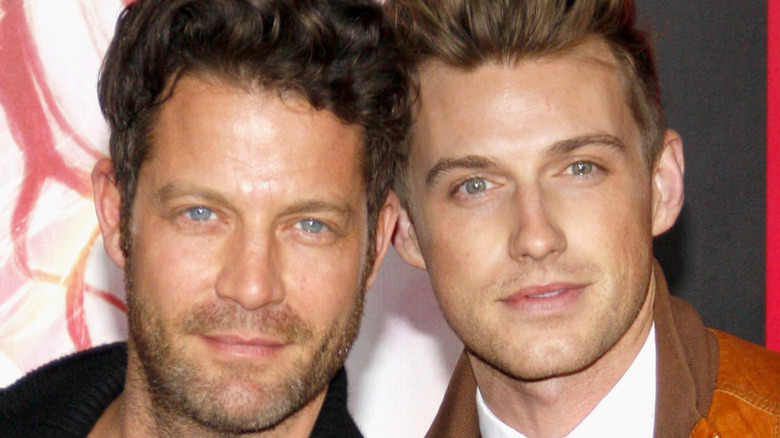 Tinseltown/Shutterstock
Classic and timeless, marble has been one of the most beloved materials for interiors for centuries. The beautiful stone is a feature that can draw the eye no matter what room it's in. Marble counters and floors have reigned supreme, but recent years have seen statement slabs in place of backsplashes and shower tile. And with these slabs in spotlight areas, the trend of more dramatic and colorful marble has moved itself to the forefront of design. While white marble with subtle gray veining was the standard, many homeowners who want a unique look are opting for bolder veining or experimenting with more unique colors.
Nate Berkus and Jeremiah Brent do timeless with a twist. Their designs, whether they're in the homes of clients or themselves, embrace neutral colors and clean lines with details that add a flare of elegance and regality. But they're also not afraid to take a few risks to make a home truly stand out. And recently, they've been loving statement marble as well. Specifically, Prunella marble, which features burgundy, gray, and eggplant veining on a creamy white backdrop. The designer duo has been loving this variety, and after seeing it in the homes they design, it's not hard to see why.
Timeless luxury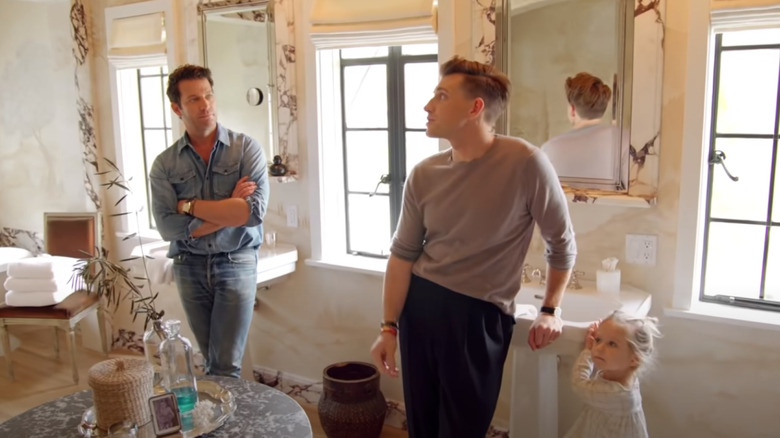 YouTube
The pair has loved Prunella marble for years, but a recent photo Berkus shared to Instagram of their previous Los Angeles home had people swooning all over again. The bathroom features stunning slabs of Prunella marble on three walls of the shower, a border around the glass shower doors, baseboards around the room, and frames around the mirror over the pedestal sinks. The bold veining stands out among the subtle tan walls, creating a feature that your eyes can help but be drawn to.
In an interview with Architectural Digest, Brent explains, "We've been obsessed with old kitchens in Portugal and the way they straddle different eras." This bold marble captures the feeling of multiple time periods, evoking both old-world luxury and modern timelessness. Depending on the other details of the room and how the space is styled, the marble can lean either way. But it can also give an antique touch to a modern room and bring older styles into the latest century.
A statement home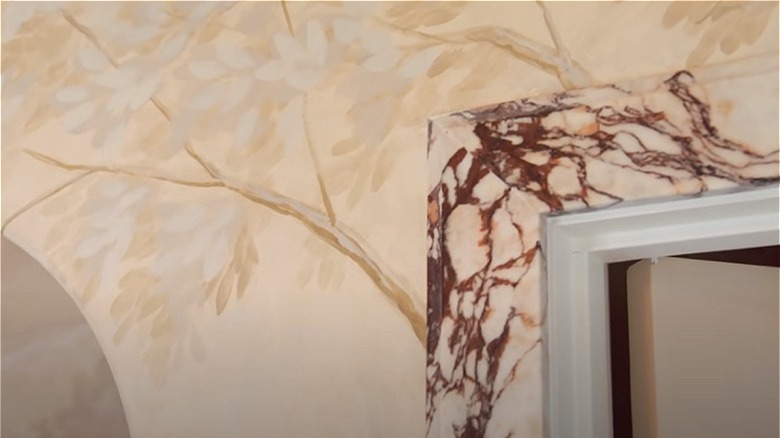 YouTube
When it comes to these slabs of marble, they make the most impact when placed in larger formats. That means it's better to have them in large spaces where the entire slab of marble can be shown off rather than cut down into smaller pieces. But purchasing large format slabs of bold or colorful marble can be more expensive. This is one of the reasons why designers use this kind of marble in one main or featured area and then may use some of the leftovers as smaller accents throughout the room or house. As was the case with Berkus and Brent's old bathroom, where the main slabs went in the shower, and excess cuts were used around the mirrors.
For most homeowners, kitchen countertops are the obvious location for a slab of marble. The same could be said for floors around the home. But a more modern location includes walls, such as backsplashes in the kitchen and a wainscoting-esque surround in the bathroom. If you have some pieces of marble left over, an inlay in wood floors or a surround around a fireplace can ensure those pieces don't go to waste.