How To Plant A Tree In Your Backyard To Celebrate Arbor Day 2023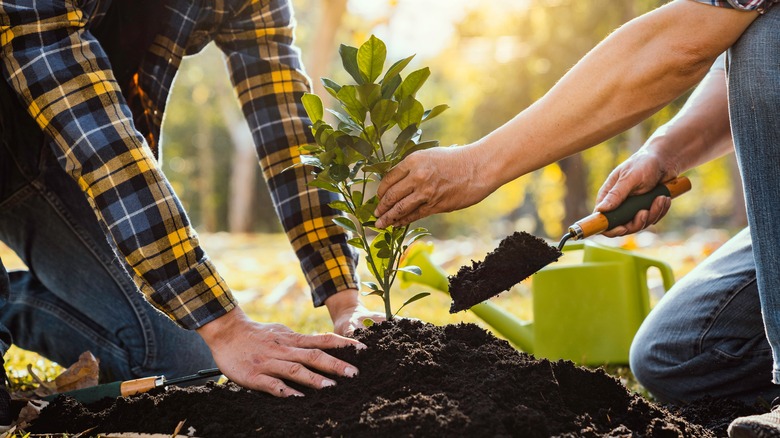 CrizzyStudio/Shutterstock
Millions of individuals celebrate Abor Day nationwide, a day dedicated to conserving and celebrating trees in which people are encouraged to plant these wooded perennials. Translating from Latin as "tree" day, it was first held in April of 1872, with approximately 1 million trees planted that day. Arbor Day wasn't made a national holiday until 1970, and now, it's a recognized festivity in more than 40 other nations. In the United States, Arbor Day falls on April 28, 2023, keeping to the tradition of naming the last Friday of April every year.
With 42 million trees estimated to be cut down a day, 15 billion a year (via 8 Billion Trees), it is incredibly important that we work to offset the amount we are losing. Lucky for us, tree planting is easy with just three simple steps, including finding the perfect tree, locating a great spot, and planting it according to its needs.
Selecting your location and tree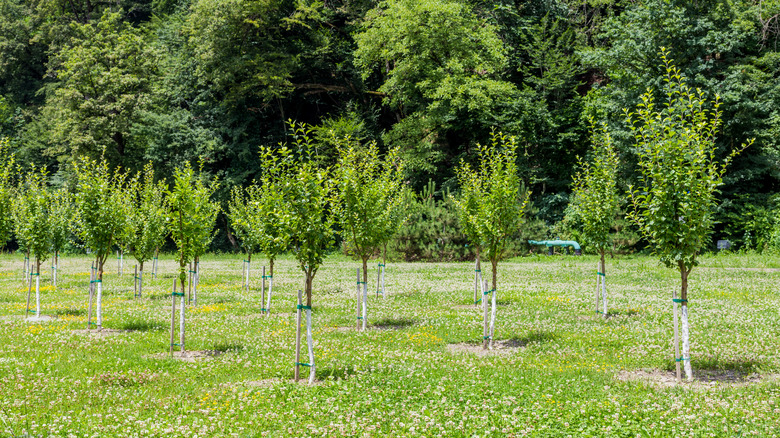 Tatyun/Getty Images
Searching for the right spot to plant a tree is just as important as the action itself. You want to set your tree up for success and ensure it will thrive in the conditions you place it in. Consider the soil quality of an area, the amount of space available for the tree to grow, if it'll get plenty of rainfall, and if it will collide with any telephone wires or nearby buildings. When finding a spot, see if you need permission to dig and plant in that location. For city property, there will typically be a local government department that handles such public works.
Choosing your tree will require an understanding of its planned location. There will be way more tree species to choose from than areas to put them. Figure out your hardiness zone, as some trees won't survive harsh winters. Think about how much sun it'll be susceptible to, if it's prone to pests or diseases, and if it can withstand common air pollutants from nearby factories and facilities. Also, ask yourself what the purpose of your tree is. Are you hoping it'll embellish a park, provide people with a shaded resting place, or improve the life of squirrels and chipmunks? Pondering on all these different components will help you establish the best location and tree for 2023's Arbor Day.
Planting your tree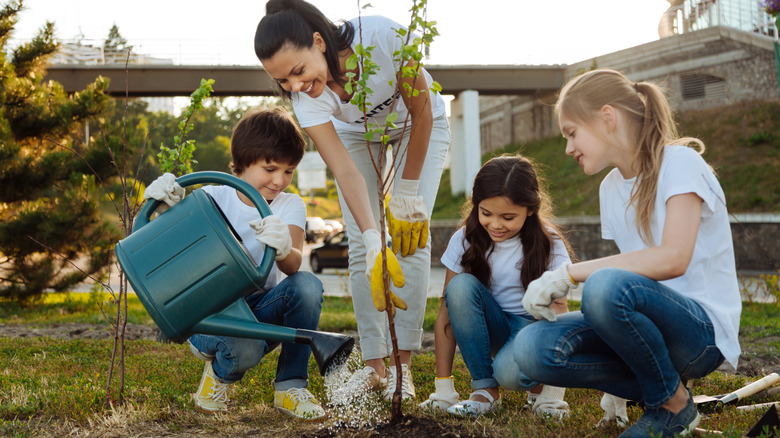 Zinkevych/Getty Images
Planting your tree will depend on the type purchased, so always consult the nursery and do any necessary research. However, they'll be more or less alike, depending on whether you're planting a bare-root tree, containerized, or wrapped in burlap. For bare-root trees, begin by soaking roots for three to six hours, keeping them from drying out. Dig a hole with space for them to spread, turning the soil within a 3-foot diameter. Plant your tree to its required depth, packing the dirt firmly but not too tightly, and avoid fertilizers or soil additives. Create a berm in the soil for water retention and water thoroughly. 
Containerized trees will follow a similar process without soaking the roots. Instead, gently remove it from the container, keeping as much soil intact as possible. Place into a hole not quite as deep as a bare-root hole, add in the dirt, and cover with a couple of inches of mulch for protection.
A balled tree wrapped in burlap needs a broader hole with sloping sides, two to three times as wide and deep as the rootball and five times the diameter tilled around it. You want the tree's root collar to be right at the surface. Move the tree by gripping the ball, not the trunk, and position it, removing all twining and burlap before packing in the soil. Some natural burlap is okay to let linger if needed, and end the process by creating a water basin and adding mulch.