A Gardening Expert's Tips On Hiring The Right Gardener For Your Backyard Project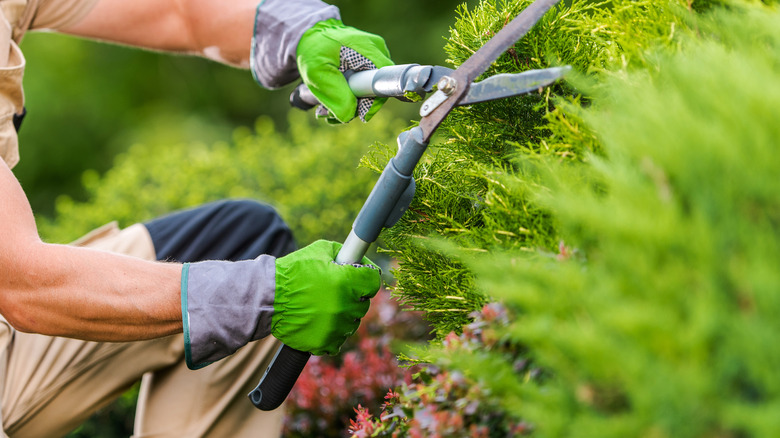 Virrage Images/Shutterstock
Our backyards are home to timeless memories and moments of relaxation that are truly beneficial to our daily lives. Maintaining our flowerbeds and vegetable patches is essential to creating a welcoming outdoor space, and sometimes it would really help to hire a gardener to keep everything in tip-top shape. In an exclusive interview with House Digest, Master Gardener, coach, and educator Liz Will explains when you need a professional, how to find one, and what qualities to look for.
Will emphasizes that gardening is time-consuming, and often, our lives present little time for our garden's needs. On average, routine tasks require two to six hours of commitment a week, depending on size and condition. Turning to a professional will enable us to attain our desired outcome without compromising our busy schedules. "Gardens bring a lot of beauty to a yard, but they can also require a lot of work," says Will. "If you love the idea of having a beautiful garden space but lack the time it will take to keep it maintained and weed-free, hiring a gardener is an excellent solution." 
When to consider hiring a professional gardener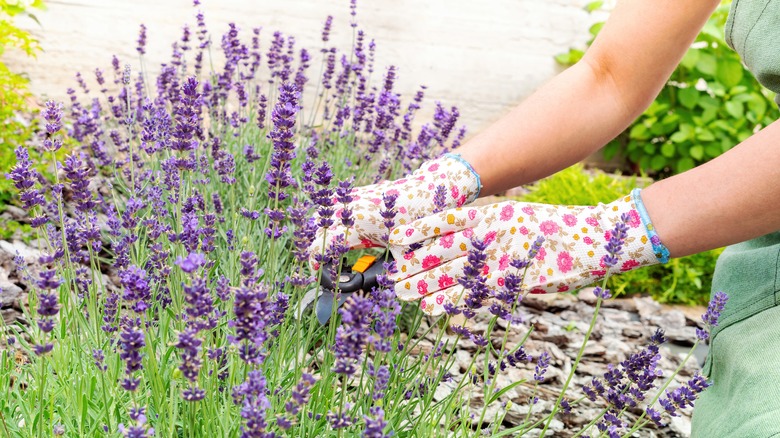 nieriss/Shutterstock
It's easy to think we can do all the cleanup and planting for our deteriorating plot independently. Still, Will outlines when circumstances call for hiring a professional instead of attempting projects that may be over our heads. "Life is busy, and we only have so much time to spare. Hiring a professional can help you achieve the garden you want without sacrificing weeks on end trying to create a beautiful space," she tells House Digest exclusively. She also advises bringing in a gardener if an area has been unattended for an extended time and needs a massive overhaul. "This can happen when taking over a garden from a previous owner or when a gardener has become unable to care for it themselves due to age or injury. A professional gardener can come in and work the garden back into a tidy, beautiful space."
You may need a professional to assist with specialized work like pruning large trees and decorating seasonal planters. As you consider whom to hire, Will notes the critical distinction between gardeners and landscapers. "Landscapers typically do entire landscape designs and hardscape projects, along with lawn care and maintenance. Gardeners work on a smaller scale and focus on maintenance of gardens [rather] than installation. Gardeners typically do not offer lawn care." She mentions that landscapers commonly promote themselves as gardeners, negatively affecting the quality of your small projects and routine care. 
Seeking out a professional gardener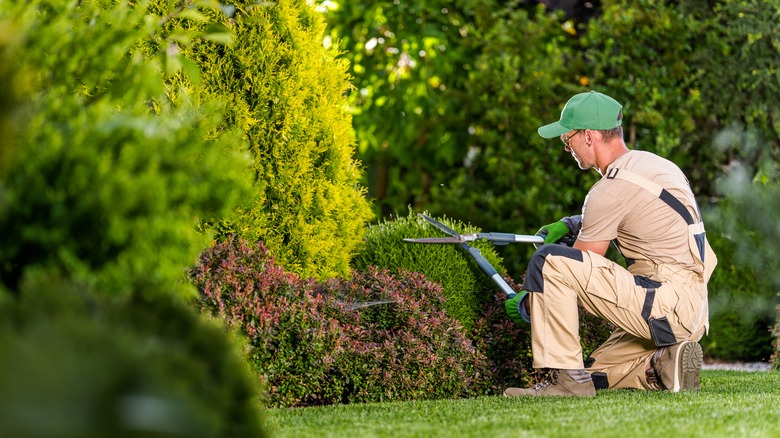 Virrage Images/Shutterstock
Will expounds on many different elements to consider when seeking the proper professional gardener, which may be trickier than you think. "When looking for a gardener, there are large, established companies and self-employed gardeners. Large companies can be found through a simple Google search and will have several reviews, but they can be more expensive," Will explains to House Digest exclusively. "There are many talented gardeners that are self-employed, but they can be harder to find." Even so, she notes that self-employed gardeners are usually more affordable and comfortable to work with as you can form personal relationships with them. She also emphasizes the gravity of hiring someone skillful and seasoned. "Unfortunately, there are a lot of companies hiring gardeners who have never worked in a garden before," she states. "These workers can cause more harm than good over time."
Will recommends seeking someone trained in "proper horticultural practices," knowing precisely how to prune trees and shrubs, disperse fertilizer, and manage pests and disease. While a horticultural degree or Master Gardener certification is a bonus, she doesn't discount years of experience. Ask to see reviews and references before making a final decision, and don't be afraid to find independent professionals through local resources. "Word of mouth is a great way to find a self-employed gardener if you know someone who has worked with one in the past. Online neighborhood groups can be a great way to find a self-employed gardener in the area, as well."
Hiring aspects to contemplate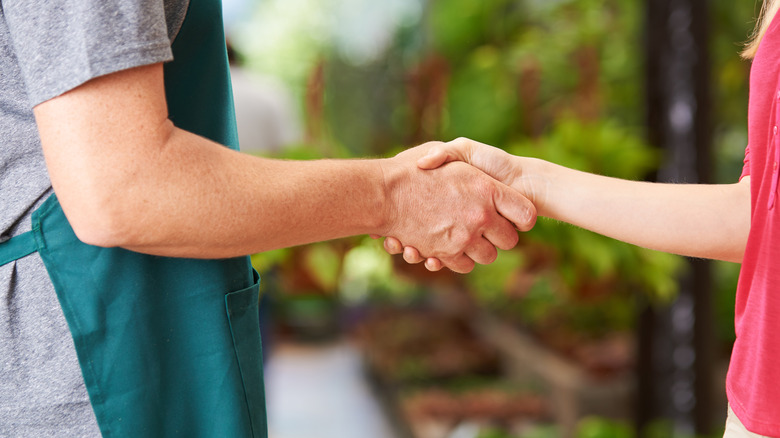 Robert Kneschke/Shutterstock
Will explains that services offered by gardeners fluctuate but expect seasonal cleanups, weeding, pruning, and pest/disease treatment to be on the menu. "Some may relocate or plant a few annuals and perennials, but for large projects, they may refer you to a landscaper," she tells House Digest exclusively. Apart from knowing which services are included, be prepared to ask questions that ensure the best care for your needs. Inquire about all certifications and training. "How many years of experience do they have?" she asks. "Are they insured? Can they provide at least one reference?" Even gardeners should be insured as it protects from unexpected situations, including stolen equipment, work-related injuries, and accidental damage to the property.
"You may also want to ask their method for treating pests and disease and controlling weeds," Will recommends. "For example, if organic methods are important to you, it's important to find a gardener willing to use organic methods for maintaining your garden." Consider if supplies like fertilizer, tools, trash bags, and seeding are included in service costs or if you are paying for those separately. "A professional gardener can be a huge aid in creating and maintaining a beautiful garden," Will confirms. "When you find the right fit, it can be a wonderful relief to watch your garden flourish without hours of maintenance on your part. It may take some time to find the right one, but the rewards are well worth it."