How To Effectively Use A Reed Diffuser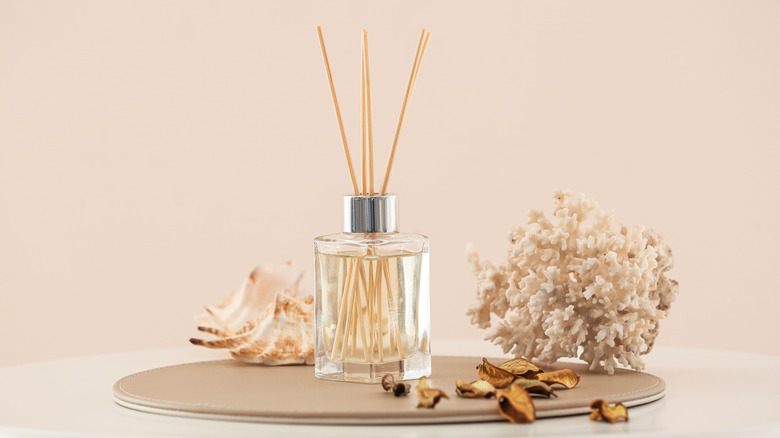 Pixel-Shot/Shutterstock
If you haven't tried them yet, reed diffusers can help you with your aromatherapy goals or simply serve to fragrance your home while adding a decorative touch. They fill the air with fragrance using three key elements: scented oil, rattan reeds, and a small glass bottle or jar. To get the most out of a reed diffuser, it should be placed in a cool spot where the air is circulated by people moving around to distribute the scent. Keeping your diffuser away from radiators and overly sunny windowsills is a good idea, too, since heat can cause the oil to evaporate and the reeds to dry out.
Another way to help a reed diffuser effectively fragrance a room is to flip your reeds when you first start the process of soaking up the scented oil, and then every few days to a week thereafter. Do this over a sink to avoid mess, and then place the container holding the oil on a plate or coaster to prevent damaging surfaces with any drips. Also, reeds can become clogged over time, so you might need to change them out if you still have oil in your container but aren't getting the full fragrance. 
More on using reed diffusers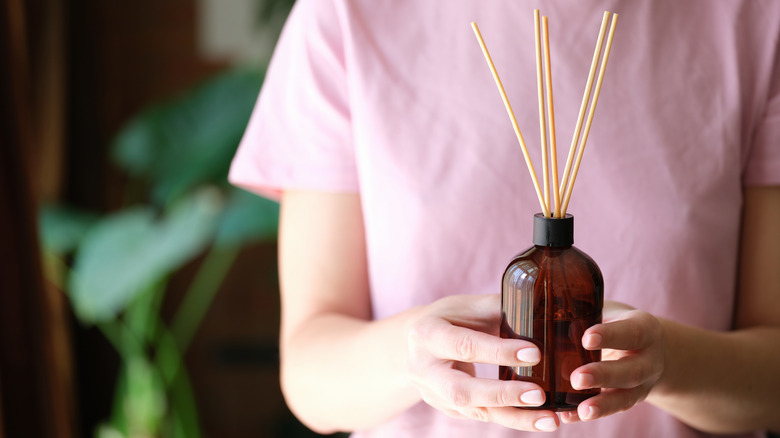 Ivan-balvan/Getty Images
Reed diffusers can be a great alternative to candles or wax warmers. Since there's no fire involved, they can be placed in areas where open flames might be dangerous like bathrooms and kitchens. Some candles also omit smoke that can stain upholstery and carpeted areas, so an unsightly nuisance can be avoided by using reed diffusers. Additionally, unlike electric wax warmers, you don't have to remember to plug them in or use electricity either.
Since the containers supplied with reed diffusers can be used again and again, there's also less waste going into the landfill in comparison to empty candle jars and other burned-out remnants. Rattan reeds are also biodegradable, which is another eco-friendly aspect of using diffusers. One downfall, however, is that premade reed diffuser kits can be pricey. Not to worry, though, you can either make them yourself or whip up refills for a diffuser you already own once the scented oil has dissipated.
How to make your own reed diffuser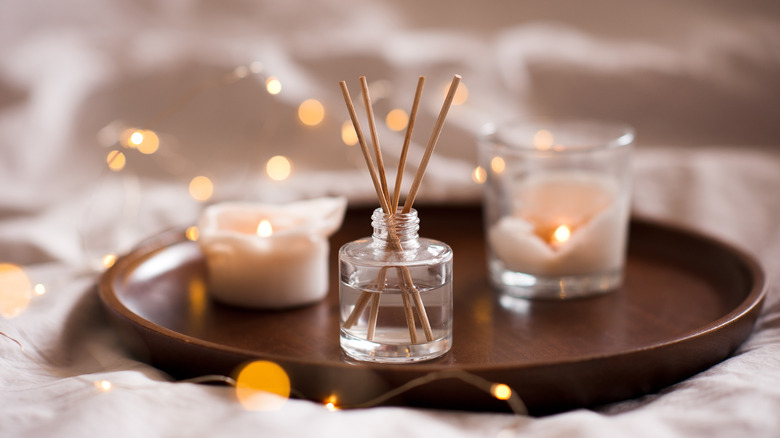 Morrowlight/Getty Images
If you have an essential oil you absolutely love and want to try using it in a reed diffuser, the process is simple. Look for a bottle or jar with a narrow opening for the best results. You'll also need rattan reeds, which can be purchased in bundles of 100. That's enough to get you started, and you'll have plenty of spares for when your reeds need to be changed out. Lastly, you need a carrier oil. Several different types of oil work for this purpose including unscented baby oil, sweet almond oil, fractioned coconut oil, and safflower oil. 
To assemble your diffuser, add one teaspoon of essential oil to your clean glass container and top it off with one-quarter of a cup of your carrier oil. Insert about half a dozen reeds through the opening so that the bottoms are submerged in the scented oil. After a few hours, flip them over. If you find your reeds are clogging and need to be changed out too often, you can try using a different type of carrier oil — just be sure to add a fresh batch of reeds every time you change the oil. With some experimentation, you can come up with a reed diffuser that looks pretty and works well to scent your home continually.