The Viral TikTok Hack That Will Plump Up Your Flat IKEA Couch Cushions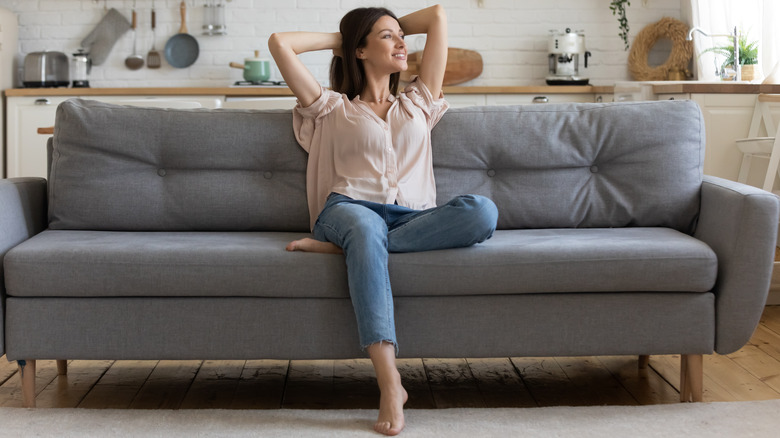 fizkes/Shutterstock
Ikea is well-known for its affordable furniture, but sometimes a cheap price tag can also translate to a cheap look, especially when it comes to sofas and couches. In the showroom, your Ikea couch may have looked plump and fluffy, but after a few weeks of wear and tear in your home, the cushions could start to become thin and lumpy. Luckily, a new TikTok hack shared by Maddy Olson under the username @drivewaymoment, is here to save your seats. To pump some new life back into your Ikea couch, all you need is a cheap foam mattress pad, which you can cut down to size and zip into your couch cushions. 
This hack is as easy as it is seamless — guests will never guess that they're sitting on a DIY couch cushion. And the best part? Olson claims it can all be done for around $11 or less. Here we'll break down the hack step-by-step so you can have the plush cloud couch of your dreams without thinning out your wallet. 
From mattress topper to cushion fluffer
Maddy Olson starts her video with an image of her old, pre-hack couch behind her. She says, "If you've ever bought a couch from Ikea, you know that it comes weirdly un-stuffed, super flat-looking, and not the voluptuousness that we want." After showing how much better her couch looked after the hack, she tells viewers, "Go to Walmart and buy the cheapest mattress topper you can find. Then you're going to take the seat portion of your couch, and you're going to find a little zipper on it." Some sofa cushions can be tricky to unzip, especially with the tiny zippers common to Ikea furniture. To make the process easier, Olson says that she used a tooth flosser, but you could also use a toothpick, pin, fork, or another small tool to pull the zipper.
Unzip the covers but leave them on. Olson then says to cut the memory foam mattress topper down to size or slightly smaller than the couch cushion. Stuff the mattress topper in between the cover and the inner cushion, smooth it so it lays flat, then zip the cover closed to hold it in place. Follow the same steps for any other seat and back cushions, and you'll have a couch that feels instantly firmer, plumper, and more comfortable. 
Couch questions, comments, and concerns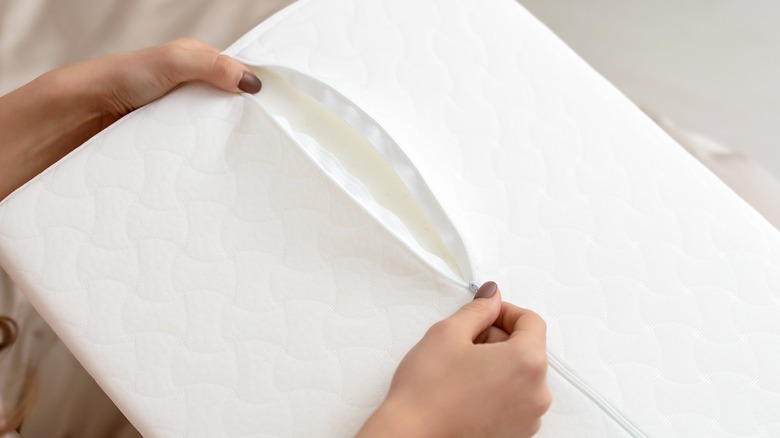 irynagrush/Shutterstock
As is the fate of any popular internet video, viewers flocked to the comments to share their opinions, offer alternatives, and even dispute with the original creator. For example, concern arose among some of the commenters that Ikea sells sofas and mattresses containing fiberglass and that opening them could release fibers into your home. Fortunately, this rumor was unfounded and quickly dispelled. The creator even reassured viewers that she was "alive and well" following the publication of her video. Still, some didn't feel that an Ikea couch was worth the extra effort or the extra $11, with one viewer writing, "Honestly, if the couch does not look as it does on the picture when brand new, I'd contact customer service and have them replace it."
Others expanded upon the idea and offered alternative solutions to make the hack even more accessible and affordable. "You can also go to Home Depot and buy multipurpose foam," one person wrote. Even if your couches aren't from Ikea or aren't terribly saggy, many noted that this hack could be used to give the furniture a longer lifespan. From couches to dining chairs, cat beds, and throw pillows, using this simple mattress topper hack proves to be much more affordable than buying all-new pieces.