Should An Ottoman Match Your Couch?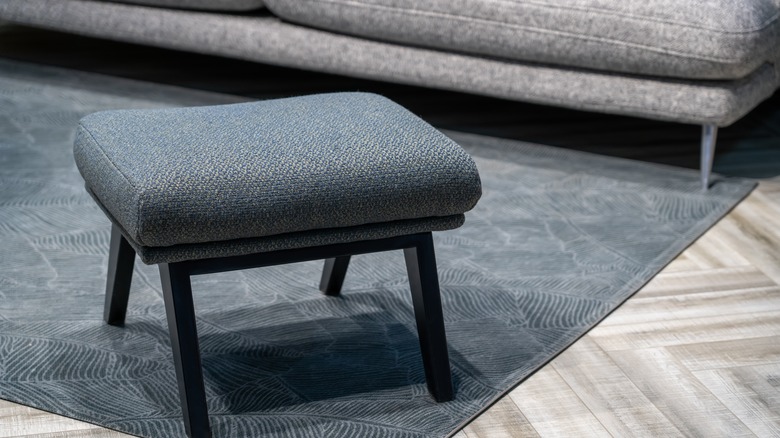 sommthink/Shutterstock
Homeowners have the freedom to experiment with mixing patterns, prints, colors, and furniture styles when designing a living room. While many furniture manufacturers sell matching couches and ottomans, going bold by opting for a contrasting design can create a stunning centerpiece in your home. Because the price of living room furniture has gone up drastically over the years, a frugal homeowner might also opt to purchase a unique ottoman at a thrift store or antique shop to bring personality into their space without breaking the bank.
Ultimately, whether an ottoman should match the rest of the living room furniture is up to the homeowner's preference. It also matters how the homeowner wants to use their living space and what atmosphere they're trying to create inside their home. For instance, are you going for impact, functionality, or both? There are a few factors to consider when deciding whether to match your ottoman to your couch.
A unique ottoman can create stunning contrast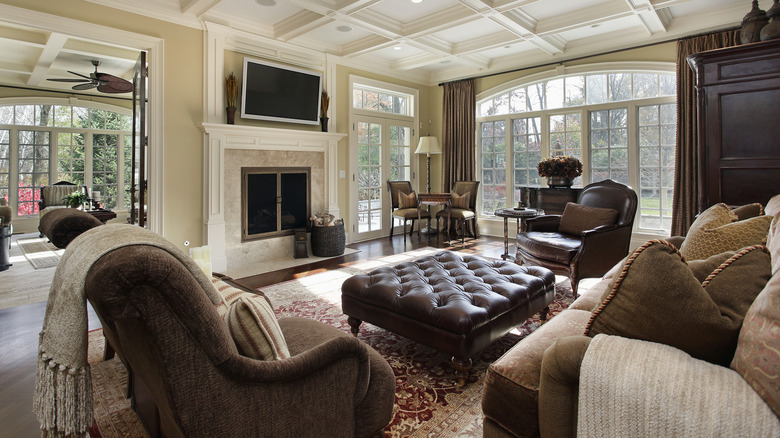 pics721/Shutterstock
In design, less is often more, and a unique ottoman can pick up the energy of an otherwise neutral-colored and conservatively-styled room. If you prefer to keep your wall colors and home decor more streamlined, an ottoman in a maximalist print, like a bright floral or pop art pattern, can add influence and excitement to a space where guests gather. Doing this creates a centerpiece of activity in your living room and guides the eye to its most exciting aspect. 
Choosing an ottoman that is a few shades lighter or darker than the color of your couch is a more subtle approach that can still provide a profound impact. In addition to enhancing the mood of your living room, an ottoman in a contrasting fabric can interact with the other textures of your room, like wood and rattan, to create vibrancy and draw attention to these unique textures. In this way, you're not designing your entire room around the ottoman, only adding subtle interest that works harmoniously with your interior motif.
An ottoman's style and function comes into play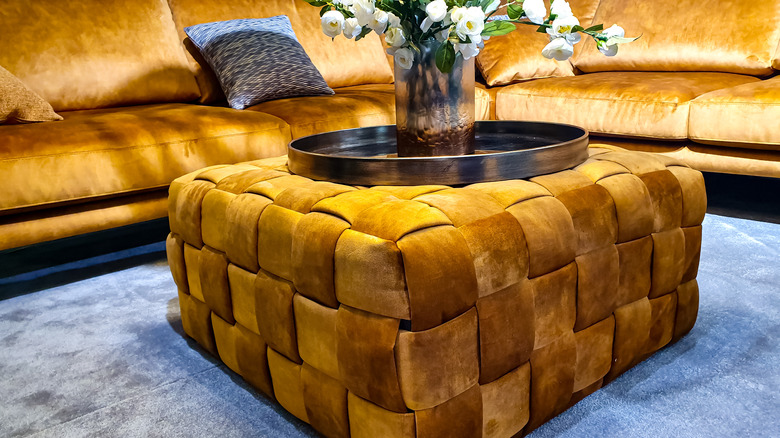 Nicholas Ahonen/Shutterstock
One reason you may choose not to match the style of your ottoman to your couch can hinge on how you choose to use your space. If kicking up your feet and unwinding is what matters most to you at the end of a long workday, you may want to choose an oversized ottoman in a soft fabric for added comfort. You can even find one with built-in storage space for your throws and pillows. However, if you plan on entertaining often, a cocktail ottoman will provide extra seating and a flat surface to place a tray of drinks. Most cocktail ottomans are also designed to be more narrow so they can be moved and positioned elsewhere in the room. This may prove far more versatile than the matching ottoman that arrived with your living room set.
Poufs in plush fabrics are also a great choice, especially for those seeking a relaxed interior. Most larger poufs are made to look like seating and can be purchased cushioned or structured. Remember, it's a living room for a reason; make it as comfortable as possible. You may even find that retiring your old matching ottoman and purchasing a new one that's tailor-made for your lifestyle can transform the style and function of your living room.