The Best Home Decor Trends That Have Come Out Of 2023 So Far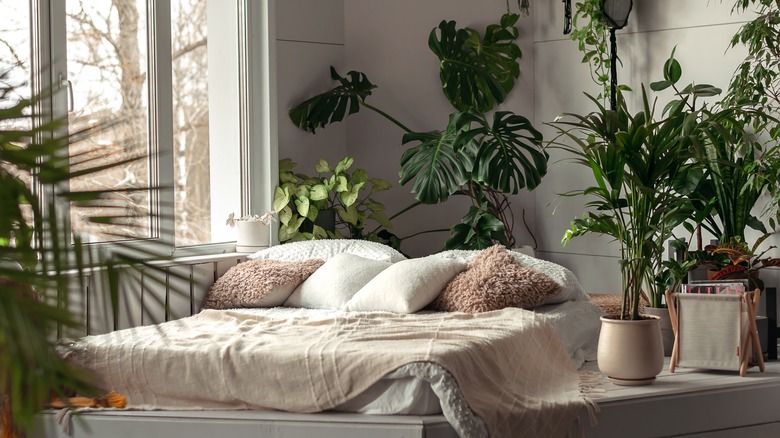 Tatiana Buzmakova/Shutterstock
2023 is gearing up to be an exciting year for home decor. So if you're looking to refresh your space, this is a great time to embark on that journey. From the boom in sustainable decor and one-of-a-kind furnishings to vintage pieces making a comeback, this is a great year for your personality to shine through. It's a time for bold choices and experimenting with your individual home decor style. 
Even the smallest decor revamps can breathe new life into your home. After all, a big focus this year is luxe living on a micro-scale, which is all about you and your comforts. When taking in 2023's trends, ask yourself what brings you joy. Make it your mission to allow your home to speak to you and your happiness. So whether it's artsy decor, bold colors, or introducing a different tile layout into your space, plan projects to turn your house into the haven you've always wanted. 
Goodbye all-white kitchen, hello earthy tones.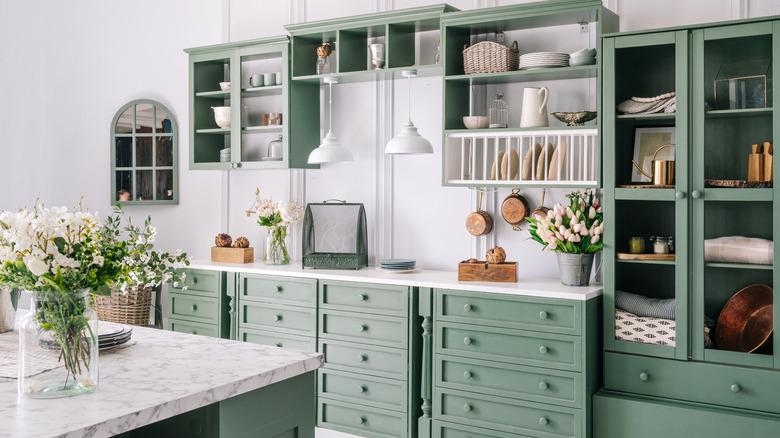 brizmaker/Shutterstock
Once upon a time, the all-white kitchen ruled supreme. No longer is that the case. Speaking to Forbes, LA-based real estate broker Lori Levine Harris said this about the outgoing fad: "For the past decade, we've been seeing white walls, white tile, and Carrera marble. People are tired of these muted palettes, and designers are bringing in color..."
Excitingly, the trend that has dethroned the all-white movement is none other than earthy tones. That's right, kitchens will draw inspiration from the outdoors by infusing materials in natural colors like browns, beiges, and off-whites. These hues and finishes make for a kitchen that oozes personality and texture.
So how exactly do you incorporate earthy tones into your kitchen aesthetic? Although some think earth tones are just varieties of brown, you actually have a wide and exciting spectrum to play with. According to social media trends, sage green is more popular as of late. This peaceful hue works well in gathering spaces and bounces well off of other earthy tones like burnt orange, rust, and beige. Raw-looking wood cabinets and butcher block countertops can also be stunning design choices. If you don't wish to get rid of the existing white surfaces in your kitchen, add pops of earthy accents like wood cutting boards and natural textiles to tone down the starkness.
Bright colors are back.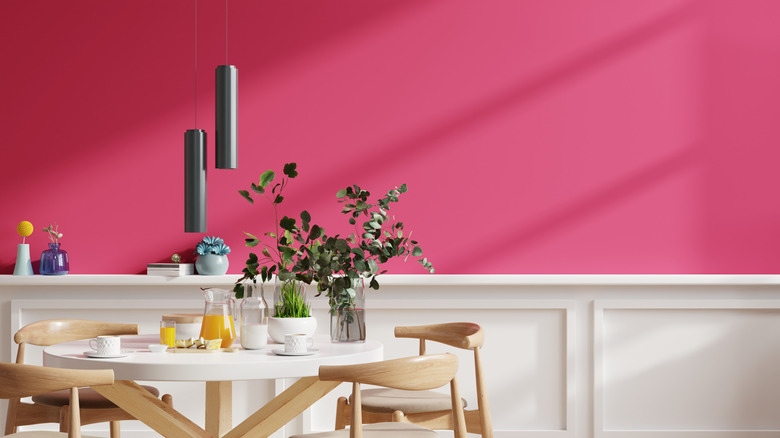 Vanit Janthra/Getty Images
At the end of every year, Pantone announces its color for the next 12 months. This year, its pick is the deliciously rich and vibrant "Viva Magenta," an electrifying shade of red with hints of purple. It's no surprise that 2023 will be a big year for exuberant colors – expressive and unabashed alternatives to the more staccato pallets of the past. Although this is an exciting color, too much can overwhelm the senses, so it's a good idea to sprinkle it in strategically. Plus, Viva Magenta is an exercise in joy and expression, and incorporating this energetic hue into your space can boost your energy and mood.
If you're working with a neutral palette, a throw, pillows, art pieces, or even lamp shades could be a great way to introduce bursts of color without having to embark on a dramatic overhaul. Or, paint one accent wall for a vivid focal point. Magenta is a deceptively adaptable color that can fit into a variety of spaces. It works with whites and neutrals but it also complements hues of yellow and green. And for a much bolder look, magenta can breathe life into darker shades of blue as well. 
Your home will get smart(er)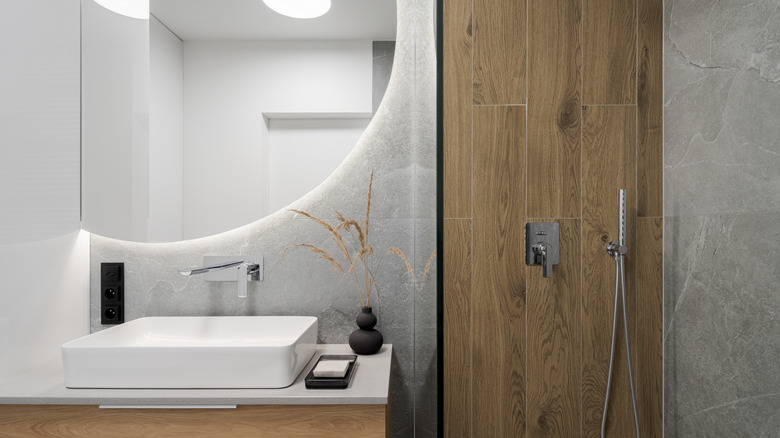 In4mal/Getty Images
If you've been reading the news, you'll know there have been exciting breakthroughs in artificial intelligence. This year, homes will get smarter, making life more convenient and connected. One exciting trend is the smart shower. Showering product manager Clinton Cardinal tells Forbes Home, "There are many options in the market offering a variety of different benefits, but consumer favorites tend to feature a smartphone app to offer the user access to warm-up modes, user presets, and more."
The rise of the smart mirror is also trending in 2023. These make life easier with features like integrated LED lights that make putting on your make-up simple and efficient. They can also display your calendar and the weather forecast so you're efficiently prepared for the day. While an innovative concept, they come in various designs that will fit with any aesthetic. Custom framed options allow these modern marvels to fit right in bathrooms with everything from coastal to rustic decor styles.
Set in stone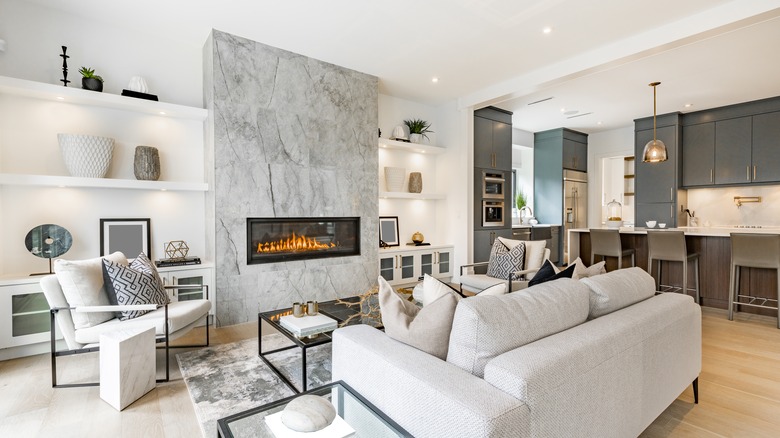 Sheila Say/Shutterstock
Stone has been trending in some form over the last few years, but now it's primed to dominate interior designs in 2023. Though it may seem like a one-trick pony, stone is actually rather versatile. One place where it can really stand out is in the kitchen where you can focus on your countertops for a fresh, trendy upgrade. Marble and quartz are great options for a smooth, flat, and durable surface. These play well off natural wood cabinets for a unique design contrast. Or, transform your backsplash from tile to natural stacked stone. This can add lots of texture and visual interest to an otherwise understated kitchen.
You can achieve many looks using stone. Your finish doesn't always have to be heavy on texture, instead, you can achieve a sleek and smooth finish using materials like alabaster, granite, and onyx. Onyx is a greatly versatile material that comes in various colors, making it a superior stone option. It's also lightweight and long-lasting, making it great for use in the kitchen. For a more artistic finish, incorporate it in your living room, bedroom, or bathroom like Lenny Kravitz, whose maximalist home boasts an orange onyx vanity.
Bring in some mystery with Dark Academia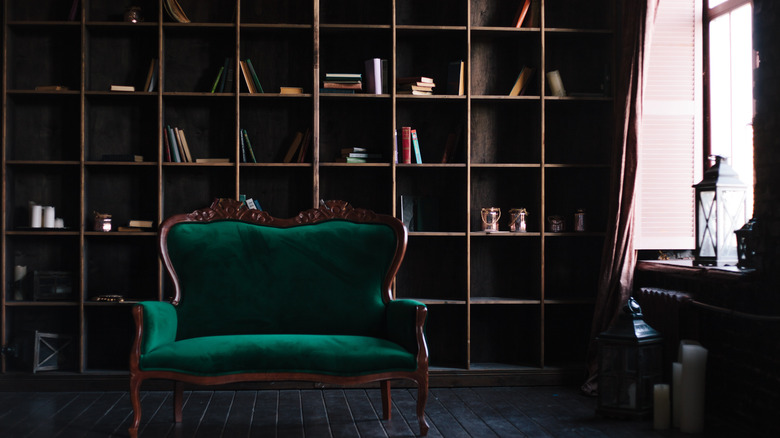 Nelia L/Shutterstock
Dark Academia marries decadence with gothic architecture, rich textures, and dark colors to create one hyper-specific decor style. Dark Academia draws inspiration from historical European eras – Renaissance, Baroque, and Romanticism. This unique and distinct style is the perfect inspiration to add a little drama to your home this year. 
So why is it such a hit? There is an argument to be made for the escapist and fantastical elements, which can introduce other-worldly energy into your space. With so much going on in the world, everyone could benefit from an area that allows us to shut out reality and delve into something more mysterious and exciting. Use rich jewel tones like greens, browns, dark blues, deep reds, and purples as your base. Then, introduce wooden elements and gothic accents for a deliciously moody look. Thrifting is your best friend here, so go antiquing and accent your room of choice with exciting vintage finds, from desks to coffee tables and shelves. Don't forget, literature is a big part of this aesthetic, so be proud of your book collection and put it on display.
The tiles are a'changing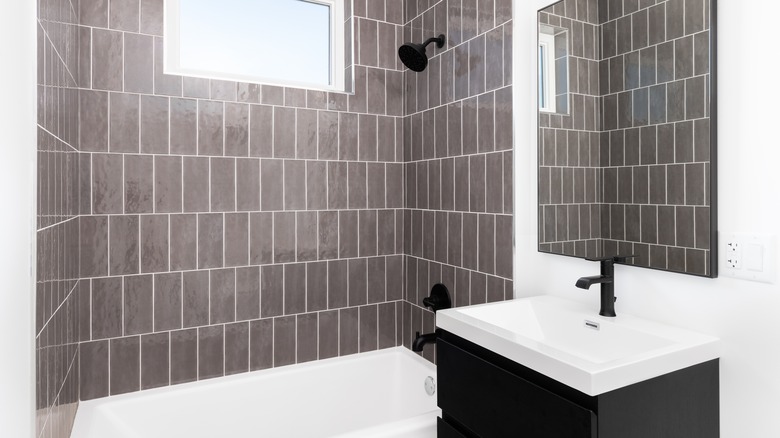 Hendrickson Photography/Shutterstock
Tiles have undergone many changes through the years, from 60s pink and blush tiles to 80s luxury mosaic patterns, and the 90s beige bonanza. While many layouts are coming back for 2023, vertical subway tiles are a top new trend to look forward to. That's right. Switch things up and turn your slabs 90 degrees. It may not seem like much, but what a difference that reconfiguration can make. One of the great advantages of this trend is how it can help to create the illusion of a larger and taller space. So, the concept is particularly helpful for homes with low ceilings. 
What's exciting about this trend is how you can achieve the look. You can align them side-by-side in a neat row. Or, stagger them either vertically or horizontally to add visual interest. Color plays an important role in tile decor this year. So, if you want to make a bold move, select a tile in a deep violet or vivid red hue.
Add texture to your space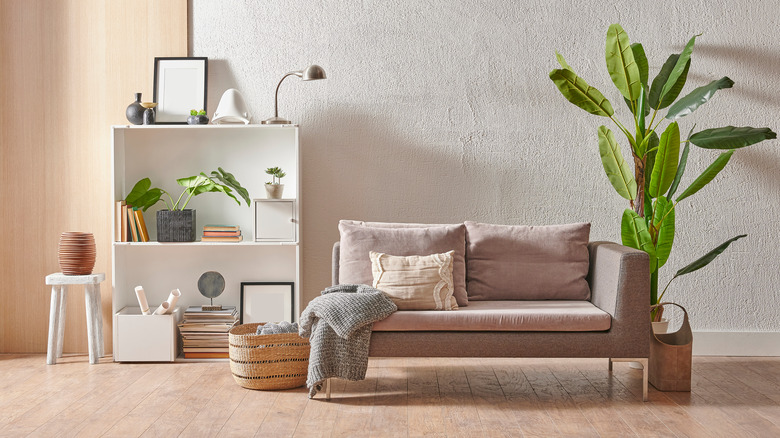 united photo studio/Shutterstock
What exactly is texture in interior design? It's as much about the idea of a material's look as it is about the actual feeling of it. Texture goes beyond different types of fabric. It offers an exciting opportunity to play around with illusion. This year, you're invited to think outside the box creating a sensory journey through versatile surfaces.  
If you have a fireplace in your home, traditional or electric, this is a great way to play with texture on your feature wall. For a more modern aesthetic, outline the fireplace with smooth but patterned tiles, and for a vintage look, opt for rough stone or wood. Another great way to introduce texture is through your accents. Combine your velvet sofa with cotton cushions in contrasting colors, or spruce up your lighting with a rattan fixture or fabric covers for your lamps. A rug with a unique shape or design is a fun way to incorporate texture too. You can even layer two rugs of different sizes to add depth and character to your space.
Luxury living on a micro scale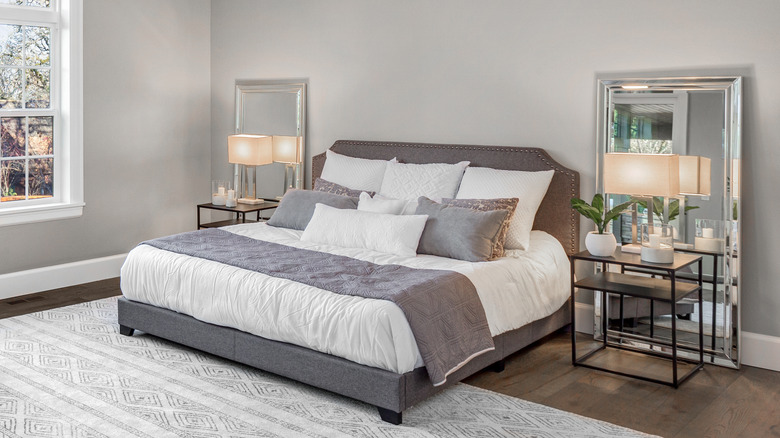 Justin_Krug/Shutterstock
Luxe living is now more accessible than ever. The trick is to experience it on a smaller scale.  This phenomenon, micro luxury, allows one to indulge in luxe living without breaking the bank. Micro luxury is more detail-driven, focusing on small details like cabinet handles, light fixtures, and bathroom organizers. It drills into the minutiae of home decor and allows you to elevate your living space. One of the critical elements of a luxurious space is a lack of clutter. It's also about investing in items of quality rather than piling more pieces than you need. 
One way to infuse micro luxury is by replacing cotton pillowcases and duvets with silk fabrics for a softer feel. Lighting is a great way to steer your space in a more opulent direction. Creative fixtures and luxury table and floor lamps will illuminate and elevate your space in more ways than one. Scent is also a must-have component of luxury living, so splurge on high-end scented candles, essential oils, and diffusers to keep your space smelling gorgeous.
Use sustainable lighting to make a statement
brizmaker/Shutterstock
Lighting is one aspect that is often thought of as purely functional in interior design. This year, some exciting lighting trends and designs are worth attention from a stylistic approach. As more people wish to lessen their environmental impact, sustainability continues to rise. This means opting for materials such as bamboo and rattan for stunning statement-making light choices is the way to go in 2023.
These often-handmade light fixtures are a great way to find and implement one-of-a-kind pieces in your home, They can be used to infuse artistic elements, organic materials, and a welcoming warmth to nearly every room. Wicker pendant lights bring character to your kitchen, dining room, or even bedrooms. Upgrade your current lamp with a shade made from a natural material like jute. You can also look for floor and table lamps created from reclaimed wood for a unique look that's also eco-friendly.
Bring the outdoors in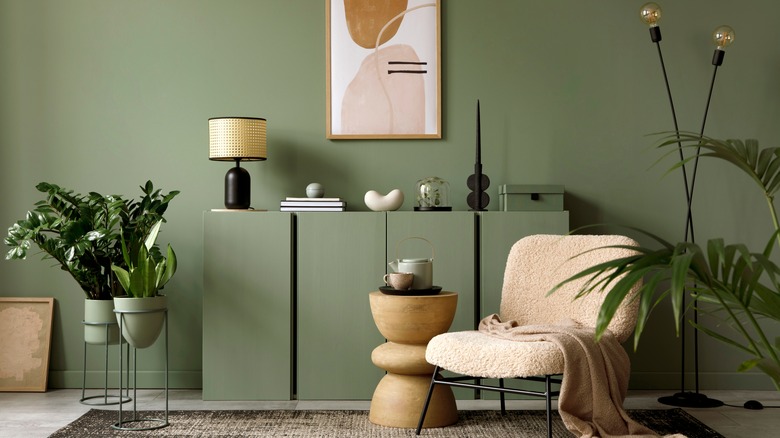 Followtheflow/Shutterstock
Inspired by biophilia, a love for all living things, biophilic design infuses nature into architecture and interior design. Nature's presence keeps stress at bay, and the advantages of being outdoors can't be overstated. It's no surprise, as sustainability grows in interior design, there's been an uptick of outdoor elements in home design. Biophilic designs can be achieved by introducing plants into your home, but it doesn't stop there. It's about including elements such as natural light and even water to mimic the outside world. 
Colors inspired by or rooted in nature like earthy tones of green, beiges, and orange, are another sign of the biophilic trend. Art is another way to infuse nature into your home aesthetic. Pay homage to mother nature by creating a theme using wall art around your home. You can choose a statement piece like a landscape mural or go for a gallery wall of small plant life prints. Biophilic design isn't just about decorating your home to resemble a national park, it also needs to be practical. Combine natural light with fresh air by ensuring your windows are unobstructed and open to experience the great outdoors from indoors.
Enclosed kitchens are back in style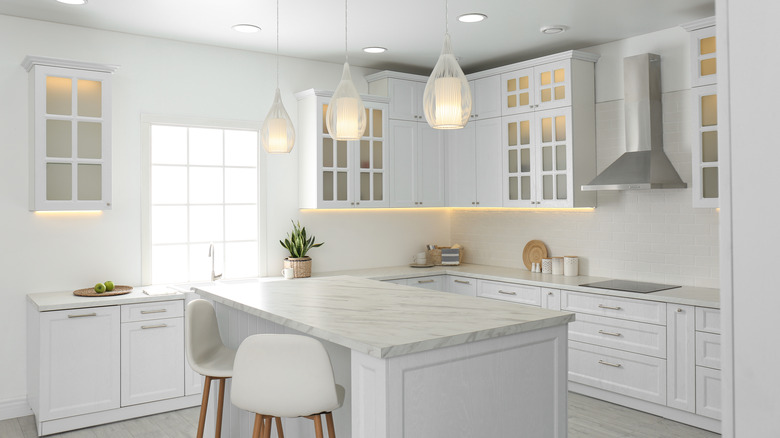 New Africa/Shutterstock
Modern design is ever-evolving. Sometimes, drastic changes in design interests can occur. 2023 is welcoming a shift from open-plan living and kitchen combos to separate spaces. That's right, enclosed kitchens are making a comeback. 2020 and 2021 saw a shift in ideals as many spent more time at home.  One of the main arguments for an enclosed kitchen is its added privacy. Especially when making meals that leave the area looking less than picturesque. Architect Cliff Tan explained to Buzzfeed, "People who actually cook know that a kitchen will never look as pretty as how glossy magazines make them out to be. A kitchen that's separate from the living area where you can guiltlessly mess up and do some dirty cooking will definitely save relationships."
Another advantage of an enclosed kitchen is it gives you another room to personalize. Often, with open-plan concepts, the living area and the kitchen must fit one cohesive look to remain tidy and uniform. With an enclosed kitchen, you can explore another interest or design idea without worrying about how it blends with the decor in other rooms.
Sculptures can upgrade your space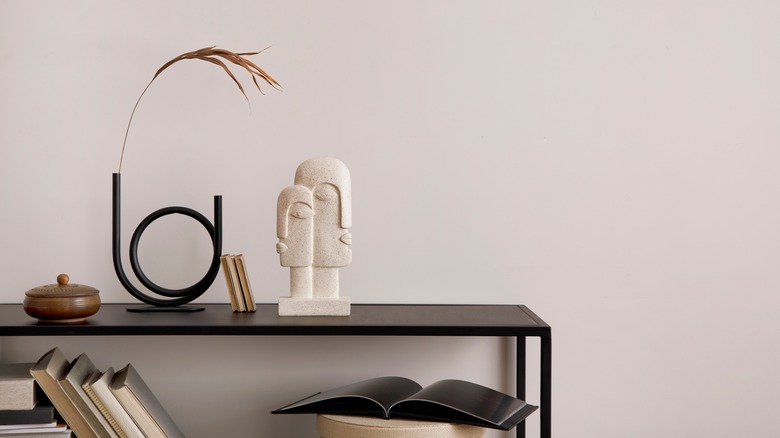 Followtheflow/Shutterstock
Art has always been an important part of interior design. Decorating with artwork, a gallery wall, or even a statue can add an air of luxury to a home. It's no wonder that sculptures are making their way into the decor zeitgeist for 2023. More specifically, this trend focuses on modern minimalism — clean lines, neutral or earthy tones, and contemporary designs – which means you don't have to go big to make an impact in your home. This year, it's all about capturing calmness and tranquility. 
Many art trends for 2023 align with the decor styles that are taking center stage. Fiber art, for example, employs linen and wood to create three-dimensional works. Elsewhere, watch for a steady rise in reclaimed and repurposed materials to create new sculptures, in keeping with the interest in creating a more eco-friendly homestead. All this means, there's plenty of art to sift through and be inspired by. Start with small pieces that can be used in places like a bookshelf, desk, or mantelpiece. Having a theme in mind will help you narrow the scope of choice. That way, your focus isn't on creating a theme for your home around your sculptures but instead on using sculptures to emphasize your home's theme.
Ahead of the curve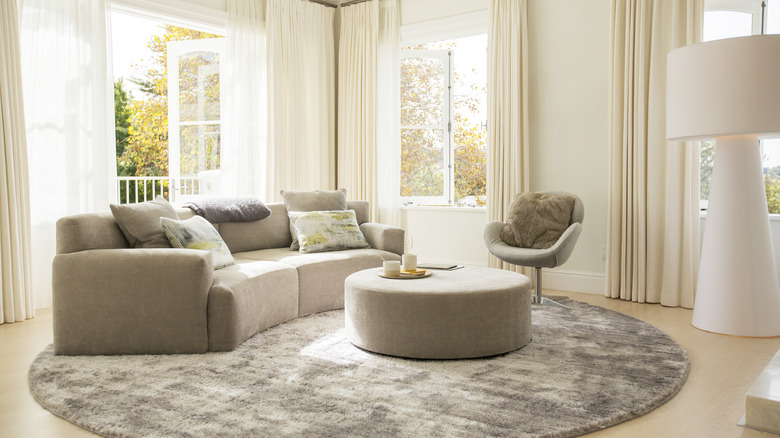 Hoxton/tom Merton/Getty Images
Curvature in home decor, using sofas, arched entryways, coffee tables, and more, is rising in popularity because it offers warmth, coziness, and comfort aplenty. Curved sofas are one way to achieve the look. It is not just a chic way to elevate your living room but also a savvy way to make better use of space, especially when it's smaller. Curved sofas fit into corners nicely and can be easy to decorate around. They're also great attention grabbers offering your space a focal point. 
If that's too much of an investment, why not spring for curved accent chairs? They can cost much less and be used to soften up an angular couch. You can also consider a round or soft-edged coffee table instead of a right-angled one, to keep the flow of your space moving. Even your lighting can get in on the fun. Choose fixtures with circular or globe-shaped details to add an artistic flare to your home decor.