HGTV's Emily Henderson Explains Why It's More Than Okay To Put A TV Over Your Fireplace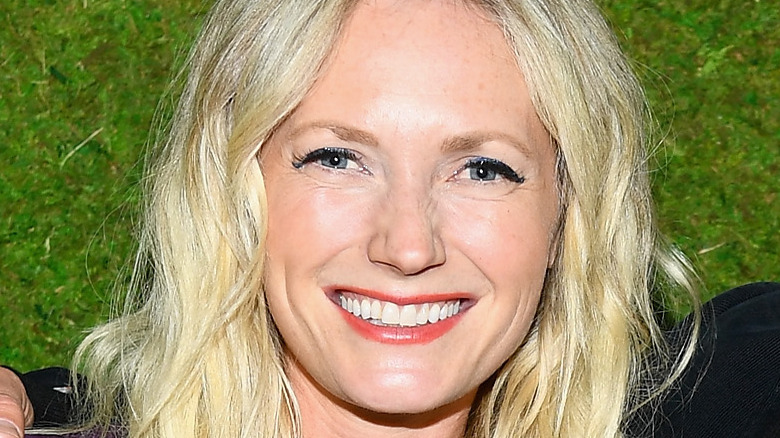 Dave Kotinsky/Getty Images
In a recent blog post, designer Emily Henderson made her opinions known, arguing that placing a television above the fireplace is okay to do — and sometimes even necessary. The post was a response to her HGTV colleague Orlando Soria, who wrote on his own blog, "The Lost Arrow," "The only thing I care about in this world is TV's NOT being above the fireplaces. It's the hill I chose to die on years ago." Soria goes on to list a few reasons for this strong belief, including that the TV is often hung too high for comfort, it isn't appealing visually, and it brings the focus off the beautiful fireplace, among others.
However, Henderson counterargues that, as long as your couch isn't stiff, a high-hung TV isn't normally an issue. If you have a lounging couch, you'll be able to view the TV just fine without hurting your neck. Also, when it comes to aesthetics, while you may not enjoy the look of two rectangles above one another, placing them next to each other isn't great either, and that may be your only other choice. Finally, she says that a less-formal fireplace may help the television make more sense in the design.
Scenarios where the TV over the fireplace makes sense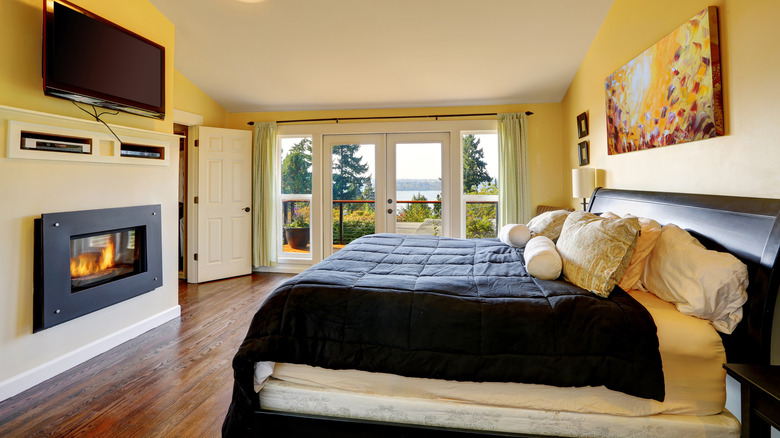 Artazum/Shutterstock
To beef up her argument, Emily Henderson lists some scenarios when placing the television over the fireplace may be necessary. For starters, sometimes there's no other option; perhaps most of the walls are filled with windows, and the only free wall is above the fireplace. Additionally, to comment on aesthetics, Henderson says that separating these two elements could make a room look less appealing. She says, "I personally don't love when you have two competing focal points — and both square boxes. So in my mind, it actually looks better to have a Frame TV over your fireplace than to have it awkwardly floating on a different wall" (via Style By Emily Henderson). 
When it comes to the height of the television, if you have a low fireplace, you may still be able to have the TV at eye level. In the bedroom, the television needs to be higher anyways, so that you can see over your feet. Those with an open floor plan may also want to see the television from multiple rooms, like the living room and the kitchen, and hanging it higher could allow for this. 
Henderson is all about personalized design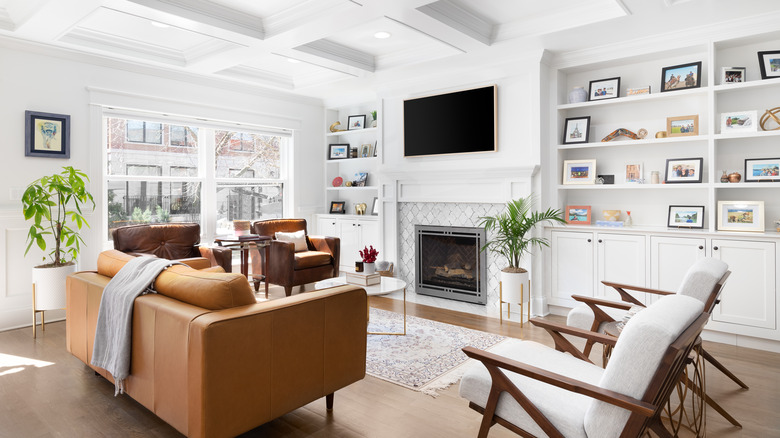 Hendrickson Photography/Shutterstock
Overall, Emily Henderson's main argument for placing your television over the fireplace being okay is that homeowners should be able to do whatever they desire. She says that the thing she hates the most is when people tell her she can't do something in her own home. At the same time, she admits that this choice might not be ideal. She says, "Listen, I agree with [Soria] that in a perfect world, you don't have a TV over a fireplace because you have a separate TV room" (via Style By Emily Henderson). She adds that, if possible, she would opt for a stove-style fireplace next to the television. However, this obviously isn't an option for everyone, so in some cases, it's best to stack these elements in the living room.
In the comments of Emily Henderson's blog post, many agreed that everyone should be able to do what they want. For instance, one commenter writes, "I'm anti TV over fireplace. It's just too high. I am also of the belief that there's always another way." However, they continue, saying, "You put your TV wherever your heart desires and I'll do the same with mine." Another fan writes, "Everyone's house is SO different and everyone's life is SO different, I think that, in itself, is my rebuttal to issuing any absolutes."