Emily Henderson's Design Tips To Help Create The Perfect Home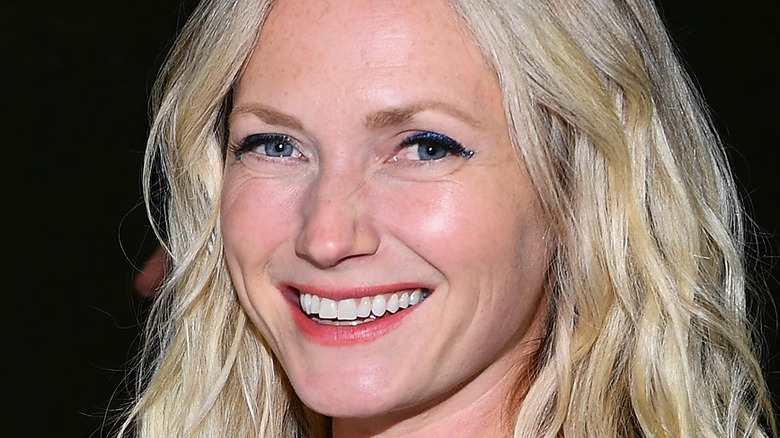 Dave Kotinsky/Getty Images
If you're not too familiar with interior design but want to take on your own project, professional designer and stylist Emily Henderson knows the best ways to approach it. The former winner of HGTV's "Design Star" (2010) is also an avid writer and blogger on her website, often sharing personal advice regarding domestic style and design. Henderson has recently achieved top influencer status, as she keeps design ideas fresh in the minds of her readers through her daily blog, per Forbes. When creating the perfect home, the productive prop stylist says it's not very interesting to strive for perfection but rather to bring out the creative and unusual.
If you're uncertain of your personal style, there are various methods to determine your path. Interior design is a process, as the "Secrets From a Stylist" host recommends looking at online media before you begin. From there, choosing the right colors, functionality, and pieces is the key to a balanced space. Whether your style is modern, mid-century, traditional, or even a mixture, Henderson has said that all styles can work together if the color palette is harmonious. Keep reading for more of Emily Henderson's design tips!
Discover design inspiration through Pinterest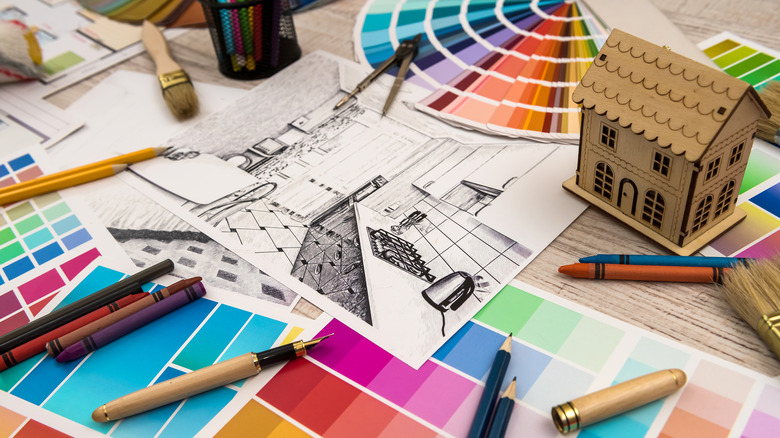 RomanR/Shutterstock
Need help defining your panache? Style star Emily Henderson is on board with utilizing Pinterest to capture new design concepts. With nearly 460 million users in 2021, Pinterest has piqued the world's interest since 2010, per Hootsuite. Compared to other social media platforms, Pinterest is mainly image-based and the perfect place to spawn ideas on various themes such as home, garden and landscaping, cooking and recipes, crafts, fashion, pop culture, and interior design, among others. To create your dream living space, find and pin specific images you are initially drawn to. This might include prominent name brands, colors, décor, or designers.
Henderson also agrees that a color palette is one of the essential things to consider while in this search. Notice the different hues and tones that speak to you until you have a good number of pins, about 40 to 50. Without classifying it, this will help you discover the general vibe you're looking for, per Emily Henderson. Additionally, consider the space and functionality of your home. The architecture or structure is a sure giveaway in establishing details like hardwood flooring, stonework, or tile. Whatever elements remain or need improvement, make it cohesive. Creating more storage may be a top priority if you have a larger family. To achieve overall comfort and purpose, you might showcase a statement piece first to see how it all comes together.
Accessorize and play with a mood board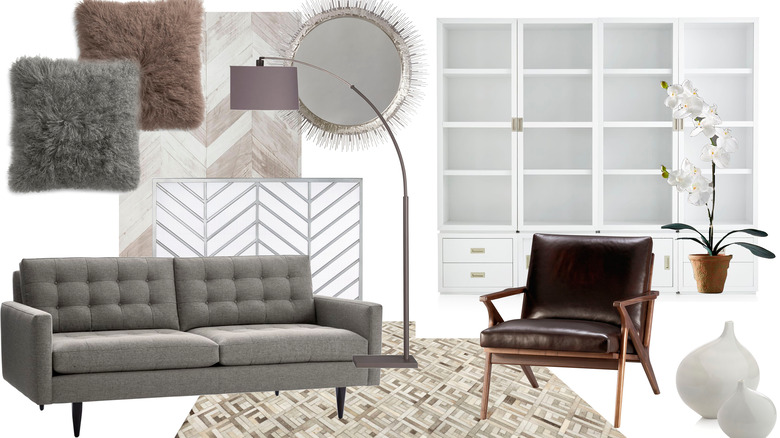 ivastasya/Shutterstock
If you're still feeling lost, begin with something you can't live without, like an alluring hue or tile. Emily Henderson has said that sometimes your design is a feeling rather than a look. This can come from one stand-out piece or the aura of an entire room. To start accessorizing with colors and materials, you might try playing around with a mood board, which works well as a visual tool to assist in establishing complementing concepts through imagery, per the Interior Style Hunter. Henderson suggests using Keynote or Google Slides on your desktop. Screenshot the desired item, then simultaneously press down command + shift + 4 so you can trace around the object. Open your program of choice and create a new presentation, drag and drop the image, and so forth. You might make it resemble your intended room or space.
Once you've finished the design and development, you're ready for the best part – shopping! With a budget in place, Henderson advises making the experience fun and playful. Don't be afraid to arrange and move pieces like lamps, pillows, and décor until it feels right. You might also place an artwork in a surprising location or display a noteworthy object in a transparent box. Another critical factor before moving in large pieces is ensuring they all fit, so measure any new décor before purchasing. Check out Emily's style page for other wonderful style ideas to inspire you.