These Are The Best Refrigerator Colors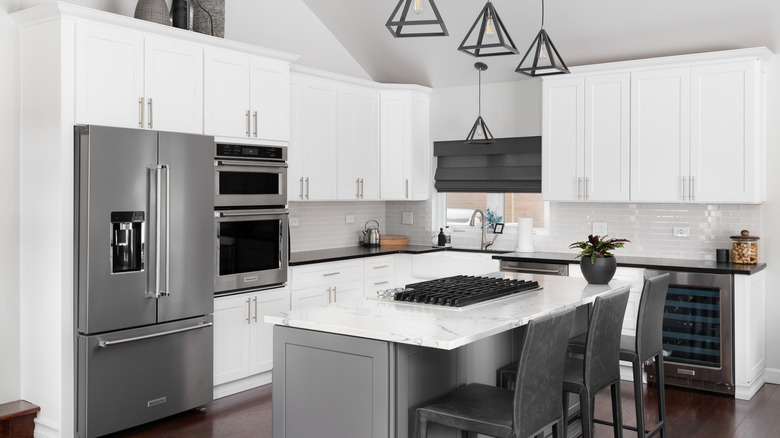 Hendrickson Photography/Shutterstock
When choosing the right color for the refrigerator, most try to match it with their other appliances. Therefore, if you have a black dishwasher and stove, it may make the most sense to also choose this color for your fridge. However, perhaps you're trying to pick out a color for all your appliances, or maybe you want to mix and match for a more eclectic look. If so, the best option for most homeowners is either a stainless steel fridge or custom cabinetry.
Not only is stainless steel a popular choice, but it's also durable, can be fingerprint-resistant, and matches literally any style, making it extremely versatile. Because it's easy to clean, it's typically used in professional kitchens, giving it expensive connotations. Further, if you want the benefits of this choice but with a slightly darker appearance, you could opt for black stainless steel instead. Custom cabinetry is another great option that is growing in popularity. While it is pricey, it will hide your bulky fridge behind matching cabinets, which will streamline the design of your kitchen.
White and color are best for traditional or retro spaces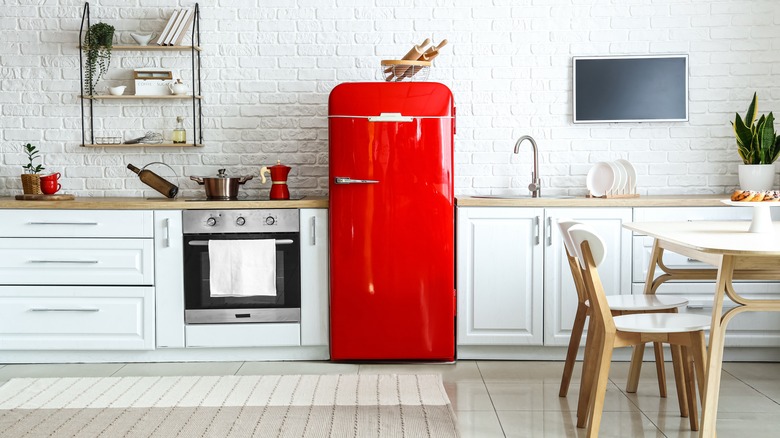 Pixel-Shot/Shutterstock
If you have a traditional home, white may be the best option. White can benefit those with cabinets in the same color for a cohesive look, but also those with dark cabinets, as it will create contrast. It's also typically less expensive than stainless steel and custom appliances, making it a great choice for those on a budget. The largest downside to a white fridge is that it will show scuffs and debris easily, so it will need to be cleaned often.
Another more traditional option is a refrigerator in a bright color, such as red. While uncommon, a colored fridge will definitely make a statement in your space and could easily become the focal point. Further, this choice will add a retro feel, especially because most fridges in these tones have an old-fashioned look to them, with an upper freezer and no ice maker. However, they may provide your kitchen with a dated feel and aren't as widely available as other types. If you're set on red, check out a Galanz model at Home Depot that retails for about $600.
Black and slate are ideal for modern homes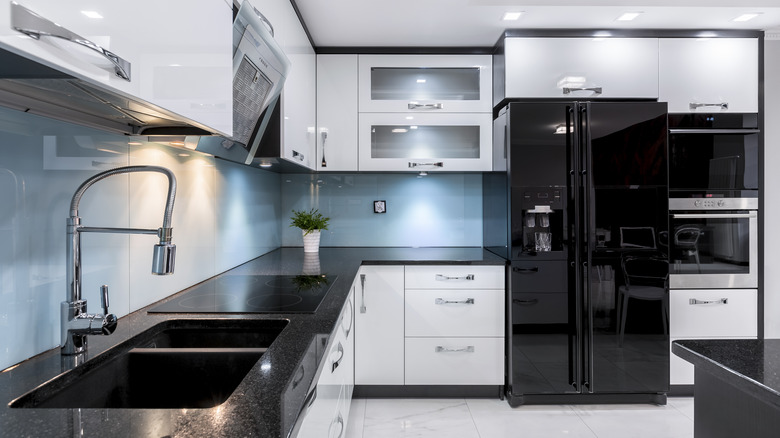 In4mal/Getty Images
On the other hand, those with a modern home may want to choose a black refrigerator. Black looks more sophisticated and sleek than white or colored fridges, and it's also typically less expensive than stainless steel or custom options. This choice can either blend in with black or wood cabinets or stand out against white ones. At the same time, since it's dark, it can also reduce the amount of light in a kitchen and make the space look much smaller. 
Another option for the contemporary space is a slate fridge. This gray finish can sometimes appear futuristic, but at the same time, it can also add a natural feel. Further, it comes with the added benefit that it's durable and resistant to fingerprints and smudges, meaning that it will always look clean. However, it's not widely available and is often more expensive than white or black. If you're looking for this color, one by GE is sold at Home Depot for around $800.