Are Colorful Kitchen Appliances Coming Back In Style?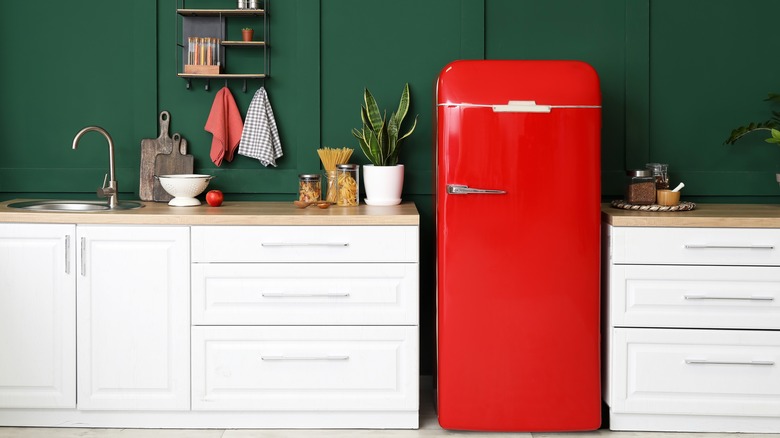 Pixel-Shot/Shutterstock
For quite some time, one of the easiest ways to gauge the age of a kitchen was by the appliances. For a while, in the '80s and '90s, most appliances were a simple white hue that began to look dated as more kitchens drifted toward stainless steel. While there's slightly more variety nowadays, these options still tend to be pretty neutral — white, black, stainless steel, or black stainless steel are the shades that pop up most often. Each typical neutral hue has its pros and cons. As Whirlpool explains, stainless steel is easy to keep in pristine condition and offers a sleek, luxurious look. Black stainless steel can provide a similar feel but is a bit softer since it does not have the same gleaming metallic finish. White has been popular for decades; it goes with just about any color palette and is often a budget-friendly option.
Given the popularity of neutral instruments over the past few decades, you might associate colorful appliances with outdated kitchens. However, it turns out that all those years of neutral machines have made many homeowners yearn for a more colorful retro feel in the heart of their homes. As Fossil Blu reports, colorful appliances are back and better than ever. Given how bright appliances are trending, there's plenty to choose from for any homeowner who wants to add a pop of color to their kitchen.
The popularity of colorful appliances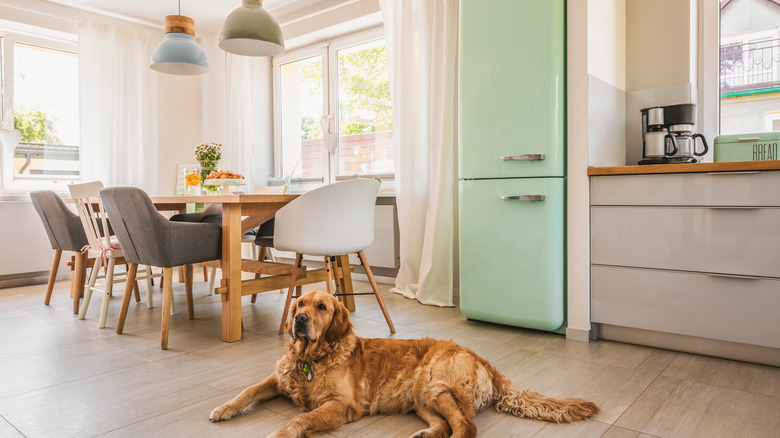 Ground Picture/Shutterstock
The Washington Post reports that shades outside the standard neutral hues were once reserved only for consumers willing to pay steep prices for customization; now, more colors and finishes are on the market for all budgets. There are many reasons you may want to go in a colorful direction when switching out your kitchen devices. The most noteworthy, as Compact Appliance outlines: Colorful appliances automatically give your kitchen a focal point. This could be a huge plus if you feel like your cooking space lacks one. As per Sebring Design Build, colorful options also allow you to create a kitchen that is perfectly customized to you and what you love.
If you're only swapping out an appliance or two and aren't planning to change anything else in your kitchen, as Cosmo Appliances advises, find the desired shade that complements the rest of your kitchen, from the countertops to the cabinets to the backsplash. If you're on the fence about committing to a bold hue for your appliance, you may want to consider testing it out in a DIY way. For example, A Beautiful Mess did a project using vinyl to transform stainless steel appliances into a more colorful mint green shade.
Key considerations that go beyond color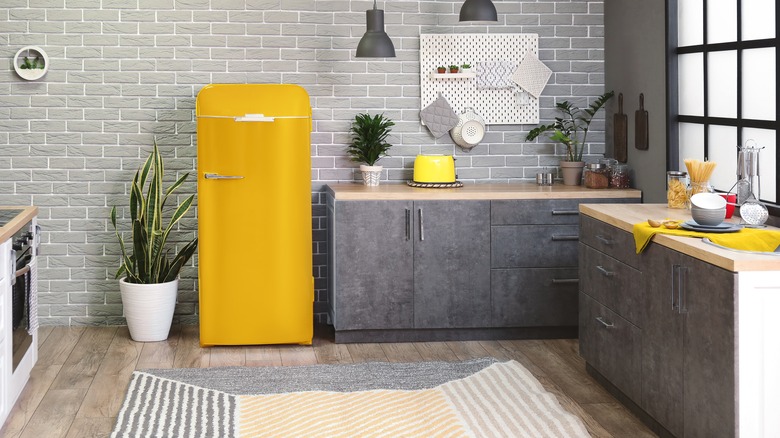 Pixel-Shot/Shutterstock
If you're convinced to go in the colorful direction with your kitchen appliances, or at least one or two of them, that's great. However, selecting these devices is just the tip of the iceberg. As AFK Flooring & Kitchens explains, there are a lot of other essential elements to keep in mind, from the size and space you have to work with — no matter how gorgeous that retro colorful fridge is, if it doesn't fit properly in your kitchen, it just won't work — to things like energy efficiency and, of course, price. 
Additionally, regardless of what hue you've selected, you must consider the finish you want, as Warners' Stellian outlines. If you've only ever had stainless steel appliances, you might assume that all devices have that gleaming, shiny finish. However, there are also matte options; since matte finishes often do a better job hiding fingerprints, they may be desirable for those who want a low-maintenance device. If you want to sample your hue of choice before committing to multiple appliances, Trendir recommends a test drive via a small device, such as a toaster or blender in your desired shade. These will give you a better idea of how that particular color would look in your kitchen and whether you'll love seeing it every day.