Here's How To Convert Your Stock Tank Pool Into A Hot Tub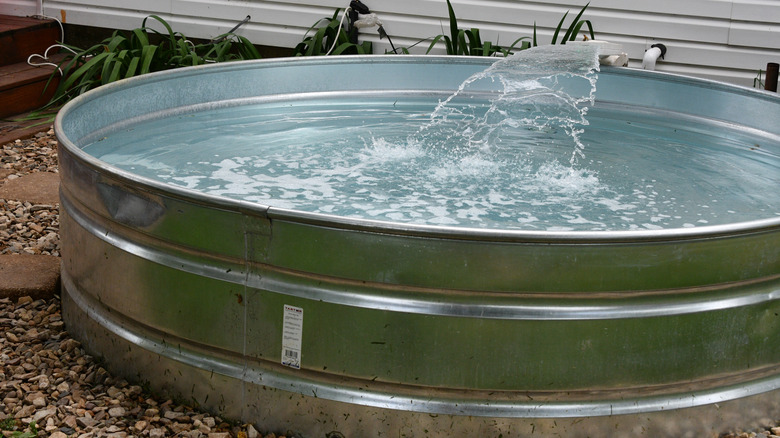 SEEphotos7171/Shutterstock
This stock-tank-pool-turned-hot tub is perfect for anyone looking for a way to cool off on hot summer days and warm up on chilly evenings. While regular hot tubs can cost thousands of dollars and need to be turned on all the time, this stock tank hack isn't as pricey and allows you to have a luxurious pool and a hot tub all in one.
If you already have a stock tank pool, all you need is a portable propane water heater and a pool pump, making this a simple way to have the best of both worlds for your outdoor swimming spot. Since large stock tanks can hold upward of 700 gallons of water, make sure to turn on the water heater a few hours before you're ready to take a dip. Starting a stock tank pool is also fairly easy and less expensive than in-ground pools and most above-ground pools.
You can find stock tanks, which are made for watering livestock, at stores like Tractor Supply or online retailers like Tank and Barrel.
Converting a stock tank pool into a hot tub
This trick, posted by @daily_disco on TikTok, makes converting your DIY pool into a hot tub super simple. By setting up a propane water heater and connecting it to the stock tank with a pool pump, you'll be relaxing in your hot tub in no time. The heater in the video is a Camplux; these heaters are tankless and range in price from $160 for a smaller, portable version to $400 for the deluxe model.
Once you've attached your heater to the propane tank and connected your pool pump, you're done. Since these portable water heaters are powered by batteries, there's no need to plug anything in. Set the heater to whatever temperature you prefer, but most hot tubs range from 100 to 102 degrees Fahrenheit.
This hack will also enable you to have complete control over your stock tank pool's temperature, so you can go for a swim on cooler days without getting goosebumps.
Setting up a stock tank pool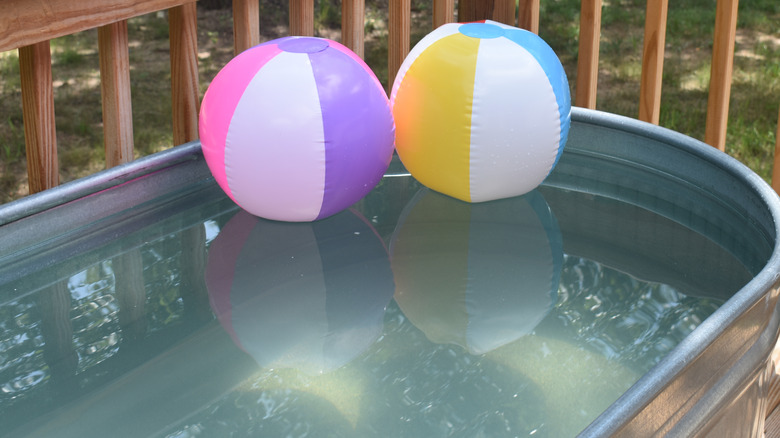 Sandra Sapp/Shutterstock
If you're setting up this DIY pool for the first time, start by acquiring a stock tank that's a few feet deep and about 6 to 8 feet in diameter. Tanks of this size are typically several hundred dollars, and while smaller tanks are less expensive, they may only be able to fit one person. Stock tanks are typically made of either plastic or galvanized steel, but if you're looking for longevity, the metal option is best.
Once you have your tank, you'll also need a filter pump to make sure your water stays clean. By drilling two holes in the side of the tank, you can run the pump's hoses into your new pool. If you're worried about leaks, use a waterproof sealant around the pump's entry and exit points before filling your pool.
While it's not always necessary, stock tank pools can be treated with the same chemicals as above-ground pools. Once your pool is set up the way you want it, converting it into a hot tub is easy and will allow you to enjoy your stock tank no matter the outside temperature.