The Smartest Day To Host An Open House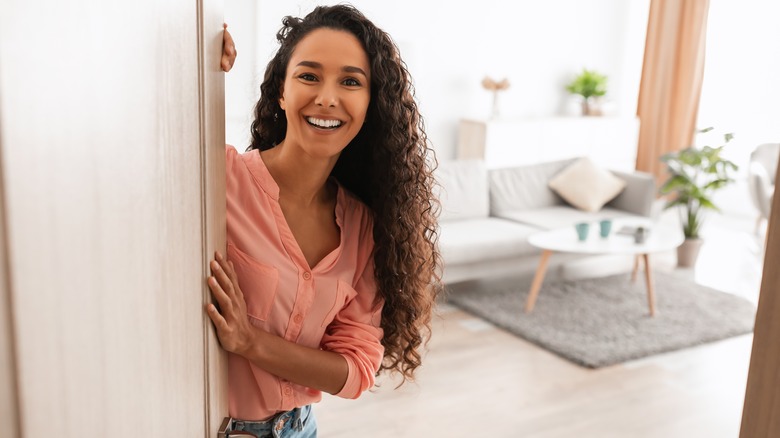 Prostock-studio/Shutterstock
Once you decide to sell your home, there are a few things you'll need to mark off your checklist. For starters, you'll need to declutter, pack most of your possessions, clean thoroughly, and stage your space. This may also require you to fix any remaining problems, update dated features, and repaint walls. Once all of this is complete, you can then put your house on the market. Shortly after, you'll most likely also host an open house, or give potential buyers a tour of your property.
When planning for an open house, the first thing you'll need to consider is when it should take place. The smartest day to host tours is on Sunday, as most people aren't working and have some free time to drive over to your place. Additionally, some suggest hosting two open houses, one on Saturday and one on Sunday, to really make your house available to the public. If you're too busy on weekends, though, the best weekday is Thursday. While you won't get as many potential buyers, those who do come will most likely be extremely interested.
Other considerations when choosing the right date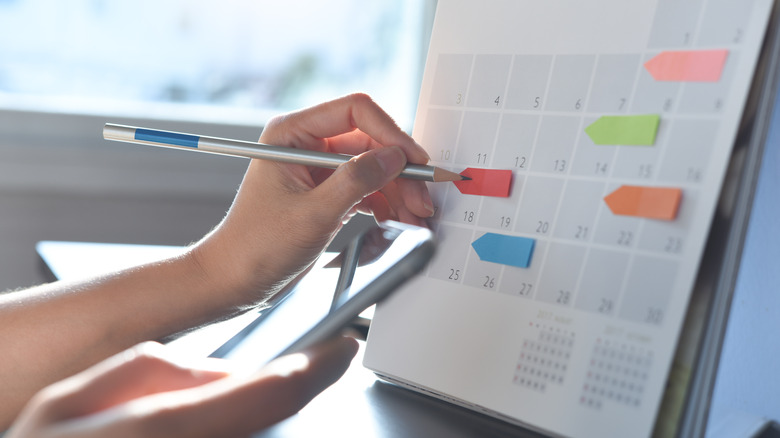 TippaPatt/Shutterstock
Before you decide upon the right date on the calendar for your open house, there are a few things to consider. The first is if there's another popular event happening that weekend, such as a sports game, as this will cause your turnout to be much lower. Additionally, never have an open house on a major holiday, as this could cause the same outcome. To increase the number of people who tour your home, choose an open house day that coincides with others in your neighborhood, as those who are touring your neighbor's homes may also stop by yours.
Be sure to check the weather before you solidify a date, as heavy rain or snow could keep potential buyers from driving over to your place. While uncommon, if the weather is really bad on your open house day, you could decide to reschedule. Something else that may keep people away is nearby construction that causes traffic and, even if they do come to the open house, this may be a reason they don't put an offer on your home. If possible, wait for the construction to be completed before choosing a date. 
The best time for an open house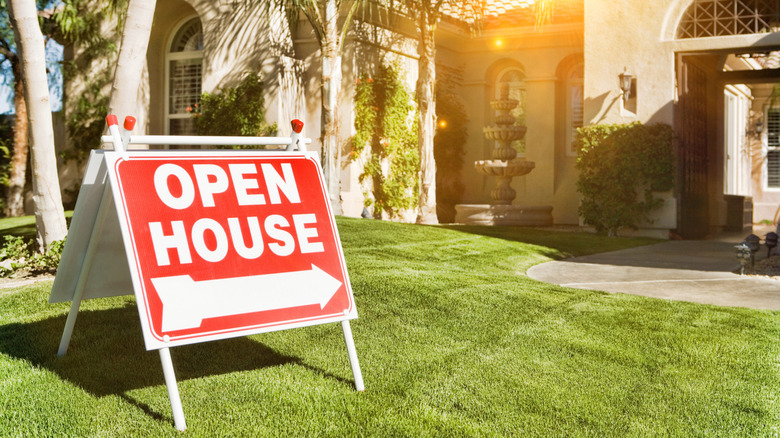 sirtravelalot/Shutterstock
Once you've decided upon the right date, you'll then need to determine what time frame is best. Typically, open houses only last for 2 to 4 hours and are often held sometime between 11 a.m. and 5 p.m. Limiting your open house to only a couple of hours can actually be beneficial, as it will cause more people to tour the home at the same time, which can make it seem desirable. 
There are differing opinions about what time frame is ideal. While some believe 1 p.m. to 4 p.m. is the most popular, others say that 11 a.m. to 3 p.m. or 5 p.m. to 7 p.m. are best. Overall, choose a time in the late morning to mid-afternoon, as this is when most people are free. If you decide upon a weekday, you'll need to make sure your open house is in the evening when people get off work. However, it shouldn't be too late, as you don't want it to be dark when people are touring. If you live near a school, another option for a weekday tour is to host it either after parents drop off their kids at school in the morning or before they pick them up in the afternoon.