The Viral TikTok That Shows You How To Make An Inexpensive Stock Tank Pool From Scratch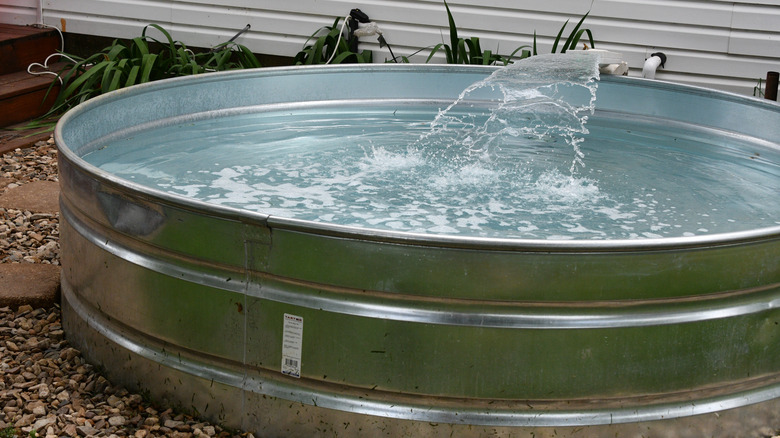 SEEphotos7171/Shutterstock
Swimming pools — particularly in warm-weather climates — are often a bone of contention. While inground fiberglass and concrete pools can be nice additions for summertime fun, they often make the home undesirable to future buyers, as they can be expensive to care for and put in. Above-ground pools with liners or inflatable pools can be a less expensive alternative but can be hard to install. They are also prone to leaks and damage, and they can be an unsightly large object on your lawn.
Enter the stock tank pool. Not exactly a new invention, stock tank pools have been watering livestock for centuries. Only recently have they become a hot trend among homeowners looking for an inexpensive, durable pool that is easy to install. Even better, it can be whisked away and stored seasonally or completely removed. Stock tanks also come in a variety of sizes, from smaller diameters perfect for a kiddy pool to round tanks that can host a group.
What you need for a stock pool
Metal stock tanks can be purchased at farm supply and tractor stores. Already made of galvanized steel, they are meant to be durable and able to hold water without issue. Once you have decided on your size, you will need to do some preparation on the ground where it will go, including digging a level surface for the tank. If your yard has uneven terrain, you can also build up an area of the yard with dirt or concrete — fill the desired area with sand and level it off. You can also place your pool on an existing concrete or stone platform.
Like other above-ground pools, you will want to use a filter kit to keep your pool clean and your water clear. Pool filter kits are readily available with all the elements you will need. A pool with an 8-foot diameter will require a filter capable of handling a minimum of 700 gallons. The installation process usually begins by using a 2¾-3-inch hole saw to create a hole to accommodate the filter elements. You'll also likely need a silicone sealant or caulk like Flex Seal to prevent leaks. Nearby access to power to run the filter will be essential, as well as chlorine tabs. A floating or attached dispenser can help keep the water's pH levels balanced.
Making your stock tank pool your own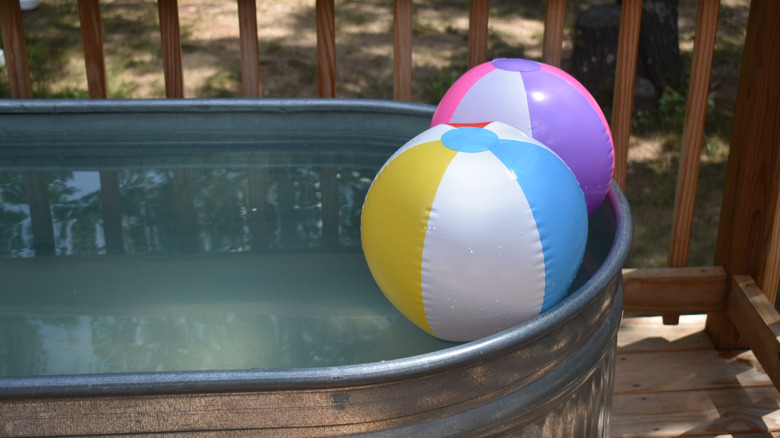 Sandra Sapp/Shutterstock
The customization options you'll have for this fun pool are endless. To paint the exterior of your pool before filling it, sand down the metal surface with sandpaper and apply a coat of primer. You will want to look for a primer specifically designed for painting galvanized steel for the best results. Leave it overnight and apply a second coat before painting with your desired shade. Many people opt for stripes, which you can easily create with tape and apply in tropical colors like green, blue, and pink. You can also use the tank as a canvas for a free-form design or a stencil.
It's a great opportunity to outfit your pool area with all the trappings of a tropical oasis, including fencing for privacy, sun umbrellas, chaise lounges, and bistro tables. If you have a larger, higher pool, you can also create a small set of steps out of paver stones to assist in getting in and out of the pool. If an in-ground pool is the look you desire, stock tanks can also be placed in the ground. You may also want to check safety rules and regulations around fencing and enclosures in your area to comply with any restrictions and keep everyone safe.