The Repair Credential You Shouldn't Trust To Fix Your Appliances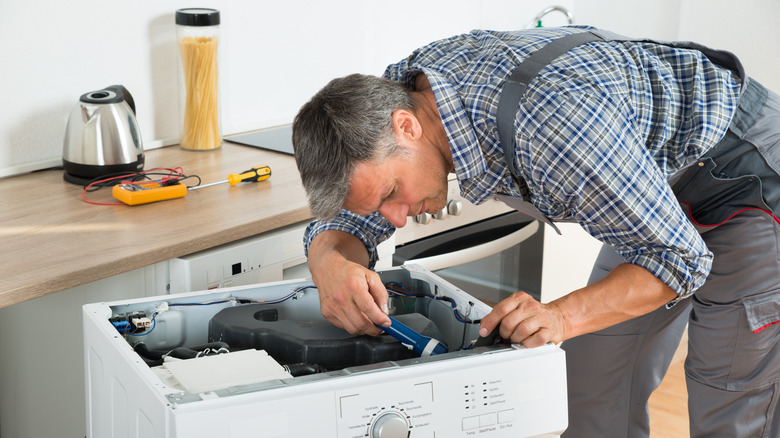 Andreypopov/Getty Images
There are several common appliance repair scams that consumers should be aware of to avoid becoming victims. Handymen or technicians can inflate the prices, perform unnecessary repairs to bill you more, use counterfeit parts, or falsify their credentials. Some false credential phrases to watch out for are "factory certified" or "factory authorized". While these are real qualifications, repair technicians can falsely claim them or use similar words that sound legitimate. This is why you should always verify any credentials of a handyman, no matter how urgent the situation.
Even though these terms are used loosely and usually without backing, they are very valuable to have in a repair technician. They mean that the appliance repair company or individual has been approved by the manufacturer of the appliance to perform repairs on the products — and sometimes, specific models. If verified, you can trust that the technician working on your appliance is a specialist with an added layer of experience to work on your item.
Research and verify credentials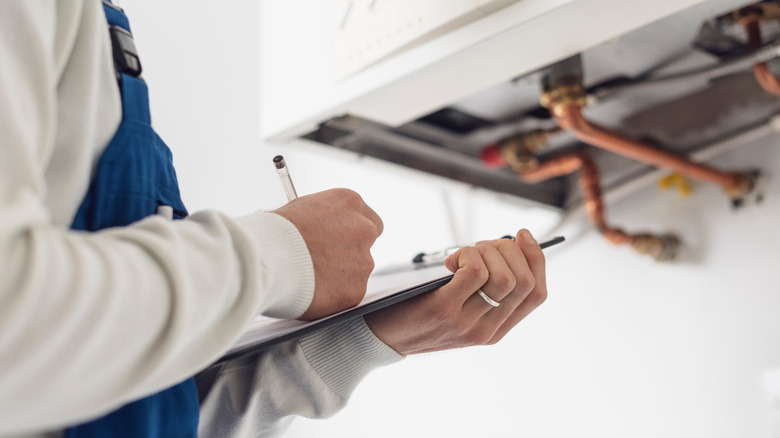 Stokkete/Shutterstock
The qualifications and abilities of an appliance technician vary widely. There are general appliance technicians and specialized technicians who focus on one type of appliance. General appliance technicians don't require any certifications to work, so keep this in mind if you're dealing with a complex problem or a complicated machine, like a dishwasher or refrigerator. It's better to have a specialized technician in this case, as they will have gone through more training and an apprenticeship.
No matter the type of technician you hire, always do proper research on the company and the individual before hiring them for your project. They should also be able to provide you with documentation of all their credentials without hesitation. To further verify that a technician is "factory certified," you can contact the manufacturer of your appliance directly to see if they offer such certifications. Then, you can check the authorization status of the technician.
Other credentials and how to vet a handyman
Dragon Images/Shutterstock
There are other credentials to look out for in addition to factory authorization. According to the NYC Department of Consumer and Worker Protection, it is necessary for an individual or company that repairs or services home appliances to have an Electronic & Home Appliance Service Dealer license. It is also highly valuable if they are certified as NASTeC Universal Technicians, which is the top level of recognition that professionals can achieve in the field of major home appliance services. Passing a state-level exam can also show a level of expertise in your region. 
To find a reputable appliance repair technician or company, read reviews and ask for referrals from friends or family members who have had similar needs. You can also reach out to past clients of the technician you're considering to learn more about them and their work. Before committing, it's important to ask for a written estimate and make sure you understand the cost of the repair. Electrical work is always risky, so prioritize getting the best repairs for your home so it doesn't cost you more in the long run.