Outrooms: The Valuable Home Addition That Brings The Living Room Outside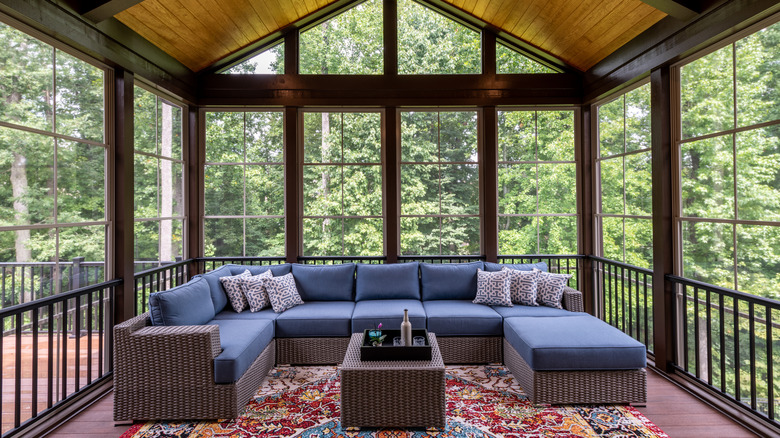 VIS Fine Art/Shutterstock
It's no secret that outdoor living spaces are features that can add to your home. Who doesn't enjoy sitting in the fresh air and relaxing while you read, talk, or sip on a drink? Outrooms have become a popular home trend in the U.K. and Australia. They bring the comforts of your indoor living room to your outdoor space, which effectively extends the living space in your home.
Homes with outrooms have increased home values by 6% in the U.K., as reported by Emoov in 2018, per Country Living. This is because the renovation can be affordable, thus many homeowners are opting to add outrooms to their homes.
These popular renovations are akin to sunrooms in the U.S. The rooms feature large windows and sliding or folding doors to allow the space to open up to the outdoors. However, what really sets them apart is the furniture in the outrooms. They have all the comforts of a living room with the benefits of having fresh air and ample natural light.
Building an outroom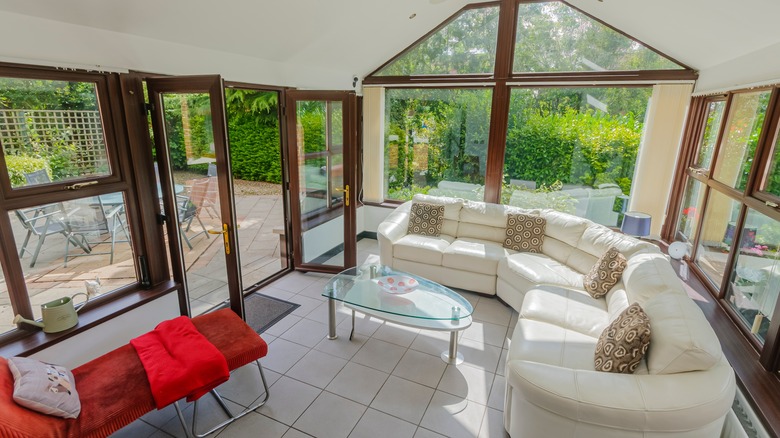 Stephen Barnes/Shutterstock
What has drawn people to this trend is the lower cost of renovation. You can transform your current living room into an outroom by adding floor-to-ceiling sliding or folding glass doors that lead out into the yard. Alternatively, you can put in larger windows that open up to let in natural light and fresh air. Both of these options will provide the feeling of the outdoors flowing inside. The outroom will also be connected seamlessly to the rest of the house.
If you prefer the separation or want additional living space, however, you can create a small addition to serve as your outroom. This can be either a sunroom, an additional room built onto the home, or an enclosed porch on a current patio or deck. Both of these options create a dedicated space that can be used as the outroom and provide some separation from the rest of the house. That separation can make the outroom feel like an oasis so you can have a getaway in your own home.
Comfortable furnishings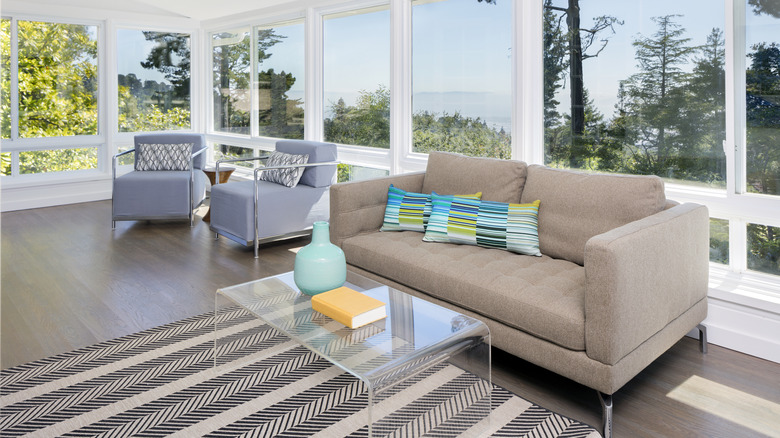 BondRocketImages/Shutterstock
What sets an outroom apart from other outdoor spaces is the comfort level. The outroom trend creates a comfortable room that feels like a traditional living space with the kind of furnishings you'd see in a living room. Instead of using patio furniture that's made of metal, wicker, or wood, the outroom trend calls for plushy sofas and soft side chairs. Extra pillows on the sofas and chairs create a comfy place to sink into, and large floor pillows can add extra seating while softening the space. Introducing leafy plants and flowers is another way to bring the outside into your outroom.
Other comforts include fire features like fireplaces or fire tables to bring warmth to the room. As a bonus, it allows you to use the space during the colder months. Area rugs, coffee and side tables, and overhead lighting can also help an outroom feel like an extension of your traditional living room. The key to getting an outroom right is to decorate it like you're creating an interior space so the comfort of your home flows outdoors.