An HVAC Expert Shares How To Beat The Summer Heat With These AC Efficiency Tips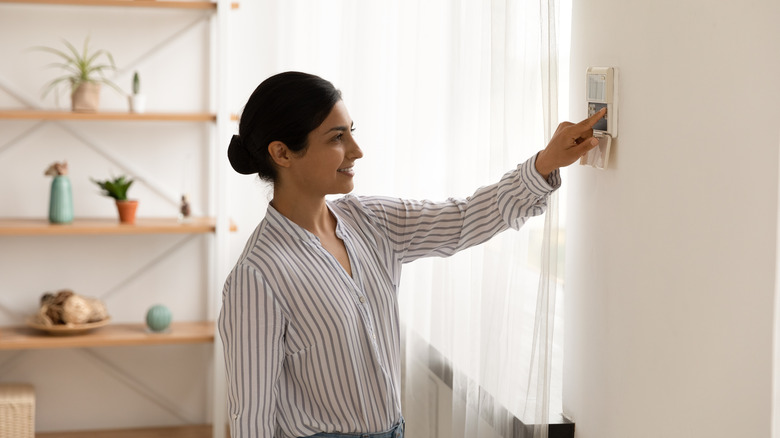 fizkes/Shutterstock
When the mild days of spring transition to the warmer months of summer, it's a good time to prepare your home for the hottest part of the season. What can you do to keep your house cool and your costs low this summer? It helps to know what a professional would recommend. Traci Fournier, Vice President of Operations at One Hour Heating & Air Conditioning, has worked in the heating and cooling business for over 10 years. She spoke exclusively with House Digest to provide her expertise on how to keep your air conditioning running well during the hottest months and how to save money while doing so.
Fournier begins by recommending an upgrade to your thermostat. The traditional thermostat that keeps a home at a set temperature throughout the day is becoming a thing of the past. "Programmable and smart thermostats can help you save on your monthly bill by allowing you to schedule when your AC turns on and off, and what temperature to keep the home at during specific times of the day," she says. While this programming feature is true for both devices, the additional advantage of a smart thermostat is that it can be accessed remotely over a Wi-Fi connection to make adjustments even when you're away from home.
Keep cool air circulating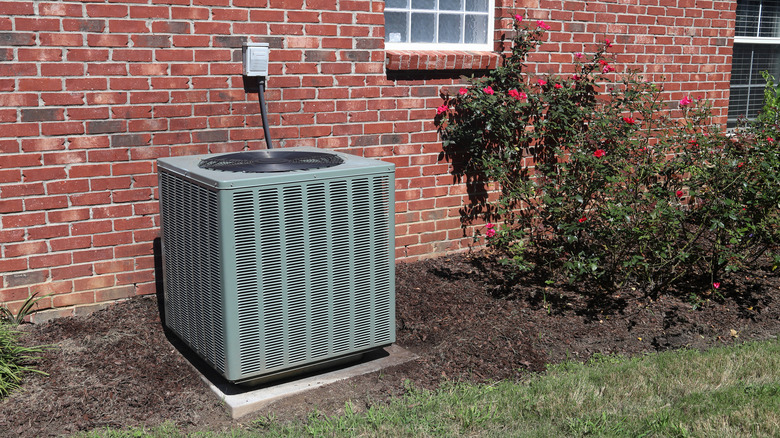 Crobertson/Getty Images
Another tip from Fournier in this exclusive House Digest interview is to use a cool mist humidifier in the home, which is an efficient way to lower the temperature in an area because it doesn't use a great deal of electricity. "Ideal for summer, these humidifiers diffuse a cool vapor without the use of a heating element." She explains where it might be appropriate to place one in the home. "Perfect for a child's room or nursery, the cool mist humidifier helps increase the moisture of a room while maintaining a cool temperature." In addition, a ceiling fan will keep that chilly air circulating throughout the home. "The wind chill effect that ceiling fans create helps you feel comfortable without needing to adjust the thermostat, which is also a great strategy for cutting down on energy costs. Reverse the motor to move the blades in a counterclockwise rotation to create a breeze effect in the summer," she suggests.
New homeowners may not realize that their AC equipment must be properly maintained in order to run efficiently. "Cleaning your condenser unit is essential during the summer, as there is typically an increase in humidity, which can cause mold and mildew," Fournier explains. "Your AC is responsible for pulling excess moisture out of the air and when it's not performing at peak levels, it's overworking and driving your bill up."
Keep the temperature down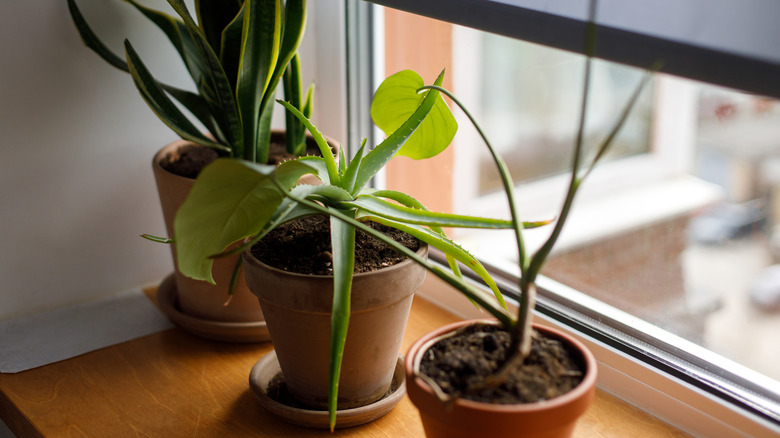 Bogdan Sonjachnyj/Shutterstock
Fournier continues her exclusive interview with House Digest by making some additional suggestions that are simple to implement but can make a difference in keeping the house cool. For example, placing plants throughout your home can have a big effect on the climate inside. "This is a strategic and attractive way to keep the room's temperature down. Trees or other greenery can block some of the sun and keep rooms cooler throughout the day," she points out. Choose plants with larger leaves and more foliage such as a Boston fern or a rubber plant that will release refreshing moisture into the air, or place a weeping fig tree nearby to create the feeling of a cool forest.
Finally, Fournier suggests blocking sunlight from reaching inside. "Keep the windows covered during the day," she advises. "Installing blinds or heavy curtains can substantially decrease the amount of heat that seeps into the room via the window. This is an especially important step if your room faces the sun as it rises or sets." Fournier even recommends hanging blackout curtains if necessary, and points out that addressing any drafty areas near the doors and windows with additional insulation will ensure that the cold air remains inside the house and the warm air stays outside. Consider how you can apply each of these tips in your home, and you'll keep both the temperature and the AC costs low this summer.